Bangalore Development Authority (BDA) has come up with new notification for e-auction of residential sites. The last BDA e-Auction was happened during Feb-March 2023.
Bidding / e-auctioning can be a hassle-free way to own a property, especially if want to avoid any sort of black money in real estate transactions.
Before discussing the details about the Latest BDA E-auction Sep-Oct 2023, we need to understand the difference between BDA e-auction and BDA Allotment
Difference between BDA Allotment and Auction
BDA has so far formed more than 60 layouts in Bangalore. Bangalore BDA maintains a seniority list of applicants who has applied for sites in BDA layouts. After forming a layout, BDA generally allots the plots based on certain criteria and lottery system. The e-auction process is different to this. Any citizen of India can apply for auction. There is no lottery system. The highest price bidder of a particular plot will win the auction.
Latest BDA E-auction Sep-Oct 2023 Notification
The last date for applying to BDA e-Auction is 30-Sep-2023. Below are the details of important dates related to this auction.
Commencement of BDA e-Auction : 20-Sep-2023
Date of Commencement of Live Bidding: 03-Oct-2023
Closing date of BDA live E-Auction: 04-Oct-2023
The latest E-auction is for sites located at HSR Layout, Sir M. Visvesvaraya Layout, Banashankari and Anjanapura Layout.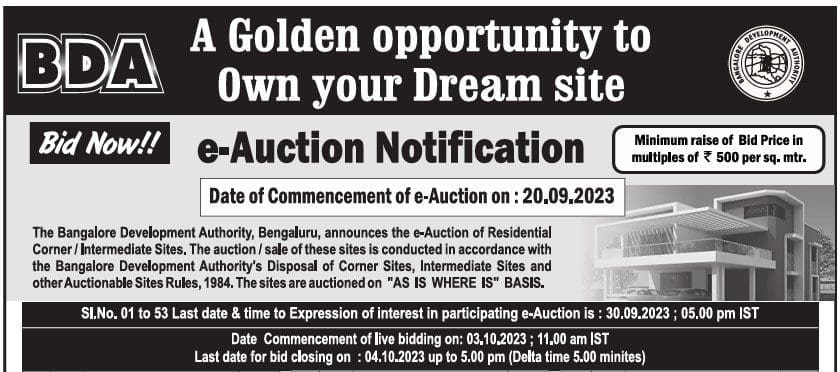 BDA Sites Online Auction Terms & Conditions
Applicant should be a Citizen of India
NRIs & Partnership firms also can participate in the auction
Applicant has to pay Rs 4 Lakh per site as Earnest Money Deposit (Deposit amount is refundable).
Successful bidder has to remit 25% of auction amount in 3 days.
You may download complete details on Auction Terms & Conditions from this link.
BDA E Auction Process
The entire process from bidding to Registration generally gets over in 2 to 4 months. The below process flow gives you clear idea about this;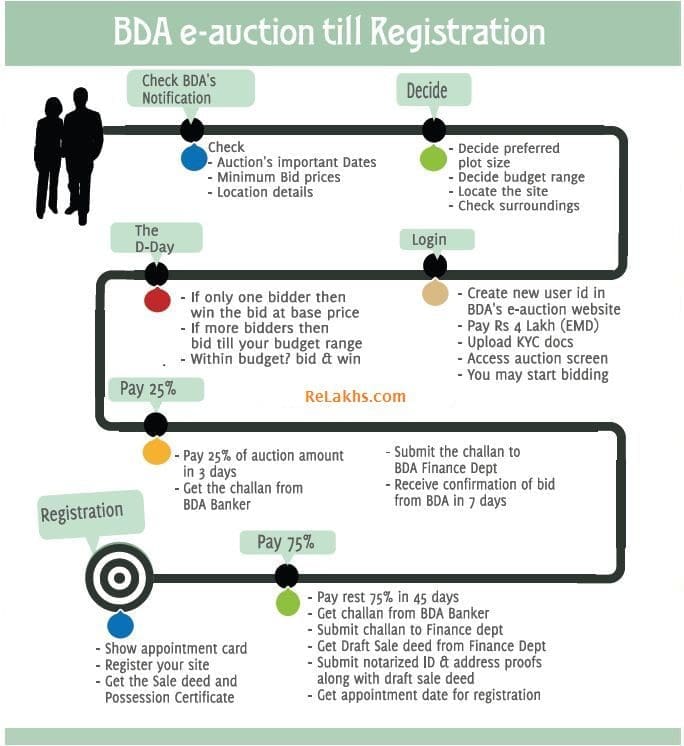 You may go through the below articles and the follow-on readers' comments to get a better idea on BDA Auctions:
If you are keenly looking for a property (vacant plot) for self-occupation and planning to settle down in Bengaluru then you may surely consider participating in these auctions. But, do not over-leverage your self by taking high home loan amount (if any). Also, advisable not to cross your budget limit during the bidding process.
Please note that you will be buying the auction property through WHITE money, you may get a compliance notice regarding 'high value transaction', from the Income Tax Department for the respective Assessment Year. So, make sure you keep all the information related to your payments / source of funds, for future reference.
Continue reading:
(Post first published on : 21-Sep-2023)