Kempegowda Layout is the new layout being developed by BDA (Bangalore Development Authority). BDA has issued final notification inviting applications for Allotment of residential sites in Kempegowda Layout.
After years of delay, nearly 5,000 residential sites in Nadaprabhu Kempegowda Layout will be available for the general public. It is estimated that these 5,000 sites on over 300 acres covers only the first phase of the allotment. The sites which are being allotted in the first phase are located between Mysuru Road and Yeshwantpur, along NICE Road.
---
You may kindly go through my new article : Latest BDA Plots E-auction June 2020 | Details & Online Procedure
---
The overall plan is to develop 4,043 acres. Of these, 2,100 acres are presently in BDA's possession where 20,000 residential sites in total will be developed and allotted in future.
As mentioned above, these 5,000 sites are being developed under the first phase. Under the second phase, around 5,000 more sites will be developed. Under the third phase, apartments will be constructed in Kempegowda Layout.
BDA aims to create 10,000 flats. Under the fourth phase, commercial spaces including offices, shopping malls and commercial spaces may be created.
BDA is giving around 60-day period to apply for these sites. The sites would be of the dimensions 20×30 sqft, 30×40 sqft, 40×60 sqft and 50×80 sqft.
---
Latest update (Posted on 03-01-2017) : BDA has issued the latest Notification (2018) regarding allotment of Sites in KG Layout. For more details on this new notification..Kindly visit this link.
The comments for the below blog post have been disabled. You may comment/post your queries in the latest article.
---
Kempegowda Layout by BDA : Details, Terms & Conditions



Application forms are available from 02-Nov-2015.
Last date to submit application forms is 31-Dec-2015.

Where can I get Application form?

– They are available with authorized bank branches of Canara Bank, Corporation Bank, Axis Bank, ICICI Bank, State Bank of Mysore and Punjab & Sind Bank. These branches are located in Bangalore and also across Karnataka state.
Details of total number of available sites, dimensions, site value, registration fee and Initial deposit are as below;

(1 metre = 3.28 feet & 1 Sq meter = 10.76 sq feet)

Nearly, one thousand 20 * 30 sites(600 square feet) are reserved for Economic Weaker sections of the society. These sites are available at subsidized rates.
Nearly two thousand 30*40 sq ft sites, one thousand 40*60 sq ft sites and around five hundred 50×80 sq ft sites are available for allotment.
The per square feet rate is fixed at Rs 1,800 for 20X30 site. For EWS category, this is fixed at Rs 900 per sq ft.
The per square feet rate is fixed at Rs 2,000 for 30X40 site, which is Rs 24 Lakh.
The per square feet rate is fixed at Rs 2,200 for 40X60 site, which is Rs 48 Lakh .
The per square feet rate is fixed at Rs 2,500 for 50X80 site, which is Rs 98 Lakh. (This is only the allotment rate. Stamp duty and registration fee will also be applicable)
Only 50% of the total sites (ie 2,500 sites) are available for General category. The remaining 50% of the sites are reserved for various categories like SC / ST / BC / Govt employees / Persons with disability etc.,
What is the procedure to apply for a site in BDA Kempegowda Layout?
Visit the authorized bank and pay applicable 'registration fee' (ranges between Rs 500 to Rs 5,000 based on the site dimension). The bank will issue a Registration card. You can then obtain the Application form at the bank (application fee is Rs 400 for general category & Rs 200 for others).
Draw a DD in favor of BDA, Bangalore for the requisite Initial deposit amount

(as indicated in the above table).

Persons whose income is less than Rs 1 Lakh per annum are considered under EWS category.
The person applying for allotment of sites should be a domicile in Karnataka for not less than 15 years prior to the date of site registration. Age of the applicant should be atleast 18 years.
If you or any of your family member (spouse or dependent family member) has already been allotted any BDA / Govt site then you are not eligible to apply for allotment of site in Kempegowda BDA Layout.
The Initial deposit paid by you do not carry any interest. However, it will be adjusted against the total site value of successful applicants.

(Unsuccessful applicants will get it refunded)
Download BDA's notification – Application for Allotment of sites @ Nadaprabhu Kempegowda Layout, Bangalore (in Kannada / English).
The last date for submission of filled in application with initial deposit and registration fee is 31.12.2015.
Should you apply for BDA site in Kempegowda (KG) Layout? – My Opinion
BDA reserves the right to allot sites. Kindly note that this is not a BDA e-Auction. The allotment is based on various factors like seniority, number of previous attempts (number of times an applicant has tried to obtain a BDA site), no of years domiciled in Karnataka etc., So, the basis of allotment is purely subjective.

I do not think even lucky draw is conducted. So, looks like the allotment may or may not happen in a transparent way. This is my personal opinion.

As per my knowledge, the average market price in and around Kemepegowda Layout is between Rs 2,000 to Rs 2,500 per sq feet. The BDA sites have also been priced in the same way. It's been a long time since BDA has come up with new Layout in Bengaluru. So, the demand for these BDA plots can be high. So, let's monitor the demand for these BDA residential sites.
Check if there are any conditions applicable on 'Re-sale' of sites after the allotment is done. Generally, BDA does not allow immediate re-sale of its sites. So, check with BDA about this condition.
Getting a Home Loan sanctioned for a BDA site can be easy

(subject to your eligibility)

.
Kindly keep the above points in mind before applying for a site in Kempegowda Layout.
---
Latest News (28-Oct-2016) :
BDA has announced the Final list of Allottees. Kindly click on the below image to download the list of allottees for 20X30, 30X40, 40X60 & 50X80 sites. Cut-Off details have also been made available online.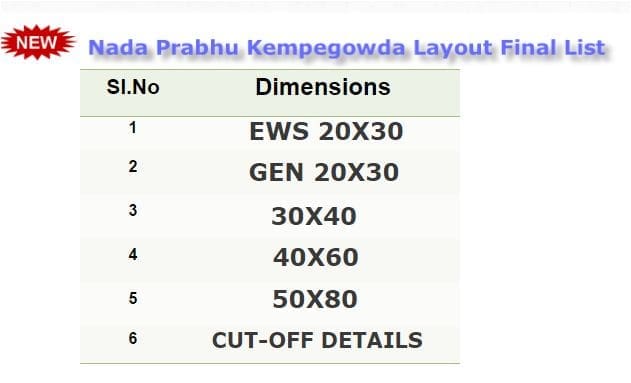 Latest News (28-Oct-2016) : As per BDA's website the deposit amount will be refunded to the non-allottees from 2nd Nov, 2016 in a phased manner. The refund note document is in Kannada as below. (click on the image to open the document)

---
Latest News : Click here to know more about the BDA's latest e-Auction Notification details : BDA e-Auction November 2019 (last date for e-auction is 3-12-2019).
---