PAN card or Permanent Account Number is one of the most crucial and important documents for the citizen of India. It is not only used for tax purposes but also as an identity proof. The card includes a unique ten-digit alphanumeric number and is issued in a form of a laminated card. (You can also get e-PAN now.)
Losing PAN card is a common occurrence for many taxpayers in India. If your PAN card is stolen, damaged or misplaced then you can now easily request for a re-print of PAN card.
PAN Card lost, stolen, damaged or misplaced? – How to order re-issue of lost PAN card online? How to get duplicate PAN card online? What is the procedure to request re-print of PAN Card online? How to download e-PAN card online?
Lost PAN Card? – How to request reprint of PAN Card online?
With the 'Reprint PAN Card' service, you can get new card with the old PAN number. This online provision is provided by NSDL and UTIITSL. Depending on which agency had issued your PAN card, you can approach either of them to get a reprint of your document.
This application should be used when PAN has already been allotted to the applicant but applicant requires a PAN card. A new PAN card bearing the same PAN details is issued to the applicant.
Guidelines for reprint of PAN Card
Option for update of PAN details will not be available through this facility.
This facility is only available for those PAN holders whose latest PAN application was processed through NSDL, UTIITSL and / or e-Filing portal of Income Tax Department.
Either mobile number or e-mail ID must be present in Income Tax Department PAN database for receiving One Time PIN (OTP). Else, the applicant would be required to submit his/her application using PAN Change Request form.
Option is provided to the PAN applicant to choose from mobile number or e-mail ID option(s). Same OTP will be sent on both mobile number & e-mail ID if applicant chooses both the options.
e-PAN Card shall be generated and sent only at the e-mail ID (if any) available in ITD PAN Master.
On successful submission of application for reprint of PAN Card, PAN card will be printed with existing PAN details available with ITD. The new PAN card will be sent to the communication address that is available with the IT department. You can cross-check your address details by login into e-Filing portal -> Profile Settings -> My Profile -> PAN Details.

How to order reprint of PAN card through NSDL portal?
Below is the procedure to order re-issue of lost PAN card through NSDL online service;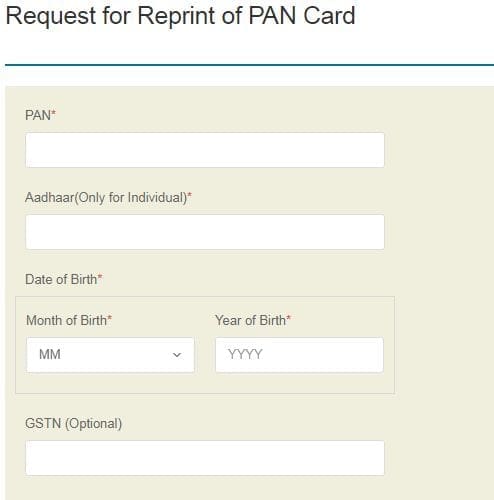 You need to provide your PAN and Aadhaar numbers along with Date of birth. (You should have linked your PAN card with Aadhaar as your Aadhaar data is used to reprint PAN card. Last date to link PAN with Aadhaar is 31-Dec-2019.)
Enter Captcha code and click on 'submit' button.
In the next screen, cross-check your contact and communication details and then select option(s) to receive OTP. Click on 'Generate OTP' button.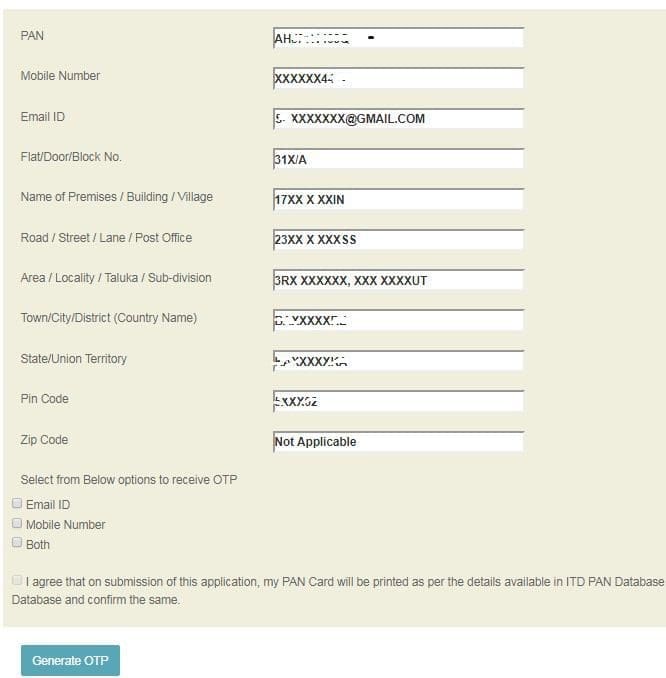 Enter the OTP that you have received on your Mobile/Email and click on 'Validate' button.

The applicable charges are Rs 50 for delivery to an Indian address and those outside of India can get it for Rs 959. Click on 'Pay confirm' button to pay the applicable fees.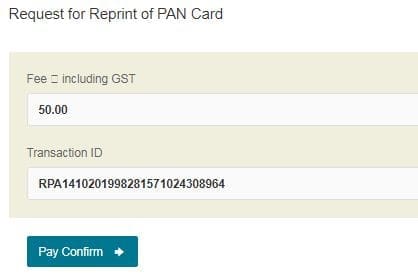 On successful processing of your request, your PAN card will be dispatched to the communication address as per the latest details available with Income Tax Department.
How to request re-issue of PAN Card through UTIITSL portal?
In case, you have got your PAN card through UTIITSL agency then you can visit their 'online facility for reprint of PAN card'.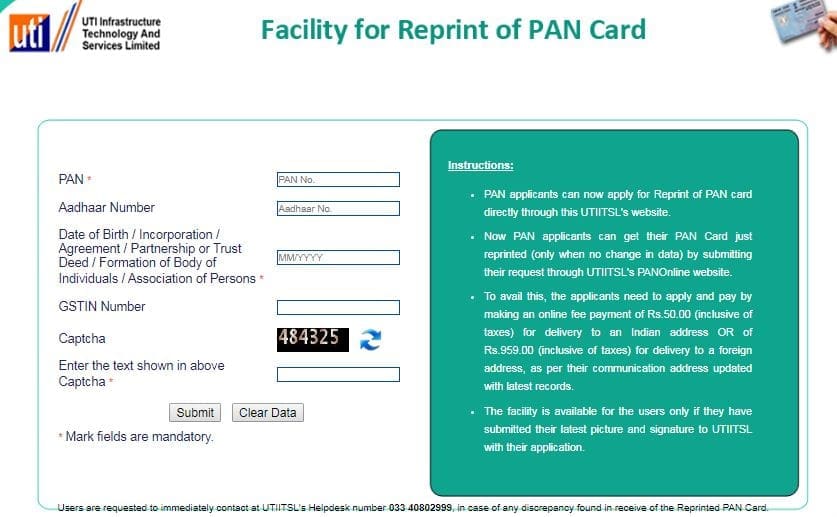 e-PAN Card
According to the recently amended income tax rules, ePAN (soft copy of PAN) is as good as your hard copy of PAN. So, you can also get your ePAN from the respective agencies (NSDL/UTIISL).
You can download e-PAN card by paying nominal charges through NSDL portal.
You can download e-PAN card by paying nominal charges through UTIISL Portal.
Kindly note that even if your PAN card is not lost or damaged, you can still order a reprint to get multiple copies or download ePAN card.
Hope you find this article useful and informative. Cheers!
Continue reading related articles:
(Post first published on : 14-Oct-2019)