CBDT has recently announced the launch of new Instant PAN allotment provision. This latest facility has been made available on the Income Tax e-filing portal.
Instant PAN allotment will now be done in near to real-time at free-of cost. Individuals (other than minors) with a valid Aadhaar number (with updated Mobile number) can avail this e-PAN allotment facility.
Under this facility, PAN in pdf format will be generated and issued to the applicant. This e-PAN holds same value as physical PAN card.
What are the pre-requisites to get PAN instantly?
The applicant (you) should have a valid Aadhaar which is not linked to any other PAN.
You should have your mobile number registered with Aadhaar.
The complete date of birth (DD-MM-YYYY) should be available on your Aadhaar card.
This is a paper-less process and applicants are not required to submit or upload any documents.
You should not have another PAN.
How to apply for Instant PAN online?
Below is the process to get instant PAN based on your Aadhar e-kyc.
Click the link- 'Get New PAN'.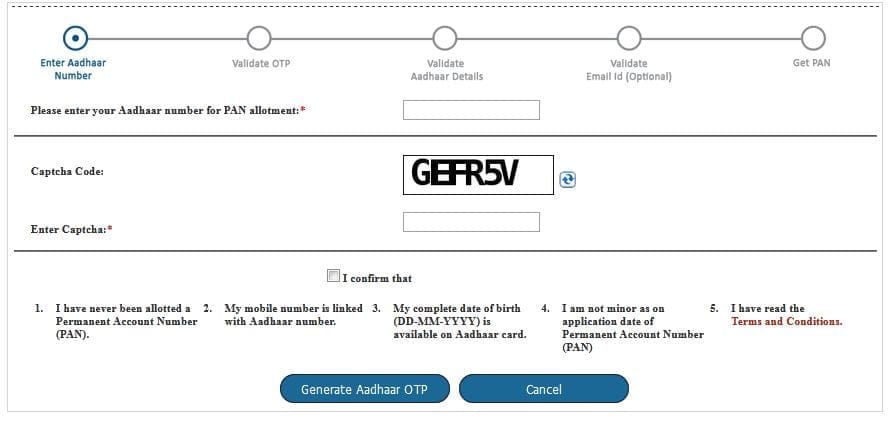 Fill in your Aadhaar in the space provided, enter captcha and confirm.
You will receive an OTP on the registered Aadhaar mobile number; submit this OTP in the text box on the webpage.
After submission, an acknowledgement number will be generated. Please keep this acknowledgment number for future reference.
On successful completion, a message will be sent to your registered mobile number and e-mail id (if registered in UIDAI & authenticated by OTP). This message specifies the acknowledgement number.
How to download instant e-PAN?
After completing the above procedure, you need to follow the below steps to check PAN allotment status and download ePAN;
To download PAN, please go to the e-Filing website of Income-tax department.
Click the link- 'Instant PAN through Aadhaar'.
Click the link- 'Check Status / Download PAN'.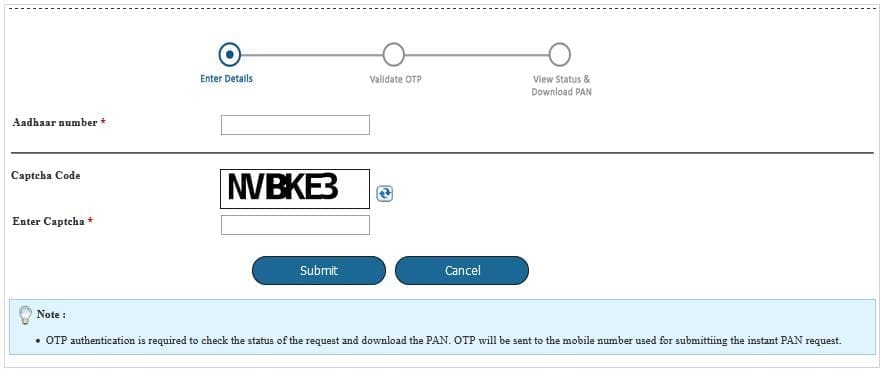 Submit the Aadhaar number in the space provided, then submit the OTP sent to the Aadhaar registered mobile number.
Check the status of application- whether PAN is allotted or not.
If PAN is allotted, click on the download link to get a copy of the e-PAN pdf.
Important FAQs on 'Allotment of Instant PAN based on Aadhaar ' :
What is e-PAN? – e-PAN is a digitally signed PAN card issued in electronic format by the Income-tax department. This card contains a QR code. QR code holds complete information about PAN card such as Name of the holder, DOB, Father's name as well as biometric.
Is this PAN valid? Is it different from the PAN issued via other modes of application? – Yes, this PAN is valid. It is not different from the PAN issued by Income-tax department via other modes of application. However, this PAN is paperless, online and free of cost.
Can I use this facility if I already have a PAN? Can I apply for another PAN? – No. As per provisions of Section 272B(1) of Income Tax Act, a person having more than one PAN has to pay a penalty of Rs.10,000.
Can foreign citizens apply for PAN through e-KYC mode? – No.
Can I apply for PAN if my Aadhaar Card is not active? – No.
How is Aadhaar verified through instant PAN? – UIDAI sends an OTP to the registered mobile number through the process of Aadhaar e-KYC.
What if I do not get an OTP? – You can resubmit the Aadhaar e-KYC page to get a new OTP. If you still don't get an OTP, you have to contact UIDAI.
If my Aadhaar authentication gets rejected during e-KYC, what should I do? – Aadhaar authentication may get rejected due to wrong OTP. The problem can be resolved by entering the correct OTP. If it still gets rejected, you have to contact the UIDAI.
Do I need Digital Signature Certificate (DSC) for applying for PAN card through Aadhaar based Instant PAN facility? – No.
Do I need to upload a scanned photo, scanned copy of Aadhaar card, signature etc. for e-KYC? – No.
Will I get a physical PAN card? – No. You will be issued an e-PAN which is a valid form of PAN.
How do I get a physical PAN card? – If a PAN has been allotted, you can get a printed physical PAN card by submitting PAN on the links below-
Can I make any changes in my existing PAN through this facility? – No. You can visit above portals' links and apply through 'Change Request Facility'.
If I cannot use the facility of Instant PAN allotment, whom should I contact? – You can mail your grievance to epan@incometax.gov.in .
In case, you already have a physical PAN card but would like to get e-PAN (softy copy) with the same PAN number then you can download e-PAN card by paying nominal charges. For more details, you may go through this article.
Continue reading:
(Source & reference : Income tax e-Filing Portal) (Post first published on : 19-February-2020)