In India, Fixed Deposits or any kind of Schemes where an investor gets fixed rate of interest become an instant hit. Small time investors get attracted to high interest rates offered by the Companies and invest their hard-earned money in Deposits Schemes (Collective Investment Schemes).
Some of these entities are genuine and whereas some entities collect monies from the public without getting the necessary approvals from the Regulators.
We have seen many entities collecting deposits illegally (or) issuing dubious loans at very low interest rates (or) have lured retail investors by issuing financial securities like Non-Convertible Debentures, Convertible Debentures, Preference Shares and Equity Shares without any approvals from the respective regulators (like RBI/ SEBI/ IRDA etc.,).
For instance, the management of AgriGold Farm Estates India allegedly collected deposits to the tune of Rs.7,000 crore from depositors in Andhra Pradesh, Telangana, Karnataka and other states without any statutory permission. More than 32 lakh people have invested their life savings in the schemes offered by this company. People deposited their money in AgriGold Company for its attractive interest rates and other benefits. When their deposits matured, the company could not return their deposits.
Pearls Group has been accused of running a Rs 47,000 Crore Ponzi Scam. And I am sure you are aware of Sahara Group's case. Like these there were many instances where lakhs of investors have been cheated by unscrupulous entities.
As of now, we do not have a common online platform to know about the details of Companies offering the Deposit schemes, whether they are genuine or not, to file any compliant on illegal deposit schemes, or to inform the Regulators about any illegal or Ponzi schemes being run in your location.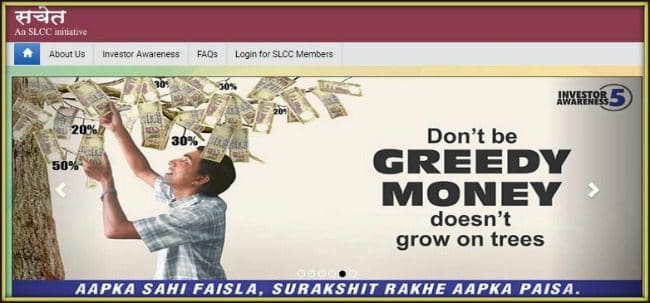 Sachet : An online Web Portal to curb unauthorized Collection of Deposits
To curb illegal and unauthorized pooling of funds by unscrupulous firms, the Reserve Bank of India has launched a website, www.sachet.rbi.org.in , which will facilitate filing, tracking of complaints, besides providing information about the entities registered with a regulator to accept deposits.
Sachet is an initiative by State Level Coordination Committee (SLCC), a joint forum formed in all states to facilitate information sharing among regulators such as Reserve Bank of India, Securities and Exchange Board of India, Insurance Regulatory and Development Authority of India, and Enforcement Directorate, to control incidents of unauthorized acceptance of deposits.
Below are the facilities provided on SACHET portal;
An investor can file and track a complaint on this website about any entity which has illegally accepted money from them and/or defaulted in repayment of deposits.
We can also share information regarding any such illegal or unscrupulous entity on this portal.
It also incorporates regulations prescribed by all financial regulators that different entities have to follow.
We can also check the list of registered entities with different regulators like RBI, SEBI, IRDA, PFRDA etc.,
How to check if a Company can collect Deposits from the public?
Let's say you would like to invest in a Fixed Deposit Scheme offered by Mahindra & Mahindra Financial Services LTD. You can follow below steps to check if this company (which is a Non-Banking Finance Company) is in the list of Registered entities to accept public deposits;
Kindly visit

Sachet portal

Navigate to 'Registered Entities' section.
M&M Fin Services Ltd is an NBFC and is regulated by the RBI. So, click on 'RBI' link.
You will be redirected to RBI's site. Click on 'List of NBFCs holding CoR for accepting Public Deposits' to download the list (excel / PDF format).
You can notice that M&M Fin Services is holding CoR (Certificate of Registration) to accept Deposits from the Public.
In case if you are planing to invest in a deposit scheme offered by a Housing Finance Company then you can click on 'NHB' under the 'Registered Entities' section. You will be redirected to 'National Housing Bank' portal. You can check if the concerned entity has an approval to accept the public deposits or not.
How to file & track my complaint against an illegal entity?
You can an file and track a complaint on this website about any entity which has illegally accepted money from you and/or defaulted in repayment of deposits.
Click on 'File a Compliant' link.
If you know the regulator, please click on the link of the respective regulator to file your complaint.
The complaint(s) submitted on this website would be immediately forwarded to the concerned Regulator/Law Enforcement Authority who would take necessary action as per their procedures and processes.
You can track your complaint based on Complaint number / Mobile number or your Email-Id.
How to inform the Regulator about dubious Entities accepting deposits or money?
This website is also meant to gather information regarding any unauthorized acceptance of deposits/money through various schemes by dubious entities so that action could be initiated against such entities.
In case you have noticed any suspect activity such as unauthorized acceptance of deposits/money under different schemes, the same can be brought to the notice of the regulators by clicking on the "Help your Regulator" tab.
You could also attach documents/pictures to support your information. However, before starting a discussion, it is advised that you may search for existing information on the topic through the search option.
Below is a short video on 'Sachet' Portal.
(Image courtesy of 2nix at FreeDigitalPhotos.net)
(Source : sachet.rbi.org.in) (Post published on : 08-Aug-2016)