Some of us meticulously maintain the records of our investments and some people just ignore or forget about making their investments. There are chances that your investments become lost when you move house and forget to update your details with a financial institution or company.
And some investors, do not even let their family members know about the details of the investments. On unfortunate death of such investors, the legal heirs face lot of difficulty to track and search for any unclaimed investments.
The value of unclaimed assets in India is estimated to be over a whopping Rs 90,000 crore, out of which the total unclaimed deposits transferred to RBI by public sector banks (PSBs) was Rs 35,012 crore as of February 2023. The number of unclaimed accounts amounted to 102.4 million.
What are Unclaimed Bank Deposits and in-operative accounts?
Bank accounts or deposits which are inactive or inoperative for 10 years or more are treated as unclaimed monies. These unclaimed monies can be, fixed deposit maturity amounts which have not been claimed, money lying in inoperative savings or current accounts etc.
According to RBI's press release dated 22nd July 2022, the growing volume of unclaimed deposits is mainly due to the non-closure of savings/current accounts which depositors do not intend to operate anymore or due to not submitting redemption claims with banks for matured fixed deposits. There are also cases of accounts belonging to deceased depositors, where the nominees/ legal heirs do not come forward to make a claim on the bank(s) concerned.
What happens to unclaimed deposits or monies lying with the banks?
The maturity proceeds of unclaimed Bank Fixed Deposits will earn the savings bank rate of interest only. If you withdraw the maturity amount of a forgotten FD then you may receive only savings bank interest rate from the date of maturity.
If you agree to reinvest the proceeds then you may get the applicable FD interest rates from the date of maturity. The interest on Savings bank accounts is credited irrespective of whether the bank account is operative or dormant.
As per the current guidelines, all banks have to display the list of unclaimed bank deposits and in-operative accounts on their respective websites. In a further welcome move, the central bank (RBI) has launched a centralized web portal UDGAM for searching unclaimed deposits across multiple banks.
UDGAM – Unclaimed Deposits Gateway to Access inforMation
What is RBI's new web portal UDGAM?
UDGAM portal facilitates the account holders of unclaimed deposits across multiple banks to access and withdraw their deposits from one consolidated platform. The web portal will help users identify and approach their banks for either claiming unclaimed deposits or making their deposit accounts operative at their banks.
Currently, users will be able to access the details of their unclaimed deposits in respect of seven banks available on the portal. These banks include;
The State Bank of India
Punjab National Bank
Central Bank of India
Dhanlaxmi Bank Ltd
South Indian Bank Ltd
DBS Bank India Ltd
Citibank N A.
How to do Unclaimed Deposit Search on RBI's new portal UDGAM
Below are the steps to search for unclaimed deposits using UDGAM RBI portal;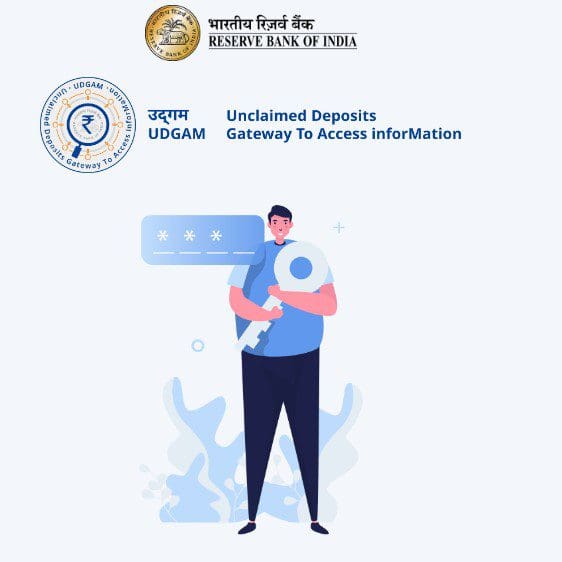 Register or Login into your account
You need to provide your mobile number to receive OTPs.
You can search for deposits belonging to an Individuals (natural person) or Non-individual (HUF, Partnership firm, Company etc.,).
You need to provide atleast one input to perform the search – 1) PAN, 2) Voter ID, 3) Driving License, 4) Passport Number or 5) Date of Birth. These details should be of the account holder(s).
You can also provide additional search criteria by giving the account holders address details.
A word of advice :
To avoid your investments from becoming unclaimed or in-operative, it is advisable to follow below points:
  Maintain a file or an Excel-sheet with all your investment details.
  Monitor and Track all your investments regularly.
  Try to invest online wherever and whenever it is possible.
  Update your latest contact details with your bank or other financial institutions.
  Keep your family members updated about all your investments.
  Assign nominees for all the investments.
Continue reading :
(Post first published on : 18-Aug-2023)