LIC (Life Insurance Corporation of India) is soon going to launch a new Single Premium Endowment plan called LIC Jeevan Shikhar. This new endowment plan is a participating, non-linked, with profit, savings cum protection plan.
LIC new plan Jeevan Shikar is expected to be available for sale for a limited period of time i.e., 120 days from the date of launch; from 11th January, 2016 to 31st March, 2016.
Around the same time last year (in Mar, 2015), LIC had launched a similar plan called LIC Jeevan Sangam (table no 831). LIC generally launches a lot of new plans during this time of the year when most of the individuals (considering the salaried individuals have to submit their income tax investment proofs) look for investing in Tax Saving instruments.
In this plan, the proposer can choose the Maturity Sum Assured (MSA). The single premium amount is based on the chosen MSA and the age of the life insured.
Key Features of LIC Jeevan Shikhar (Plan no 837)
The main features of this new endowment plan are as below;
Sum Assured on Death : 10 times of tabular single premium
Minimum Maturity Sum Assured : Rs. 100,000/-
Maximum Maturity Sum Assured : No Limit (Maturity Sum Assured shall be in multiple of Rs. 20,000/- only)
Policy Term : 15 years
Minimum Entry Age : 6 years (completed)
Maximum Entry Age : 45 years (nearer birthday)
Premium payment mode : Single premium only
Benefits under LIC's Jeevan Shikhar policy
Death Benefit – On death during first five policy years:

Before the date of commencement of risk: Single premium amount paid will be refunded.
After the date of commencement of risk: Basic Sum assured i.e. 10 times the tabular single premium shall be payable. (What is 'Date of commencement of risk' : In case the age at entry of the Life assured is more than 8 years or more, risk will commence immediately. If age is less than 8 years, the risk under this plan will commence from one day before the policy anniversary coinciding with or immediately following the age of 8 years)
On death after completion of five policy years but before the stipulated Date of Maturity : Death Benefit is Basic Sum assured i.e. 10 times the tabular single premium along with Loyalty Addition, if any, shall be payable.

Maturity Benefit in Jeevan Shikhar

: On policy maturity, the Maturity Sum Assured along with Loyalty Addition (if any) shall be payable.
Loyalty Addition : The Loyalty Addition shall be payable on death of the policy holder or on surrender of the policy, provided the policy has run for atleast five policy years, or on policyholder surviving till policy maturity.
Surrender option & Surrender value : The policy can be surrendered at any time during the policy year. The Guaranteed Surrender Value allowable shall be as under:

First year : 70% of the Single premium (excluding extra premiums paid and taxes).
Thereafter : 90% of the Single premium paid (excluding extra premiums paid and taxes. If policy is surrendered after completion of 5 years, Loyalty addition (if any) will also be paid)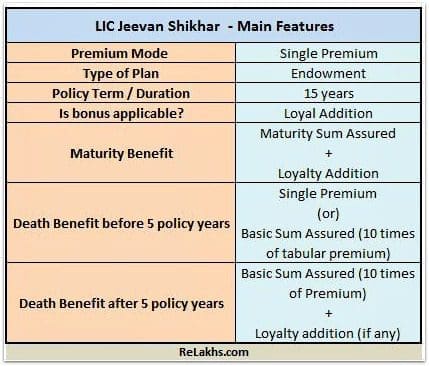 Illustration of LIC's Jeevan Shikhar Plan
How does Jeevan Shikar plan work? As mentioned above, it is an endowment plan. The premium is dependent on your age and on the Maturity Sum Assured (MSA) you choose. You have to pay premium only once and risk cover is available through out the policy tenure. On maturity, you get MSA, along with Loyalty Addition (LA).
Below is the info-graphic on how LIC Jeevan Shikhar plan works;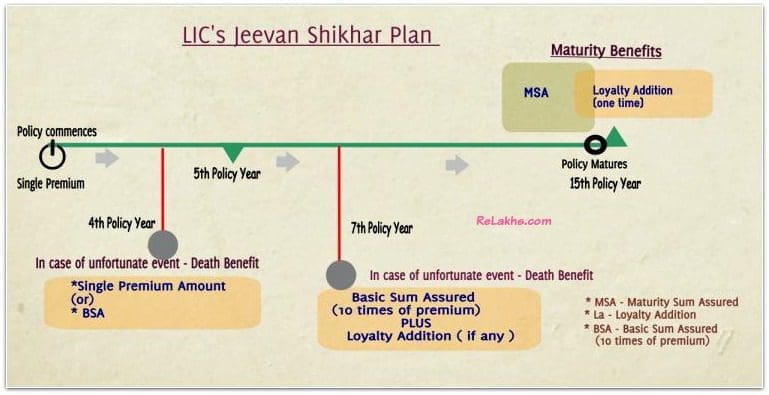 Calculation of Returns on LIC Jeevan Shikhar
Is this new plan a good one or a bad one? Is it worth your money? Let us calculate the returns with an example. I have used the IRR (Internal Rate of Return) function of Microsoft Excel (MS Excel) to calculate the returns on policy maturity.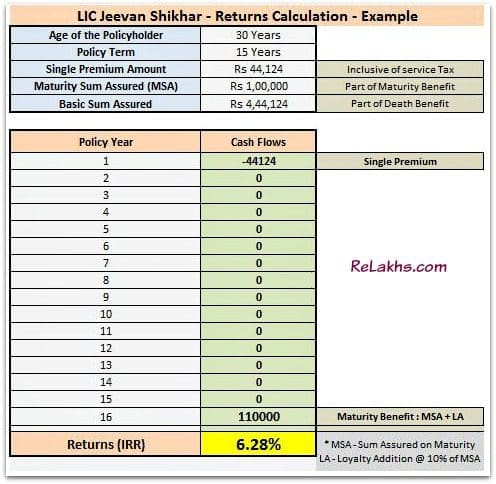 As calculated above, the returns from LIC Jeevan Shikhar can be around 6% to 7%. I have assumed 10 % of Sum assured as Loyalty Addition (which is on a higher side), still the returns are just 6.28% only. So, the returns are highly dependent on Loyalty Addition payout.
Last year LIC had offered a similar single premium plan called 'Jeevan Sangam' with 12 year policy term only. So, if we compare the returns of both the plans, Jeevan Shikhar will offer you slightly lower returns than last year's Jeevan Sangam plan.
It is very clear that LIC would like to cash in on the tax saving season by offering Jeevan Shikhar for a limited period (till 31st March, 2016). Most of the tax assessees who do last minute tax planning, may end up buying these low-yielding plans to claim tax benefits and deductions under section 80c.
This plan neither provides adequate life cover nor gives you decent returns. You may ignore buying this plan unless you are content with 6% returns over a period of 15 years.
If your requirement is to get an adequate life cover, buy a Term Insurance Plan. In case if your investment objective is tax saving cum long-term wealth accumulation, it is prudent to invest in Equity Linked Tax Saving Schemes of Mutual funds.
(Kindly note that this post is based on limited information that is available on net. The above details can be changed as and when more information is available after the launch of LIC Jeevan Shikhar plan)
You may like reading below articles;