LIC (Life Insurance Corporation of India) has launched a new Limited Premium, non-linked, with profit Endowment Plan called LIC Jeevan Labh. This plan is available for purchase from 4th January, 2016.
Around the same time last year (in Dec, 2014), LIC had launched a similar plan called LIC Limited Payment Endowment Plan (table no 830). LIC generally launches a lot of new plans during this time of the year when most of the individuals (considering the salaried individuals have to submit their income tax investment proofs) look for investing in Tax Saving instruments.
Key Features of LIC Jeevan Labh Plan
The main feature of this new plan is, the payment of premiums is limited to a term shorter than the policy (limited premium payment – LPP). The maturity amount is payable at the end of the policy term, or on the death of the policy holder whichever is earlier.
LIC's new plan Jeevan Labh is a traditional plan. It is a non-linked with profit Endowment Plan.
Minimum Age at entry: 8 years
Maximum maturity age : 75 years
Policy Term options : 16 years / 21 years / 25 years
Premium Paying Term options : 10 years / 15 years / 16 years respectively.
Minimum Sum Assured : Rs 2 Lakh
Death Benefit under Jeevan Labh : The policyholder's nominee will receive; Sum Assured + Bonus + Final Additional Bonus (if any).
Maturity Benefit under Jeevan Labh : Sum Assured + Bonus + Final Additional Bonus (if any).
Optional riders like Term insurance rider (TR) & DAB (Double Accident Rider) are available.
Example of LIC Jeevan Labh Limited Premium Payment Endowment Plan :
Mr. Paswan aged 35 years, plans to take LIC Jeevan Labh for the term of 16 years and the premium payment term (PPT) of 10 years. He chooses the sum assured of Rs 3 Lakh.
In this case, he is required to pay premium for 10 years only. After the PPT of 10 years, he will stop paying premium but the policy will continue till the policy term of 16 years.
The possible events that can happen are :
On Death of Policy holder

– If Mr Paswan dies during the policy term, his nominee will receive the Sum Assured + Accrued Bonuses + FAB (if any). After this, the policy will cease to exist.
On Survival till maturity

– If Mr. Paswan survives till the end of policy term, he will get the Sum Assured + Accrued Bonuses+FAB (if any). The policy will terminate thereafter.
LIC's New Plan Jeevan Labh– Returns Calculation
Let us consider an example, Mr. Paswan (35 years) wants to invest in LIC's new plan Jeevan Labh policy. He is not clear as to which is the best combination (policy term and PPT). He wants to calculate return on investment under various combinations of Policy and Premium Paying Terms.
If Mr Paswan opts for Policy term of 16 years and PPT as 10 years, premium is Rs 17,892. Under this option he has to pay the premiums for 10 years. In the beginning of 17th year he may receive the maturity benefit of Rs 3.38 Lakh (inclusive of Sum Assured, accrued bonuses and final additional bonus). The expected return on his investment is around 5.6%.
Like wise, Mr Paswan will get returns in the range of 6% to 7% under different options of LIC's Jeevan Labh plan.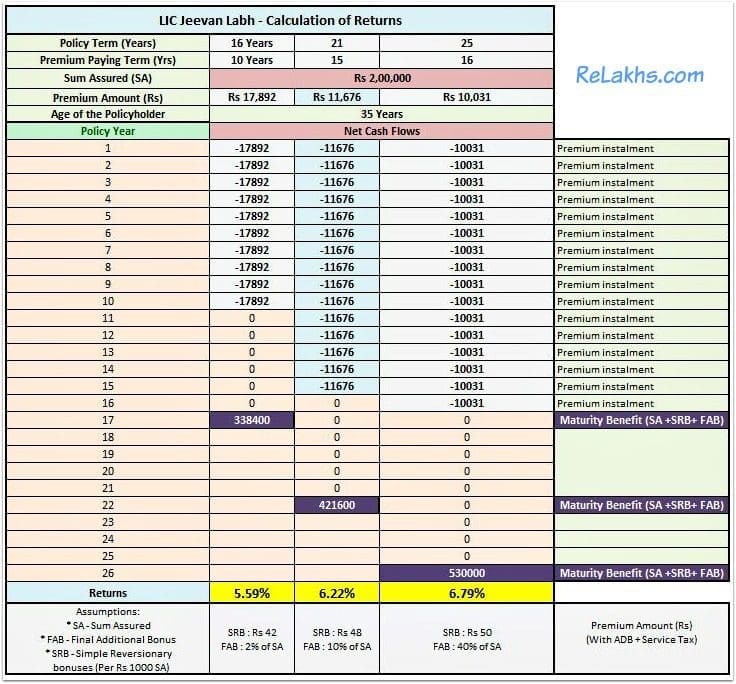 (Click on the above image to open it in a new browser window)
Should you invest in LIC Jeevan Labh Scheme?
We are at the fag end of the Financial Year 2015/2016. People generally rush to buy tax-saving plans at the fag end of a financial year. If I have to do my tax planning and investment planning now, I will surely ignore this plan. The premiums paid on LIC Jeevan Labh policy may give you income tax benefit under section 80c, but may not generate decent inflation adjusted returns for you.
I am sure you are now very clear on how much returns can we expect from these kind of endowment policies. Returns of 6% to 7 % that too over a period of 16 to 25 years sounds very low to me. Kindly be aware of financial products before you buy. Let me know your views. Do share your comments. Cheers!
(Kindly note that this post is based on limited information that is available on net. The above details may be changed once more information is available.)
You may like reading my article on : "LIC's 2015 all plans list – Snapshot & Review".