Renting a residential property pales in comparison to leasing commercial properties. It involves larger spaces, higher rent, higher agent fees, and hence leading to higher overall investment. While residential agreements are made usually for 11 months, commercial agreements are B2B or B2C and are signed for much longer durations. There are too many complexities involved, and one has to engage due diligence before deciding on the rightly suited property for them. You need to be conversant with the local laws and requisite permits pertaining to real estate dealings.
The real estate industry in India faces cut-throat competition from within, and hence rent agreements have to be worked upon smartly. You need to know the right questions to ask and all the laws that are best suited for your business. Understanding such laws will also help you avert costly mistakes and save money as well. All commercial property rent/lease deals are governed by the Transfer of Property Act.
A commercial leasing agreement is a process wherein the property is leased out for commercial purposes. This can include the lease of a store, an office, an industry, and other commercial buildings.The commercial lease agreement does not have a standard or required form, unlike other contracts. The party can use any form as long as the basic elements of the lease agreement is present.
So how does one go about getting into an agreement? What are the laws that govern such agreements, and what are the steps to be followed while renting a commercial property?
Steps for Renting Commercial Property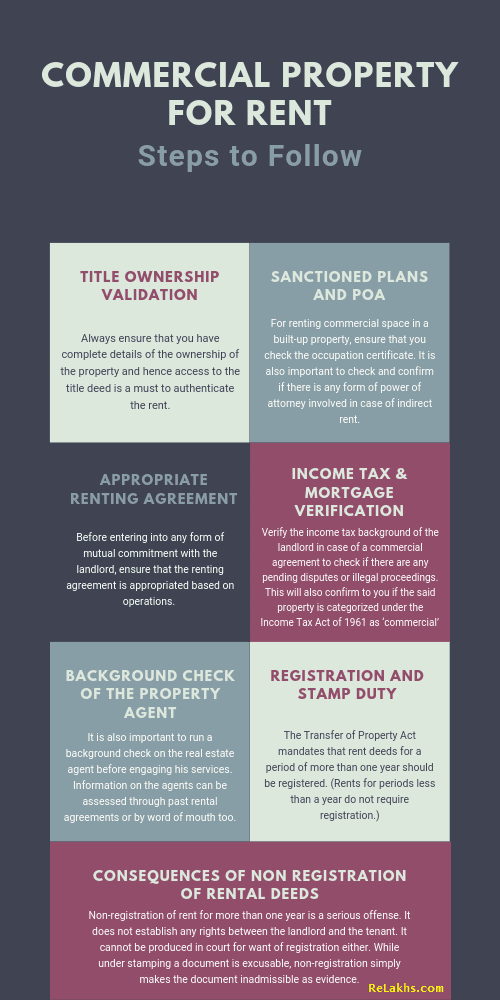 Title ownership validation
Always ensure that you have complete details of the ownership of the property and hence access to the title deed is a must to authenticate the rent. Investigate further to confirm there is no sub-rent or any other form of rent associated with the property before getting into an agreement with the landlord.
Related Article : How to check ownership details through Encumbrance Certificate?
Sanctioned Plans and Power Of Attorney (PoA)
If the property you are renting is a building under construction, it is always advisable to verify the title deed and commencement certificate issued by the relevant authorities. For renting commercial space in a built-up property, ensure that you check the occupation certificate. It is also important to check and confirm if there is any form of power of attorney involved in case of indirect rent.
Related Article : What is Occupancy Certificate & its importance?
Appropriate Renting Agreement
Before entering into any form of mutual commitment with the landlord, ensure that the renting agreement is appropriated based on operations. Be specific about the nature of the rent, whether it is a rental lease agreement or a co-working office space agreement.
Income Tax & Mortgage verification
It is always advisable to verify the income tax background of the landlord in case of a commercial agreement to check if there are any pending disputes or illegal proceedings. This will also confirm to you if the said property is categorized under the Income Tax Act of 1961 as 'commercial' or 'residential' under the Development Control Regulations. If there is any ambiguity in this categorization you maybe levied a TDS in the future.
Background Check of the Property Agent
It is also important to run a background check on the real estate agent before engaging his services. Information on the agents can be assessed through past rent agreements or by word of mouth too. Insist on the agents sharing details of past clients handled by them. Their inhibition in doing so can be a clear indicator of fraudulent activities if any, from the past.
The validity of Your Renting Agreement
A commercial lease agreement must mention the following basic information in addition to other clauses;
Start and termination dates.
Property address.
The rental amount and complete details of all deposits.
The interval of payment.
The provision of rent renewal.
Names of all the parties involved, including their signatures.
The names of the landlord and tenants and other parties involved and their signatures.
In the case of co-working space agreements, make sure that the working hours are mentioned else, enhancing them in the future may be a tedious process.
Each state has its own Rent Control Act. For example, Maharashtra has the 'Rent Control Act 1999', Delhi has the 'Rent Control Act 1958', Chennai has the 'Tamil Nadu Buildings (Lease and Rent Control) Act 1960 and Bengaluru has 'New Rent Control Act, 2001'.
The salient features of these Acts are:
The act has abolished oral tenancies for properties to which this act is applicable and has made it compulsory to enter into written rent deeds.
All real estate agents are to register themselves with the rent controller and give information on all transactions.
Although any rent can be agreed upon at the commencement of the rent, enhancement of rent is governed by the schedule appended to the act.
Charges for amenities can be decided by the landlord and tenant. If no such provision is made, the act provides for 15% of the rent to be reserved for amenities.
In addition to the above it is also important that the following be adhered to;
Registration And Stamp Duty
The Transfer of Property Act mandates that lease deeds for a period of more than one year should be registered. (Rent for periods less than a year do not require registration.)
Rentfor More Than One Year
All rents for a period of more than one year should be compulsorily registered. The stamp duty payable on such rent deeds and rent agreements are high and is computed on the average annual rent along with deposit payable. The amount of stamp duty is almost equal to that of a sale deed. The usual practice is to split up the rent into two halves and make out one of them as an amenities agreement, which does not require registration. The amenities agreement will have to be stamped as per the article relating to the lease of movables.
Consequences of Non Registration of Lease Deeds
Non-registration of rents for more than one year is a serious offense. It does not establish any rights between the landlord and the tenant. It cannot be produced in court for want of registration either. While under stamping a document is excusable, non-registration simply makes the document inadmissible as evidence.
Those mentioned above are key areas where a lessor needs to pay attention to while renting/leasing commercial office space in India. This ensures that your best interests are realized, thereby minimizing time wasted and saving you money.
This is a guest post by Mohammed Tasleel of bangaloreoffice.com .
About the Author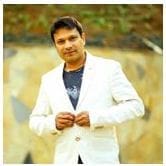 Mohammed Tasleel is the founder and CEO of bangaloreoffice.com. He is a certified real estate professional and deals with the office space for rent in Bangalore, India. Tasleel has more than 15 years of experience in corporate real estate domain and having a portfolio of working with more than 2000 global clients.
Kindly note that ReLakhs.com is not associated with bangaloreoffice.com. This is a guest post and NOT a sponsored one.
We have not received any monetary benefit for publishing this article. The content of this post is intended for general information / educational purposes only.