According to KPMG India, the Franchise industry's business in India is expected to be a USD 50 billion by 2017. This industry is also expected to create job opportunities (including both direct and indirect) for around 11 million people by 2017.
Are you frustrated with your current job? Do you have entrepreneurial spirit? Do you want to own a business? Do you want to be your own boss? Do you want to associate with a successful brand? Do you have the passion and expertise in a specific area but want to start a business in a less risky way?
Then Franchising is the best way to start a business. We see so many products/service providers like – Mc Donalds, KFC,Bata,Aptech,NIIT,Catridge World, Lakme Salon, Univercell, Euro Kids etc.,around us. It is highly impossible for all these companies to have their presence in all the regions/localities on their own. They offer franchising opportunities as a part of their business strategy.
It is estimated that franchising opportunities in business segments like Health & Wellness, Education, Food service and Financial Services segments will be plenty in the next 5 to 10 years.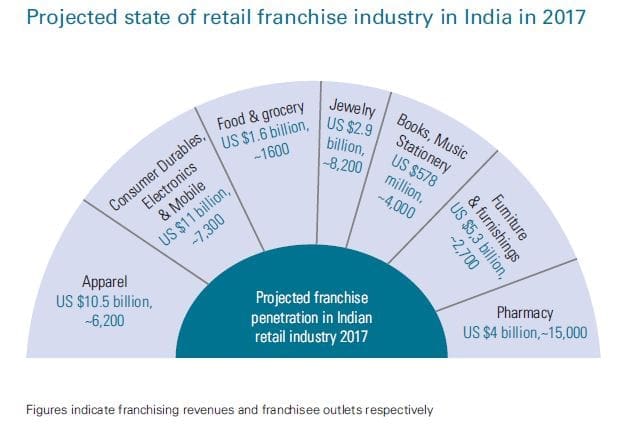 ( Pie-chart source : KPMG )
What is Franchising?
Franchising is the practice of leasing for a prescribed time frame, the right to use a firm's business model and brand. The entity who owns the overall rights, brand, trademark is known as the Franchisor. The Franchisor allows the Franchisee to use these rights and trademarks to do business.
The Franchisor charges Royalty fee for using their business model, trademarks, brand etc., ( a fixed percentage on the revenues generated is paid as royalty to the Franchisor by the Franchisee). The relationship between the Franchisor and Franchisee is governed by mutually agreed contract or Franchise agreement.
Once you decide to buy a Franchise, below are some of the important factors that you need to consider.
Assess yourself
Analyze yourself as to what are my personal traits? What am I good at? What kind of expertise do I have? Can I make use of the prior work experience in my future venture? What is my passion?
For example – You are considering to buy a Kids Pre-School franchise. Analyze yourself – Do you really love being with the kids? Do you have lot of patience? If you do not have patience then it might be very tough to run a Pre-school center. You need to have passion for it.
Keep it in mind that franchising does not lead to instant riches. You need to put in lot of efforts as if it is your own brand/business.
Assess your resources
Analyzing your resources is a very important step. Resources can be – Time, Finances, Manpower, Property, location etc.,
Ask yourself these questions – What amount of time can I invest? Is it going to be my full-time venture? With whom I am planning to set up the franchise? Is it going to be a sole-proprietorship or partnership? What is my investment budget? How much can I invest? How long can I wait (months) for the venture to break-even? Is a bank loan required to finance the venture? Am I going to use my own property for the franchising business? What are my preferred locations?
Identify the preferred business categories
Based on your personal traits and resources, try to identify the business segments /categories that you are comfortable with. You may then shortlist the preferred sub-segments in each category.
To get business ideas visit Franchise websites like www.fai.co.in or www.franchiseindia.com. (If you have already selected a business category/sub-category you can visit the companies' websites or www.franchiseindia.com to identify if there are any franchise opportunities).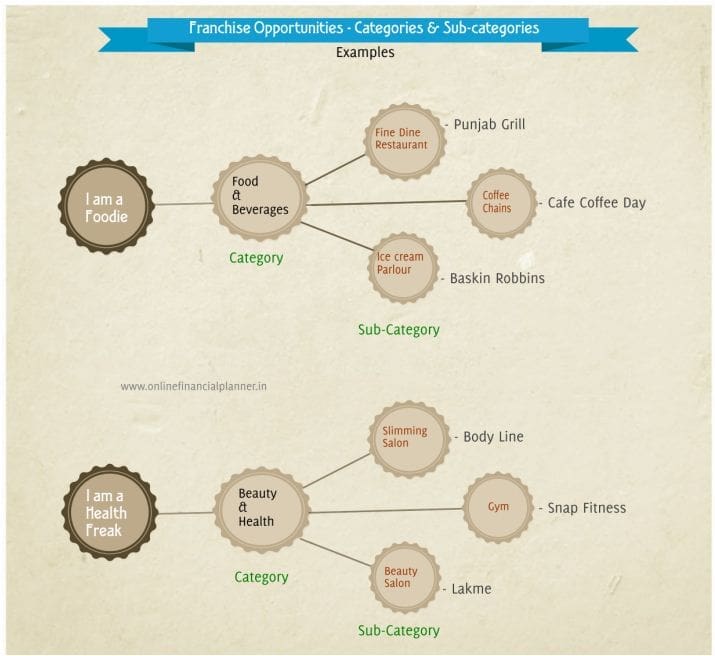 Assess the economics of Franchise businesses

Do a research on the sub-categories of your preferred business category
Identify your preferred localities
Analyze the demand and supply dynamics for that sub-category
Assess if there are any competitors
Do a preliminary analysis on numbers. Try to calculate the required investment amount, the expected returns? What are the manpower costs? What are the property rentals (if any)?What are the fixed expenses? What is the working capital requirement?
Below table may give you a rough idea about the required investment budget for different business segments.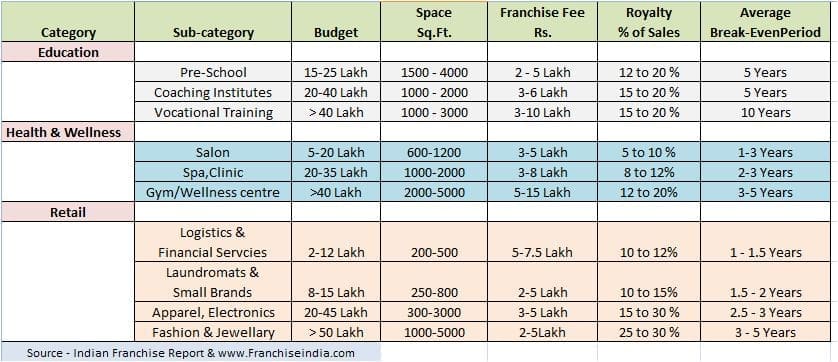 Shortlist the Franchising opportunities
Once you have a broad picture on your preferred business sub-category and the required investment details, you can assess each franchising opportunity that is available.
Franchiseindia.com provide details about each business opportunity. You can filter the options based on sub-categories or investment budget or location.
Identify the Franchisors based on your interests and investment criteria.
Understand the Franchisors' requirements regarding – the available locations for franchise, investment requirements, the royalty fees etc.,
Contact the Franchisors and get all the details.
Compare your numbers with that of the Franchisors' with respect to investment budget, break-even period etc.,
Find out from the Franchisors about the kind of support they provide. The support can be technical, training, marketing, staffing etc.,
If possible talk to people who are already associated with the franchisors.
Select the Franchisor & establish your business
Based on your analysis and requirements identify a suitable franchisor
Ask for the final workings on numbers
Understand terms & conditions of Franchise agreement/contract. Especially on royalty fee, refundable deposit amount, duration of the agreement etc.,
Check the validity period of the agreement
Check if the agreement can be renewed or not?
Find out about the legal issues like succession planning, whether legal heir can continue the business etc.,
Understand the service/product guidelines of the Franchisor
Sign the agreement
Get the loan from a bank ( if required)
Set up the infrastructure and recruit the manpower.
Attend training programmes (if any)
Implement the marketing strategy with the help of your Franchisor
Maintain good relationship with the franchisor
Franchising industry is a very successful business model in developed nations. Companies like Bata, Aptech and NIIT are the pioneers of this model in India. While the developed countries have the franchise industry specific laws, India do not have such laws. Another major challenge to the Franchisee is the property rentals in India. The rentals form around 50 to 60% of a Franchisee's operating expenses. Give utmost importance to this and plan accordingly.
As of today, Indian retail industry is highly unorganized. The expected foreign investments into retail industry may change this scenario. We can expect more foreign brands to come to India. Thus leading to huge growth in franchising industry too.
Are you planning to set up a Franchise? Have you gathered sufficient information? Share your experiences. They might be useful to individuals who want to start a franchise.
( A couple of years back, my wife wanted to buy a Pre-school franchise. During that time we had done a little bit of research about the Franchise business model. In this post I tried to share the things that I have learned. Click here – to download workings of a typical pre-school set up. I had received these workings from a leading Playschool Franchisor )