All of us need medicines at some time or the other for – treatment/cure of various diseases, controlling worsening of illnesses, alleviating symptoms (or) for prevention.
It is a well-known fact that branded medicines are generally sold at significantly higher prices in India. We all feel the pinch of it!
When we get fever, we take a 'Paracetamol' tablet. Paracetamol is a 'generic' name. This generic medicine is offered in the market under different brand names, at varying price points.
(Paracetamol, also known as acetaminophen, is a medication used to treat pain and fever.)
Every medicine has an approved generic name. If it is made by several Pharmaceutical companies, each will also give the medicine a brand (trade) name. So one medicine may have a generic name and also have one or more brand names.
For example : Crocin, Calpol, Dolo etc., all these branded tablets have 'paracetamol' as a generic medicine and are used for treating fever and body-pains. But, these are available at varying prices.
Is it possible to get generic medicines (un-branded) at low cost and affordable prices? Yes, it is possible.
Have you heard of 'Jan Aushadhi Scheme'?
To be frank, until last week, I was not aware of this Govt Scheme. One of my uncle recently shared his personal experience and about the benefits of this scheme on social media. I too felt that this is a good scheme and need to be promoted, hence doing my bit by publishing an article on this scheme!
What is Jan Aushadhi Yojana?
Jan Aushadhi Pariyojana was launched way back in 2008 by the Govt of India. The main aim of this progam is to provide quality medicines at affordable prices to all.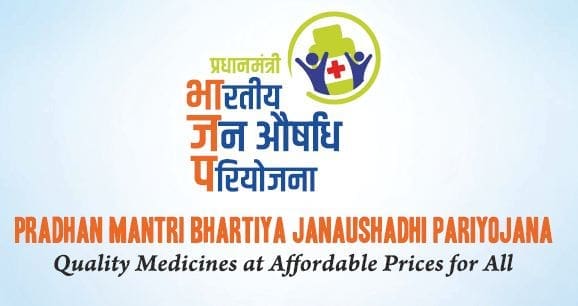 This scheme has now been re-named as 'Pradhan Mantri Bhartiya Janaushadhi PariYojana' (PMBJP). The sale of affordable generic medicines is done through exclusive outlets namely 'Pradhan Mantri Bhartiya Jan Aushadhi Kendra'.
OTC (Over The Counter) medicines can be purchased by any individual without a prescription at Jan Aushadhi kendras. However, a prescription from a registered medical practitioner is necessary for purchase of schedule drugs.
Low cost / Affordable Pricing
Based on the price list available at PMBJP portal, I believe that the price difference between the generic medicines available at Janaushadhi kendras and regular medical shops is substantial.
My mother has been suffering from diabetes and hypertension (high BP) for the last couple of years. So, she has to take medicines on a daily basis.
She takes 'Glycomet' tablets for diabetes. This tablet has a generic medicine known as 'Metformin Hydrochloride'. The MRP for 20 tablet strip is Rs 38. (Glycomet is the brand name of the drug)
For controlling high BP, she takes 'Telvas' tablets. The generic medicine used is known as 'Telmisartan'. The MRP for a 10 tablet strip is Rs 91. (Telvas is a brand name & manufactured by Aristo Pharmaceuticals)
As discussed above, you can get un-branded medicines at Janaushadhi kendras based on generic names. So, let's search for these two generic medicines on PMBJP portal.
Visit

Janaushadhi portal

.
Click on 'Products' menu tab
Let's search for the generic name 'Metformin Hydrochloride'. (You can find generic name printed on Tablet strips or can ask your Doctor.)
The branded tablets which my mother is using right now (Glycomet) is available at medical stores for Rs 19 per 10 tablets. The tablets with same generic name but un-branded ones, are available at Jan Aushadhi kendras for MRP of Rs 5.15. That's a difference of more than 70%.
Let's now check the MRP for 'Telmisartan'.
The branded tablets (Telvas) which my mother is using right now for high BP is available at regular medical stores for Rs 91 per 10 tablets. The tablets with has the same generic medicine, are available at Jan Aushadhi kendras for MRP of Rs 19.10. That's difference of around 80%.
Suggest you to do this price-comparison analysis for the medicines that you buy on a regular basis!
How to find a Jan Aushadhi Store?
There are around 2,807 Pradhan Mantri Bhartiya Janaushadhi Kendras that are spread over 26 States/UTs (as on 17th Nov, 2017). In case, you are planning to visit a Jan Aushadhi kendra, you can get the nearest store details online, click here..
Unfortunately, Janaushadhi kendra is not yet launched in my town. Will surely visit the store as soon as it is inaugurated.
How to open a Jan Aushadhi Kendra?
In case, you wish to open a Jan Aushadhi kendra in your city/town, for more details you may visit this link.
Kindly note that these kendras run on a self-sustaining business model and are not dependent on Govt subsidies. However the Govt provides some financial assistance (of up to Rs 2.5 lakh) as an initial support.
Doctors are trained to use the generic names. But, in reality, we notice that most of the doctors prescribe 'brand names' instead of generic names. Besides this, some of the doctors insist the patients to take medicines at their recommend Medical shops only. This trend has to change!
Also, the govt has to promote schemes like these in an aggressive way, so that all the citizens can reap the benefits of affordable prices. The Govt should ensure that Janaushadhi kendras are adequately stocked with all types of generic medicines. They should take necessary steps to make sure that these kendras are available at all Govt Hospital premises, especially in semi-urban and rural areas.
Did you visit any Jan Aushadhi kendras? Are these kendras adequately stocked? Kindly share your experiences.
This post is for information purpose only and is not 'for or against' any political party or Govt. I have given the details of the Govt Scheme based on its merits. I am not a medical expert, request you to consult a Medical Practitioner before buying any drugs. Self-medication can be harmful!
(Post published on : 17-November-2017)