The Reserve Bank of India has issued new guidelines for setting lending rate (on loans) by commercial banks under the name Marginal Cost of Funds based Lending Rate (MCLR). It will replace the existing base rate system from April 2016 onwards.
Base rate system was introduced by RBI in July 2010 to ensure that banks can not lend below a certain benchmark. Also, to ensure that the changes in interest rate policy is effectively transmitted to the bank customers.
However, policy transmission could not become very effective as banks adopted various methods in calculating their cost of funds. At present, the banks are slightly slow to change their interest rate in accordance with Repo Rate change by the RBI.
You might have observed that RBI has cut interest rates to the tune of 125 basis points in this fiscal year. But, this has not been effectively transmitted to lending rates offered by the banks. Banks have so far lowered their base rate by only 50-60 basis points.
( A term called as "Basis Points" is often used in monetary policy reviews. What is Basis Point? …. 1% is equivalent to 100 basis points)
Same is the case when interest rates are increased by the RBI. If RBI increases rates by say 100 basis points, banks increase their benchmark rates by say 50 basis points. So, the 'base rate system' has turned out to be not so effective method.
In this post let us understand – What is Marginal Cost of Lending Rate? Difference between MCLR and Base rate methods? How is MCLR calculated or determined? Is new MCLR system beneficial to borrowers & banks? What is the impact of MCLR on existing and new home loan buyers?
(You may like reading my post on – 'What is CRR / SLR / Repo Rate / Reverse Repo Rate')
---
Latest update (06-Sep-2019) : RBI makes it mandatory for all Banks to link Loans to External Benchmark Rates. However, this is not applicable to NBFCs (like HDFC, LIC HFL etc.,). The existing borrowers will be given an option to port to new Lending rate. The interest rate under the loans linked to an external benchmark will be reset at least once in 3 months
---
How is MCLR calculated? (Components of MCLR calculation)
Let us first understand as to how banks make money or profit. The primary function of a bank is to lend money and to accept deposits from the public. The difference between advances and deposits is the income earned by the banks.
So, how is the base rate or Standard Lending Rate calculated by the banks? The main components of base rate system are;
Cost of funds (interest rates offered by banks on deposits)

Operating expenses to run the bank.

Minimum Rate of return ie margin or profit

Cost of maintaining CRR (Cash Reserve Ratio).
As you can see, the banks do not consider 'repo rate' in their calculations. They primarily depend on the composition of CASA (Current accounts & Savings Accounts) and deposits to calculate the lending rate. Most of the banks are currently following average cost of fund calculation. So, any cut or increase in rates (especially key rate like Repo Rate) by the RBI is not getting transmitted to the bank customers immediately.
(What is repo rate? – When we need money, we take loans from banks. And banks charge certain interest rate on these loans. This is called as cost of credit (the rate at which we borrow the money)
Similarly, when banks need money they approach RBI. The rate at which banks borrow money from the RBI by selling their surplus government securities to the central bank (RBI) is known as "Repo Rate.")
As per the RBI's new guidelines, it is mandatory for the banks to consider the repo rate while calculating MCLR with effective from 1st April, 2016. The new method — Marginal Cost of funds based Lending Rate (MCLR) will replace the present base rate system.
The main components of MCLR calculation are;
Operating Expenses
Cost of maintaining CRR
Marginal Cost of funds

After considering interest rates offered on savings / current / term deposit accounts.

Based on cost of borrowings i.e., short term borrowing rate which is repo rate & also on long-term borrowing rates.

Return on Net-worth

Tenor Premium (an additional slab of interest over the base rate, based on the loan tenure & commitments).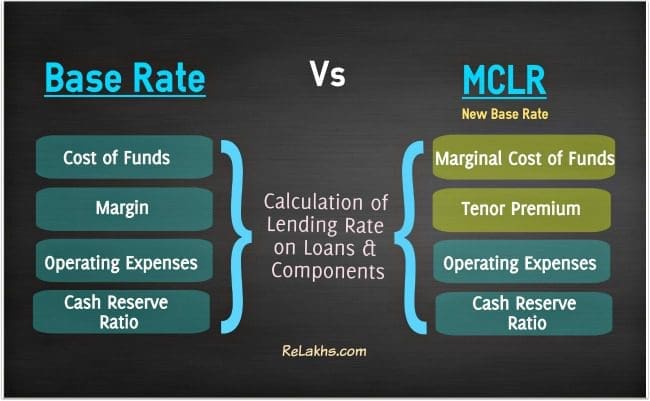 The main differences between the two calculations are i) marginal cost of funds & ii) tenor premium. The marginal cost of funds will have high weightage while calculating MCLR. So, any change in key rates (increase or decrease) like repo rate brings changes in marginal cost of funds and hence the MCLR should also be changed by the banks immediately.
(In economics sense, marginal means the additional or changed situation. While calculating the lending rate, banks have to consider the changed cost conditions or the marginal cost conditions.)
RBI's key guidelines on MCLR
All loans sanctioned and credit limits renewed w.e.f April 1, 2016 will be priced based on the Marginal Cost of Funds based Lending Rate.
MCLR will be a tenor-based benchmark instead of a single rate. This allows banks to more efficiently price loans at different tenors based on different MCLRs, according to their funding composition and strategies.
Banks have to review and publish their MCLR of different maturities every month on a pre-announced date.
The final lending rates offered by the banks will be based on by adding the 'spread' to the MCLR rate.
Banks may specify interest reset dates on their floating rate loans. They will have the option to offer loans with reset dates linked either to the date of sanction of the loan/credit limits or to the date of review of MCLR.
The periodicity of reset can be one year or lower.
The MCLR prevailing on the day the loan is sanctioned will be applicable till the next reset date (irrespective of changes in the benchmark rates during the interim period).

For example

, if the bank has given you a one-year reset period in your loan agreement, and your base rate at the beginning of the year is say 10%, even if the interest rate comes to 9% in the middle of the year, you will continue at 10% till the reset date. Same will be the case even if the interest rate increases above 10%.
Existing borrowers with loans linked to Base Rate can continue with base rate system till repayment of loan (maturity). An option to switch to new MCLR system will also be provided to the existing borrowers.
Once a borrower of loan opts for MCLR, switching back to base rate system is not allowed.
Loans covered by government schemes, where banks have to charge interest rates as per the scheme are exempted from being linked to MCLR.
Like base rate, banks are not allowed to lend below MCLR, except for few categories like loans against deposits, loans to bank's own employees.
Personal loans, auto loans etc., will not be linked to MCLR.
Fixed rate loans up to a tenor of 3 years will be brought under MCLR system. Fixed rate with tenor of more than 3 years will be exempt from MCLR regime, meaning banks will have discretion in pricing the product.
How MCLR Works? (Example)
For instance, for salaried individuals, ICICI Bank has set a floating rate home loan at one-year MCLR of 9.20% with a spread of 25 bps for loans of up to Rs.5 crore. So, the interest rate will be 9.45% (9.20% +0.25%). This interest rate is valid till 30th April, 2016 (as given in the bank's website). ICICI Bank has decided to set one-year MCLR as the benchmark rate for their home loans.
Though the MCLR is reviewed monthly, your home loan will be reset every year automatically, depending on the agreement with the bank.
So, if you take a Rs.50-lakh home loan on 10th April,2016, your home loan interest rate would be 9.45% . You have to pay EMI installments at this rate of interest for the next 12 months.
Let's say one-year MCLR gets revised to 9.% in April, 2017 and the spread remains the same then your home loan interest rate will be reset at 9.25% (MCLR of 9% plus spread of 25 bps).
How to Switch from Base Rate to MCLR?
This primarily involves two steps;
If you would like to switch to MCLR system then you have to request your banker to link your loan rate with MCLR instead of Base Rate.
Once your loan is linked with new MCLR rate, you can request your banker to reduce the quantum of 'spread'. Your Banker may charge you one-time fee (conversion fee) for reduction in Spread. Henceforth, you will get the new Rate of Interest (ROI) which is linked with MCLR.
My Opinion
If interest rate cycle is in a downward trend, MCLR can be beneficial to borrowers of loans like home loan buyers.
But do remember that the interest rates may not remain low forever, when the trend changes the MCLR rate hike can be swift.
If you are an existing home loan buyer and planning to repay your home loan in say next few years, you can consider switching to MCLR method (as of now the charges applicable to move to MCLR is not available, you have to account for these charges and then take final decision).
If you are planning to buy a property through a home loan, you may take the loan under existing base rate before 31st Mar, 2016. Based on the prevailing economic factors, the RBI may not cut interest rates in the very near future, you may continue with base rate and anyways you have the option to move to MCLR at a later point of time, if RBI cuts rates.
It is too early to say if the change in base rate will actually be completely passed on to consumers. Because, do remember that banks still have the option to set a 'spread' on loans. Banks are free to determine the range of spread for a given category of borrower or type of loan. (For example, if the loan interest rate offered to you is 10.25% and the new base rate as per MCLR is say 10%, 0.25% is the spread)
As far as banks are concerned, their margins might take a hit in the range of Rs 15,000 to Rs 22,000 crore assuming a 75 basis point decline

(source – ICRA)

. Banks may lose when interest rates drop but will gain when rates increase. So, it all depends on how many instances of 'rate cuts' will happen in the future.
MCLR is applicable for Banks only. Hence this is irrelevant to home loans offered by NBFCs (Non-Banking Financial Companies) like LIC Housing Finance, Dewan Housing (DHFL), HDFC, Indiabulls etc.,
---
Latest News (07-Aug-2019) : RBI cuts Repo Rate by 35 basis points to 5.4% from 5.75%. This is the fourth consecutive rate cut from RBI , after a rate cut in February, April & June of 2019. The reverse repo rate has been revised to 5.15%.
Latest News (06-June-2018) : RBI hikes Repo Rate by 25 bps to 6.25%; 1st Repo Rate hike since January 2014. RBI has also increased the reverse repo rate to 6%.
Latest News (02-March-2018) : SBI Hikes Lending Rate for first Time Since April 2016. SBI has raised the one-year MCLR rate to 8.15 % from current 7.95 %.
Latest update (02-Aug-2017) : RBI cuts Repo rate by 25 basis points. So, latest Repo rate is 6%. Reverse Repo rate has been cut by 0.25% to 5.75%.
Latest MCLR Rate Cuts (02-Jan-2017) : State Bank of India (SBI) has made a deep 0.90% cut in its marginal cost of funds based lending rate (MCLR) across all maturities. Following this cut, home, auto, personal and other loans will become cheaper. With this cut, the one-year MCLR is at 8 per cent against 8.9 per cent. The new loans rates are effective from 1st January, 2017.
Latest News (04-October-2016) : RBI cuts Repo Rate by 25 basis points to 6.25% and keeps CRR unchanged. ICICI Bank cuts its MCLR based lending rate by 5 basis points and the bank's new one-year MCLR is at 9.05% with effective from 1st October, 2016.
Latest News (02-June-2016) : ICICI Bank has reduced its latest MCLR rate by 5 Basis points to 9.15% from 9.20% with effective from 1st June, 2016.
---
Do you believe that this new base rate system will be beneficial to loan borrowers? Kindly share your views on Marginal Cost of Funds based Lending Rate?
Continue reading :
RBI cuts Repo rate : Impact on your HOME LOAN
(Image courtesy of Stuart Miles at FreeDigitalPhotos.net)