The Securities and Exchange Board of India (SEBI) has formalized a graded exit load structure on Liquid Mutual Funds. It has also stated that the load structure will be reviewed annually by AMFI, in consultation with SEBI.
As of now, exit load is not applicable on Liquid mutual fund redemptions.
What is an Exit Load in Mutual Fund? – Mutual funds companies can collect an amount from investors when they join or leave a scheme. This fee charged is generally referred to as a 'load'. Exit load is a fee or an amount charged from an investor for exiting or leaving a scheme or the company as an investor. (Entry Load has been banned since 2009.)
What are Liquid Mutual Funds? – Liquid funds are a type of Debt mutual funds that invest in securities with a residual maturity of up to 91 days. They invest primarily in money market instruments like certificate of deposits, treasury bills, commercial papers and term deposits.
For example : You can notice that Axis Liquid fund has 'zero' exit load as on today.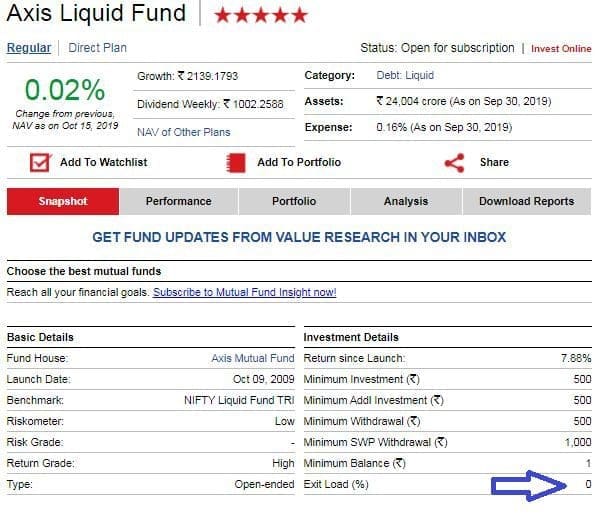 Liquid Mutual Funds New Exit Load Structure
Here is the table on levy of exit load on a graded basis w.e.f 20th Oct 2019;
Investor exit upon
subscription
Exit load as a % of redemption proceeds
Day 1
0.007
Day 2
0.0065
Day 3
0.006
Day 4
0.0055
Day 5
0.005
Day 6
0.0045
Day 7
0
So, fund houses can levy graded exit load on investors of liquid funds, who exit the scheme within 7 days.
SEBI has also set the cut off timing in liquid funds 1.30 pm instead of 2 pm with effect from October 21, 2019.
If you invest before 1:30 pm in a liquid fund, you will be allotted units at the NAV of the previous day. Otherwise, the present day NAV will be considered for your investment.
With this decision on Exit load, we may see some shift of Liquid fund assets under management to Overnight Funds.
The SEBI has also mandated that Liquid Funds should hold 20% of its corpus in Liquid Assets like Cash, Govt Securities & T-bills). This may lead to some drop in yields (returns) from Liquid Funds. However, the new investment norms may help in improving liquidity profile in the liquid/overnight category.
Continue reading :
(Post first published on : 16-Oct-2019)