LIC had been issuing Cheques for settling insurance claims and also for making maturity/ other benefits payments until 2011.
Since 2012, LIC has made it mandatory for the policy holder to submit 'NEFT Mandate form' to receive any type of payments from the insurer.
Until recently, Customers or policy holders can submit the details of their bank accounts to LIC through NEFT Form offline mode only.
Good news! LIC has recently launched an online provision @ customer portal for submitting 'LIC NEFT Mandate Form' online.
In case, you are an LIC policy holder and not yet registered your NEFT mandate with LIC, you can now submit the form online. Kindly go through the below procedure..
Latest Article : LIC New Plans 2020 – 2021 List | Features, Snapshot & Review of all the Plans
How to register LIC NEFT Mandate online?
To submit LIC NEFT Mandate form online, you should have login credentials to access 'customer portal' of LIC. (Click on 'new user' to create USER ID. Else, click on Registered user to login.)
As soon as you login to the customer portal, you will now be prompted with the below message.

"Online NEFT Registration facility is now available to Customer Portal users. To avail the facility, click here."

In the next screen, you can select 'NEFT Registration' option under 'Select Service Request'.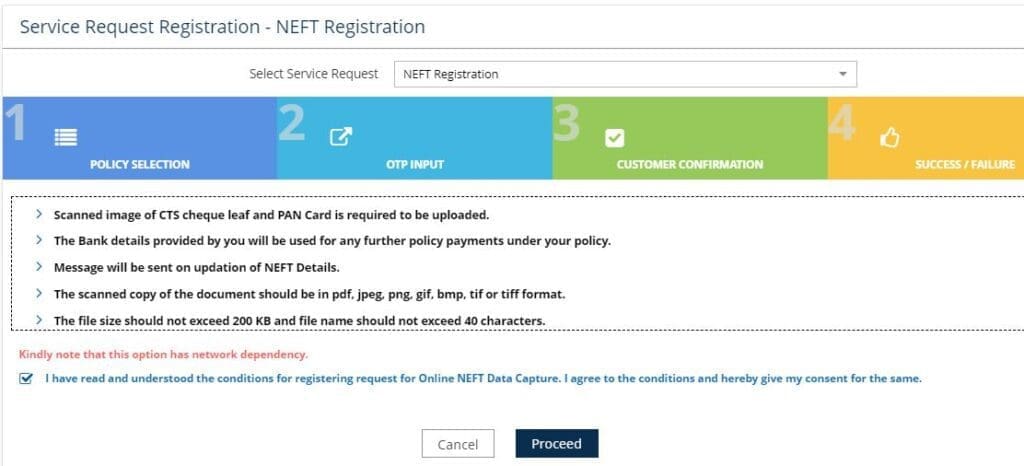 Check (tick) the Terms & Conditions option and click on Proceed button.
In the next screen, kindly select the enrolled policy number and click on the proceed button.
The system will generate OTP (One time password) and send it on your registered mobile number and E-mail ID. You need to key-in the OTP and verify.
In the next page (Customer information), you need to enter IFSC Code, Bank Name, Branch Name & address, Account Type, and PAN number. Click on the Save button.
You will see a message – Data saved successfully. Click on Generate Form to download the NEFT form.
Once you generate filled NEFT Mandate form, download it and you now need to place the Cancelled Cheque leaf and copy of PAN in the designated positions.
You then need to scan the form and upload it. Once you upload the document, system will display the success / failure message.

The scanned copy of the document should be in pdf, jpeg, png, gif, bmp, tif or tiff format.
The file size should not exceed 200 KB and file name should not exceed 40 characters.

You can track the 'NEFT mandate' registration status at 'Track Request Status' link. You will also receive a Message on updation of NEFT Details.

The Bank details provided by you will be used by LIC for any further policy payments under your policy.
Continue reading :
(Post first published on : 21-July-2020)