LIC bonus rates for the year 2016-17 have been recently announced by the Life Insurance Corporation of India. These latest bonus rates are applicable for the valuation period from 1st April, 2015 to 31st March, 2016.
This year LIC has declared a one-time Diamond Jubilee Bonus, marking its 60th anniversary celebrations. This bonus is in addition to Simple Reversionary bonus, Final additional bonus (FAB) & Loyalty additions (LA).
The Investment Returns on traditional life insurance policies like Moneyback or Endowment are mostly dependent on the bonus rates declared by LIC. So it is very important to track the Bonus rates of the LIC Policies that you have bought.
All insurance plans of LIC with the suffix 'With Profits' are eligible for allocation of annual reversionary bonuses. When the bonuses are allocated they become vested with the policy and are payable on maturity or on death of the assured during the term of the policy.
These new bonus rates are applicable on policies which are in-force as on 31-03-2016 and also applicable to all LIC policies where death claims or maturity claims have to be paid (or) surrendered on or after 1st January, 2017.
The rate of bonus allocated on your LIC policy depends upon:
The Plan and Term of the policy.
LIC's Investment experience and the surpluses generated during the year.
Bonus declared is always based on Sum assured and not on the premium amount.
Latest LIC Bonus Rates 2016-2017
Below are the simple reversionary bonus rates declared by LIC of India for the financial year 2016-17.
Kindly note that except on the below mentioned plans, the 2016-17 bonus rates on almost all other old plans of LIC are same as the bonus rates of 2015-16. (The bonus rates on the below plans have been slightly increased.)
Jeevan Bharti Plan No. 60 (20 year term)
Jeevan Shree – 1 (Plan no. 162)
Jeevan Nidhi (Plan no. 169)
Jeevan Pramukh (Plan no. 167)
Jeevan Amrit (Plan no.186)
2015-16 LIC Plans & Bonus Rates
Below list has the LIC Bonus rates of some of the newly (during 2015-16) launched plans of LIC.
LIC Jubilee Year one-time Special Reversionary Bonus Rates
Below are the one time Diamond Jubilee Year Special Reversionary Bonus Rates on LIC policies;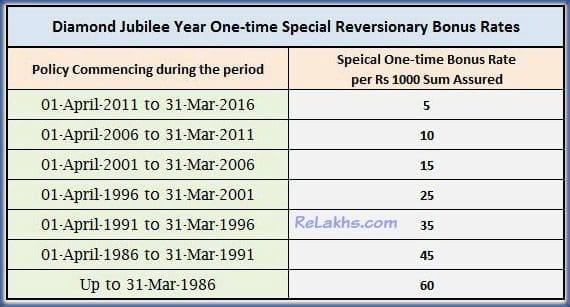 (The One Time Special Reversionary Bonus is not payable to without profit policies, the policies under which guaranteed additions have been added during the inter-valuation period and also on policies under which loyalty additions are payable.)
How to read the above tables? How to calculate the bonus amount on my LIC policy?
In the above table, on " New Jeevan Anand" 15 years plan – LIC has declared Rs 41 per Rs 1000 Sum Assured. If you had bought a similar plan for a Sum Assured of Rs 3,00,000 then the bonus amount on your policy would be Rs 12,300 ((SA/1000)*41). Like this, every year LIC declares bonus rates. But, the rates can vary. Remember, these bonus amounts are not paid to you immediately. They are accrued and paid on maturity or claim.
If you observe that the minimum bonus amount per Rs 1000 sum assured on new plans is Rs 37 and the maximum being Rs 50. The returns are pretty low. It is better to avoid investing in these kind of low-yielding Traditional plans (of any life insurance company's) for long-term.
Kindly go through below articles;
Besides Simple Reversionary Bonus, LIC also declares other types of bonuses like;
Final Additional Bonus

(FAB) :

I

t's paid to those policies which are of a longer duration and has run for say more than 15 years. This is a one-time payment.

Loyalty Additions :

T

hese are similar to FAB.

Guaranteed Additions :

The Guaranteed Additions are payable along with the Basic Sum Assured at the time of claim.
I will soon try to provide details on LIC Loyalty Addition rates 2016-17 & Final Additional Bonus rates for 2016-17. The above details are based on limited available information and can be modified.
(Image courtesy of Stuart Miles at FreeDigitalPhotos.net) (Post published on 03-September-2016)