"The desire for gold is the most universal and deeply rooted commercial instinct of the human race." – Gerald M. Loeb.
Besides commercial value, traditionally we (Indians) like to buy and hold the investments in Gold.
We now have different ways to buy and invest in Gold namely ; Jewelry, Gold Coins, Gold bars, Gold Exchange Traded Funds, Gold Mutual Funds and the recently introduced Sovereign Gold Bonds.
If you have made a decision to buy Gold in Jewelry form then the other gold buying options are not for you.
In case, you are planning to invest in Pure Gold (or) want to buy Gold online , you can consider options like Gold ETFs and Gold Bonds.
The prevailing market price of 10 grams of 24k pure Gold in Mumbai is around Rs 39,575.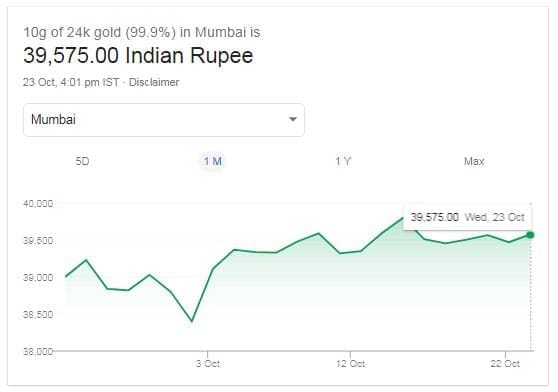 How about investing in 10 gram of 24 karat Gold at a lower price than the prevailing Spot price of Rs 39,575? Is this possible?
Yes, we have an arbitrage opportunity in the form of Sovereign Gold Bonds in Secondary markets (Stock Exchanges). All most all of the previous Gold Bonds are currently available at discounted prices.
I have highlighted this point in my Reviews of – SGB Public Issues 2019-20 & SGB Public Issues 2018-19.
But, why are they quoting (trading prices) at much lower prices than the Gold Spot price? Let's understand..
Why are Sovereign Gold Bonds available at a Discount?
Sovereign Gold Bond Scheme was launched by the Central Govt in November 2015, under Gold Monetisation Program.
Gold Bonds come with a 5 year lock-in period. To improve liquidity and ease of buying, SGBs get listed on Stock exchanges after 6 months of public issue. Thus, offer a secondary market exit.
Though a Gold bond investor can sell the bonds on stock exchanges, the liquidity is still very tight and that is the reason why you can see most of the previous SGBs are offered at Discounted prices as below.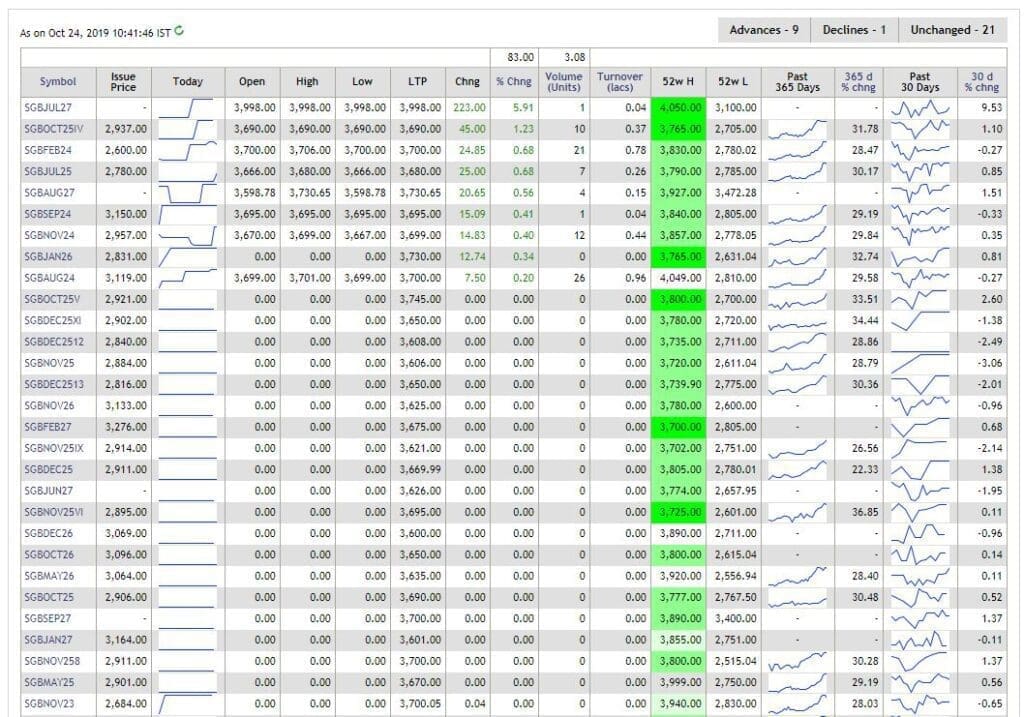 A look at the trading volume of the SGB on the stock exchanges connotes the same. Low demand for SGBs lead to low volumes and low prices. Hence, the Gold Bond sellers have to settle for a price much lower than the prevailing price.
For example : If you observe SGB Issue bearing Symbol SGBFEB24, is the SGB Issue dated in Feb 2016, has a maturity date in Feb 2024. The Issue price was Rs 2,600 per gram. The Last Traded Price (LTP) was Rs 3,700.
The current Gold spot price is around Rs 3,957 per gram in Mumbai. So, that's a discount of around Rs 257. (If you invest in SGB online, you get a discount of Rs 50 per gram, but still, the difference is around Rs 200 per gram.)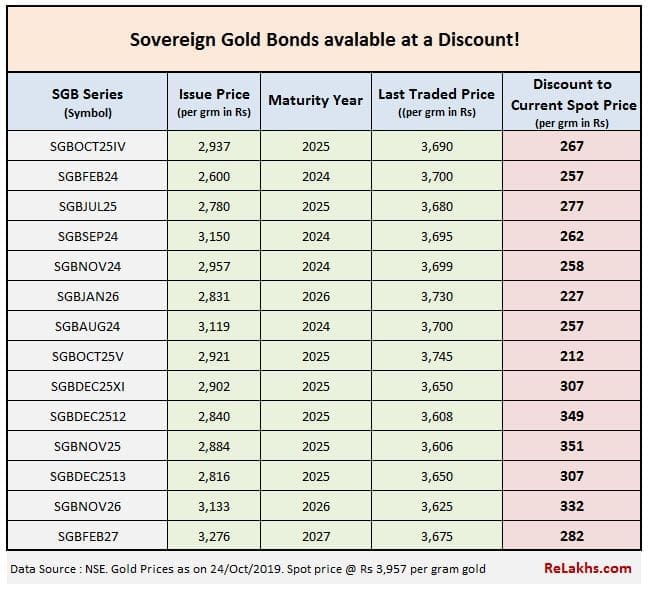 So, you can clearly notice that the discount is in the range of Rs 200 to Rs 300 per gram (SGB unit) of Gold.
How to buy Gold Bonds from Secondary Market?
You can buy Sovereign Gold Bonds in Secondary market through your Demat account. The symbols provided by your Demat service provider may differ from the ones mentioned in the above NSE data.
I have Demat account with ICICIDirect. Below are the sample Stock codes provided by them.

I have selected the SGB Oct 2017 series with stock code SGBT10. In the below image, you can notice that this series bonds are available at Rs 3,690. Whereas, the prevailing gold spot price is around Rs 3,900 levels (24-oct- 2019).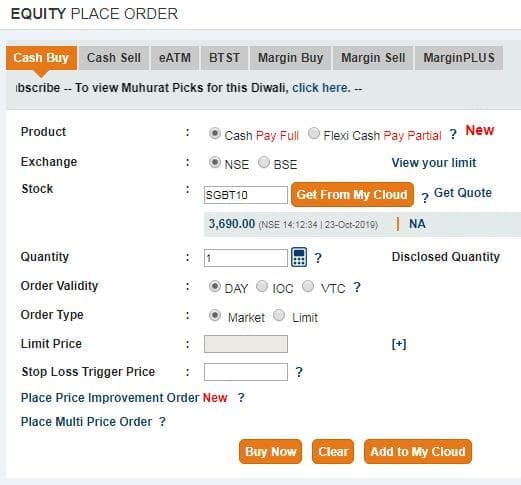 Kindly ponder over below important points before buying Gold bonds from secondary market.
If you can hold on to your gold bonds till maturity date then you may buy SGBs through secondary market. So, buying Gold Bonds via stock exchanges is better than subscribing directly to Gold Bonds Public issues.
As stated, that this mis-pricing is arising out of poor liquidity. The poor liquidity is an outcome of low investor interest in SGBs. If Gold outperforms other asset classes in the future and investors show interest in SGB then this mis-pricing (discount) may shrink or even disappear.
At the time of maturity, you will be paid the prevailing price of gold. Holding till maturity also ensures that you do not pay tax on long term capital gains (if any).
Also, it is prudent to make staggered purchases across different SGB series. This can ensure that your investments in SGB will also mature at varying dates at different Gold prices.
In case, you are looking at investing in Gold for short-term then this may not appeal you. Other options like Gold ETFs can be considered.
Sovereign Golds Bonds & Tax Implications
The interest payments on Gold Bonds shall be taxable as per the provision of Income Tax Act. (The investors will be compensated at a fixed interest rate of 2.5% per annum payable semi-annually on the initial value of investment.)
Gold bonds will be exempted from capital gains (LTCG) tax at the time of redemption. In case, you hold the bonds till the maturity date and if you make any long term capital gains when redeeming your gold bonds, there will not be any capital gain taxes on the profit you make.
However, kindly note that Long term capital gains arising to any person on transfer of SGB will continue to be taxable and eligible for indexation benefits.
TDS is not applicable on the bonds. However, it is the responsibility of the bond holder to comply with the tax laws.
(Post first published on : 24-October-2019)