A motor vehicle insurance policy is a mandatory policy issued by a general insurance company as part of prevention of public liability (Third party liability). The law mandates that every owner of a motor vehicle must have one automobile insurance policy.
The Govt of India introduced the Motor Vehicle Act was back in 1988. The main objective of this act is to make the Indian Laws on accident claims more effective.
As per this act, the owner of a motor vehicle should have a Third party Insurance cover. The insured (owner of the vehicle) is considered as the First party, the insurer is the 'second party' and all others (the general public/assets) would be 'third parties'.
If you are driving a motor vehicle in India, you should have Third Party Liability insurance. TPI is mandatory for all vehicles plying on public roads in India. Do note that Third party Insurance only covers damage to others as the result of an accident that was deemed your fault. It does not provide an insurance cover to you / your motor vehicle.
If you want to take a higher level of protection which provides cover for third party liability and your vehicle then you have to take a 'Comprehensive Motor Vehicle Insurance Policy'.
So, a comprehensive or package policy covers both 'Liability' as well as 'own damage' to the insured vehicle.
You can check if your bike or car insurance is a Third Party only insurance or a Comprehensive one by going through the details given in the 'Schedule of Premium' section of your Vehicle insurance policy certificate.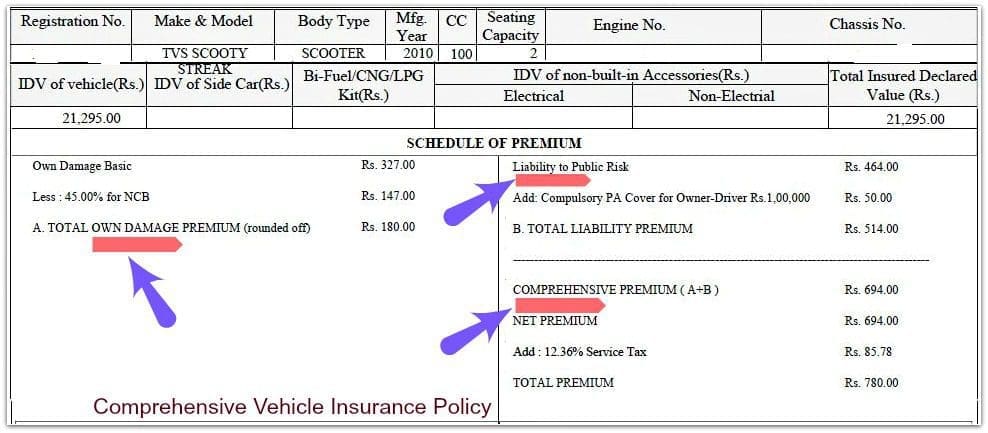 Generally a Comprehensive motor insurance cover will protect you against any accidental loss or damage to the Private Car caused by the any of the unforeseen events like ;
Fire, explosion, self ignition or lightning
Burglary, housebreaking or theft
Riot or strike
Earthquake
Flood typhoon, hurricane, storm, inundation, cyclone, hailstorm etc.,
Accidental (by external means)
Malicious act
Terrorist activity
Whilst in transit by road, rail, inland- waterway, lift, elevator or air
Land slide, rock slide etc.,
How to claim Motor Vehicle Insurance?
Increasing number of accidents and incidents of vehicle thefts has made it essential for policyholders to know how to file motor insurance claims.
There can be three types of insurance claims under a Motor vehicle insurance policy;
Third Party Claim
Own Damage Claim &
Theft Claim
(Third Party Insurance covers only the first one. Whereas, the comprehensive package policy covers all the three.)
You have to provide the below details which are common while intimating any type of motor vehicle insurance claim;
Motor Insurance Policy Number
Policy holder's name (insured)
Date & time of the accident
If possible, the vehicle numbers of all the motor vehicles which are involved in the accident.
Location of the incident
Name & Contact details of any witnesses
Driver's name
Below are the required documents that need to be submitted while making a claim;
Copy of Insurance policy / Cover note
Copy of RC book (Registration Certificate book)
Road tax paid receipt
Copy of Motor driving License of the person driving the vehicle
Police FIR (First Information Report if required..)
How to file a Third Party Claim?
If your vehicle is involved in an accident, it is very important that you inform about the accident to the police as well as to your insurance company immediately.
In case if you are a victim, that is, if somebody else's vehicle was involved in the accident, you must obtain the insurance details of that vehicle and inform to the insurer of that vehicle.
Submit the duly filled Insurance Claim form
Submit all the documents as mentioned above.
How to make an 'Own Damage' Claim (Accident Claims)?
In the event of an own damage claim, that is, where your own vehicle is damaged due to an accident, you must immediately inform insurance company and police.
Your insurance company will deploy a 'Surveyor' to assess the loss.
Kindly do not attempt to move the vehicle from the accident spot. You need to get permission from police and your insurance company to do so.
Submit the estimate for repairs from the repairer (workshop) / original invoice along with the basic documents as mentioned above.
If your policy provides 'cash less service', your insurance company will pay for the repairs directly to the repairer (workshop).
If you have to claim the reimbursements then submit your 'payment receipt' to your insurance company.
Once you receive the claim amount, you have to sign the 'Claims discharge Voucher' and submit it to the insurance company.
How to claim insurance if your car is stolen (Theft Claim)?
If your motor vehicle is stolen, you must inform the police, your insurance company and if possible the transport dept (RTO-Road Transportation Office) immediately.
Along with the above basic documents you have to surrender your vehicle keys to your insurance company.
Submit duly filled theft claim form to your insurance company besides above basic documents.
Once the police submit the final 'non-traceable report' and your claim is approved, you (insured) have to transfer the RC of the stolen vehicle in favor of the insurance company. You also have to hand-over all sets of vehicle keys to them.
The amount approved as per the insurance company's surveyor's report will be reimbursed to you. In case the vehicle is taken on loan, the insurance company will reimburse the payout amount to the Financier.
Important Points & FAQs on Motor insurance claims
Do I need to submit an FIR in case of any accident?

– Yes, you have to obtain a FIR from the police. It also depends on a case to case basis. For example – If a tree fell on the car and destroyed it, you may get full IDV back without an FIR. ( Insured's Declared Value (IDV) is the current market value of your vehicle that is fixed by the insurer and provided in case of theft or total loss of vehicle.)

How long will it take to process my Motor insurance claim?

– This depends on the type of loss, damage and based on the Surveyor's report. As per the IRDA's policy holder servicing guidelines, the insurance company has to settle/reject the claim within 30 days after receiving the survey report.

What if the accident takes place in a city other than the place where the motor vehicle insurance policy has been issued?

– It doesn't matter where the accident happens in India. You need to immediately contact your insurance company & inform the police about the incident. If your motor insurance policy is in force, you remain insured throughout the country.

Am I liable to pay for the damages if someone else is driving my vehicle?

– If your vehicle is insured then you may not be liable to pay anything. However, you must ensure that you hand-over your vehicle to a person who has a valid driving license and he/she is not under the influence of alcohol when driving your vehicle.
Can I get my car / bike repaired in a garage / workshop of my choice? – If you have cash-less service option, it is better you get it done at your insurance company's registered/authorized auto service centre. Else, it is fine to get it repaired in any workshop and then claim it by submitting the invoice to your insurance company.

Can I lodge a claim after the expiry of my policy date for an event that occurred during the policy period?

– Yes, you will be eligible for the claim even after the expiry of the policy date. This is because the event took place during the policy period.
Are third party medical expenses covered? –

Yes, they are covered under third party insurance claim.

In case of theft, how much will the insurance companies pay?

– The insurance company will pay IDV amount.

Do I lose my NCB in case of theft of my car?

– Yes. If there is a theft and you make a claim, you lose the NCB. (NCB – No Claim Bonus is a discount in premium offered by insurance companies if a vehicle owner has not made a single claim during the term of the motor insurance policy.)
A recent study by Insurance Information Bureau of India (IIB) and the insurance industry indicates that 45-55% of vehicles are uninsured in India. In fact, close to 50% of private cars are uninsured after the first year. Insurance policies are sometimes fabricated and traffic authorities have no way to verify policy details.
The best way to protect your motor vehicle against any unfortunate incidences is by insuring it by buying adequate vehicle insurance. Buying insurance will relieve you from huge losses in case of any eventuality. Also, do not forget to renew your motor insurance on time!
(Image courtesy of fantasista at FreeDigitalPhotos.net)
You may like reading – 'What is eVahan Bima Policy (Electronic Motor Vehicle Insurance policy)?'