All major banks have launched 'Missed Call Banking' facility which is a simple and quick way to to get balance (or) mini-statement of account through your mobile phone. Each bank has its own dedicated Toll-free numbers. Bank customers can just give a missed call to the toll-free number and get their Bank Account Balance as SMS (text message). This facility is free of cost.
Reserve Bank of India (RBI) had issued a notification in August 2014 regarding 'rationalization of number of FREE transactions at bank ATMs." As per this notification, the number of mandatory free ATM transactions for savings bank account customers at other banks' ATMs is reduced from the present five to three transactions per month. RBI has also allowed banks to levy ATM transaction charges of Rs 20/- per ATM transaction (beyond the free limit). (For more details, read my article " know your bank's ATM transaction Charges & Free use limits")
The above free use limit is inclusive of financial and non-financial transactions. Financial Transactions can be cash withdrawal (or) payments. Non-Financial transactions can be Balance Enquiry, change of ATM PIN, Fixed Deposit booking, mini statement etc.,
So, it is prudent to limit the usage of ATM to financial transactions only. Inquiries regarding Account balances and latest transaction details can be made through you mobile-phone.
What is Missed Call Banking?
Missed call banking facility, as the name suggests, provides banking services if you give a missed call. These services include balance enquiry, mini statement, cheque book request, account statement request, email statement request and others. The services vary across banks.
The facility's biggest advantage is that you can get your bank details on the phone and don't need to use Net banking or an automated teller machine (ATM) for these. All major Banks including SBI, HDFC Bank, Axis Bank, ICICI Bank, Punjab National Bank etc., offer this facility.
Missed Call Banking Toll-Free Numbers : A/c Balance & Last Transactions Details
Below are the toll-free numbers of the top banks in India. To check bank account balance, you can call your respective Bank's toll-free number. After few rings your call gets disconnected automatically. Your bank will then SMS you the account balance details in few seconds.
Besides balance enquiry facility, some banks have introduced dedicated Toll-free numbers to get mini-statement or latest bank transactions details (last 3 to 5 transactions).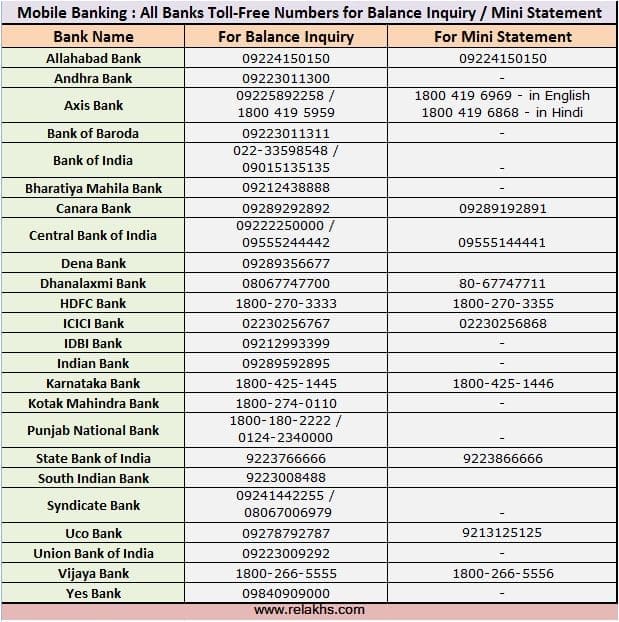 To use this free facility, your mobile number should have been registered for mobile banking services.
If your number is already registered with your bank, you can directly call the above listed number(s) and start using the missed call alert facility.
If you are a State Bank of India (SBI) customer, you have to register (one-time) for 'Missed call' service directly from your registered mobile number. (For one time registration of the service, SBI's customer will need to send SMS as REG <space> account number to 9223488888 from mobile number of the customer available in bank's records. This is applicable for all Savings Account/ Current account / Overdraft account)
The above point may not be applicable for most of the banks. I have an account with ICICI Bank. My mobile number is registered and updated in bank records. No separate registration is required. (Kindly note that registration process varies from bank to bank)
If your mobile number is not registered, you will get an SMS as "Your mobile number is not registered for this service".
If you have multiple savings accounts with the same bank, the default account will be the latest opened account.
Some banks limit the no of times that you can avail this facility in a day. For example – Bank of Baroda customers can avail this facility maximum "5 times in a day".
This service is available on domestic mobile numbers only
I have been availing ICICI Bank's (my banker) missed call banking facility, as it is the quickest and the safest way to get bank balance or transaction details. There is no need to access online banking account or no need to use an ATM.
Do you use missed call alert facility? Share your comments. If you know 'missed call' enquiry contact numbers of any other bank(s) that is not listed in the image, kindly share the contact no(s) through 'reply' form .
You may like reading :
(Image courtesy of Stuart Miles at FreeDigitalPhotos.net)

(Post published on : 13-April-2015)