Insurance is a contract which provides protection against a possible eventuality or risk. So, insurance in its purest form is an expense rather than an investment.
Broadly speaking, life insurance can be categorized as a 'pure risk' coverage plan and the other, which is a combination of insurance and savings (investment) component.
I believe, most of us do hold one or the other life insurance policy. But, are you aware of the category of life insurance plan that your policy belongs to?
In case, you are looking to buy a new life insurance policy, what type of life insurance plan is best for you?
In this post, let us understand – Different types of Traditional Life Insurance Plans available in India, with illustrations.
What are Traditional or Conventional Life Insurance Plans?
Traditional plans or conventional plans are the oldest types of insurance plans available. Term Insurance plans, Money-back plans, Whole-life Plans, Endowment plans etc., are considered as Conventional plans.
Traditional policies are considered as risk-free, as they provide fixed returns in case of death (or) on policy maturity. These plans take a limited exposure in high risk products like equity (market-linked) and hence the downside probability is also low.
Different types of Traditional Life Insurance Plans
Below are the popular types of conventional or traditional life insurance policies in India;
Money-back Life insurance plans
Endowment life insurance policies
Whole-life plans
Term Life Insurance Plans
Let's now understand each one of these through illustrations…
Moneyback Life Insurance Policies
Money-back life insurance plan provides life coverage during the term of the policy and the maturity benefits are paid in installments by way of Survival Benefits (money-back payments). A percentage of the sum assured is paid back to the insured on periodic intervals as survival benefit.
Most of the Money back plans are eligible to receive the bonuses declared by the insurance company from time to time.
The below illustration of LIC Bima Shree (a money-back plan) gives you an idea about 'how a money-back policy typically works'..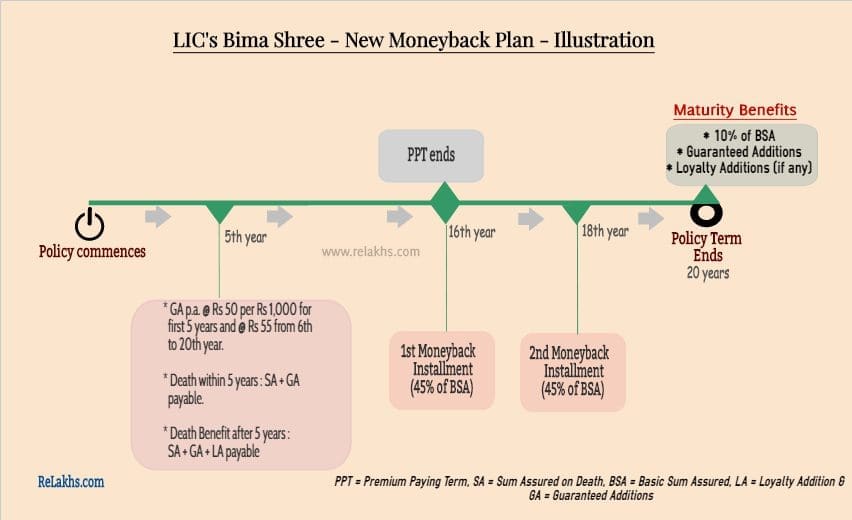 For a 20 year policy, the Premium paying term is 16 years.

A limited premium payment plan is a plan where you pay the premium for a shorter span of time and enjoy the benefits of an insurance cover for a long time.

1st Survival benefit (money-back) of 45% of Basic Sum Assured is payable in 16th year and 2nd SB in 18th year.
Guaranteed Additions at the rate of Rs 50 p.a. per Rs 1,000 Sum Assured is payable for the first five policy years. Form 6th year till 20th year, GA @ Rs 55 p.a. per Rs 1,000 SA is payable on maturity/death of the policyholder.
If death occurs during the first five years, death benefit of Sum assured on death + accrued Guaranteed Additions is payable to the nominee. In case, death occurs after 5 years, death benefit = SA + GA + Loyalty Addition is payable.
After 20 years, the maturity benefit would be equal to 10% of BSA + accrued GAs + LA is payable.
Read Related Article : Life Insurance Money back Plan Return Calculation | Do-it-yourself guide!
Endowment life insurance policies
It is a combination of insurance and investment. The insured will get a lump sum along with bonuses (if any) on policy maturity or on death event. A certain amount is kept for life cover – insurance, while the rest is invested in low-risk products by the life insurance company.
The below illustration of LIC Jeevan Labh (an endowment plan) gives you an idea about 'how a typical Endowment policy works'..
Under this endowment plan, a policy holder is required to pay premium for 10 years only. After the PPT of 10 years, he will stop paying premium but the policy will continue till the policy term of 16 years.
The possible events that can happen are :
On Death of Policy holder – If Mr Paswan dies during the policy term, his nominee will receive the Sum Assured + Accrued Bonuses + FAB (if any). After this, the policy will cease to exist.
On Survival till maturity – If Mr. Paswan survives till the end of policy term, he will get the Sum Assured + Accrued Bonuses+FAB (if any). The policy will terminate thereafter.
Read Related Article : Life Insurance Endowment Plan Return Calculation | Do-it-yourself guide!
Whole-life Insurance Plans
It is a life insurance policy which is guaranteed to remain in force for the insured's entire lifetime. The Sum assured is paid to the Policyholder's nominee in the event the insured dies.
In most cases, a whole life insurance policy covers the life assured for up to the age of 100 years. If the life assured outlives the age of 100 years, the insurer pays the matured endowment coverage to the life insured.
The below illustration of LIC Jeevan Umang (an whole-life plan) gives you an idea about 'how a typical an whole-life policy works'..
Let's consider an example – Policy holder's current age is 30 years (male), buys this whole-life policy for Sum Assured of Rs 10 Lakh and with Premium Paying Term as 25 years. So, the policy term would be for 70 years (100-30 years).
The policyholder has to pay premiums for 25 policy years (till he attains 55 years of age). After PPT ends, survival benefits @ 8% of Sum assured are payable till one year before policy maturity year. So, benefits are payable till policy holder attains 99 years. Maturity benefit is payable to policyholder when he attains 100 years (ie policy term completes, on 70th policy year).
In case, policy holder expires during the policy term then death benefit is payable to his nominee.
Term Life Insurance Policies
Term insurance is the simplest and most fundamental insurance product. These insurance plans are designed to ensure that in the event of the policyholder's death, the family gets the sum assured (the cover amount).
Term plan provides risk coverage for a certain period of time (policy term/duration). If the insured dies during the time period specified in the policy and the policy is active – or in force – then a death benefit will be paid. It is the cheapest form of Life insurance in terms of premium.
Let's us understand how a Term Insurance plan works by taking LIC's Tech-Term online insurance plan as an example..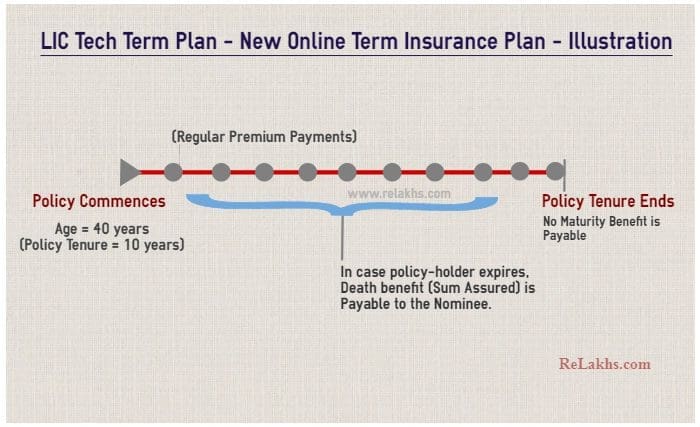 Let's consider an example – A 40 year old male individual buys LIC's Tech Term insurance plan for Rs 1 cr level Sum Assured, with 10 year term, premium payable @ Rs 10,260 p.a., opts for regular premium payment for 10 years and selects 'lump sum' death benefit option.
In case, the policy holder expires anytime during the policy tenure (10 years), his nominee will receive the death benefit of Rs 1cr as a lump sum amount and the policy gets closed.
In case, the policy holder survives the term then the insurance cover ceases and nothing is payable to him.
Other types of Life Insurance Plans :
The other types of (new-age) life insurance plans are market linked products like ULIPs and Pension plans (Annuity products).
Which type of

Traditional Life insurance plans should you buy?
It all depends on your requirements. If you are looking to get adequate life insurance cover at affordable premium rate then Term insurance plan can be considered.
In case, you already have a sufficient term life cover and/or looking for a safe 'saving avenue', you may consider money-back or endowment plan. But, be aware of the fact that these kind of traditional life insurance plans can give returns of around 4 to 5% only. Hence, advisable to do a thorough comparison of all the available popular savings and investment options before buying a traditional plan.
Continue reading:
(Post first published on : 16-Sep-2020)