Most people tend to look at systematic investment plans or SIPs as one of the better investment options out there, especially for those who do not wish to invest directly in the stock market. Let us then see what SIPs are all about.
What is a systematic investment plan?
A method of investment, a systematic investment plan is an option that allows you to invest a specific amount at regulated intervals or frequencies, typically monthly, in various instruments, including fixed deposits and mutual funds. However, SIPs are popularly associated with mutual funds as compared to any other instrument.
You can choose to invest even as little as Rs. 500 per month, and on a specified date the same amount will be auto debited from your bank account, once you provide standing instructions for the same. Investors tend to make smaller investments in an SIP as compared to having to invest a larger amount in one go.
How does a Systematic Investment Plan (SIP) help?
For starters, investing in SIP inculcates financial discipline. When you necessarily sign up to invest a certain amount each month, you are obligated to save up that money, which you otherwise may have spent instead of saving.
Remember, it is a lack of discipline that is in fact one of the reasons why people tend not to meet their financial goals in the long run. With an SIP and the fixed commitment attached with it, an investor typically stays on track with their investment goals.
Very often, other commitments get in the way, and we as individuals slip-up on saving up funds for that proverbial rainy day. When you invest in an SIP however, given that you can start off with a small sum of money, it lightens your overall financial burden, and is incentive enough to stay invested.
However, it is not a fair comparison to equate SIPs with investing in a lump sum. Both have their own pros and cons, but for a smaller investor looking to minimize market risks, an SIP may be a safer bet.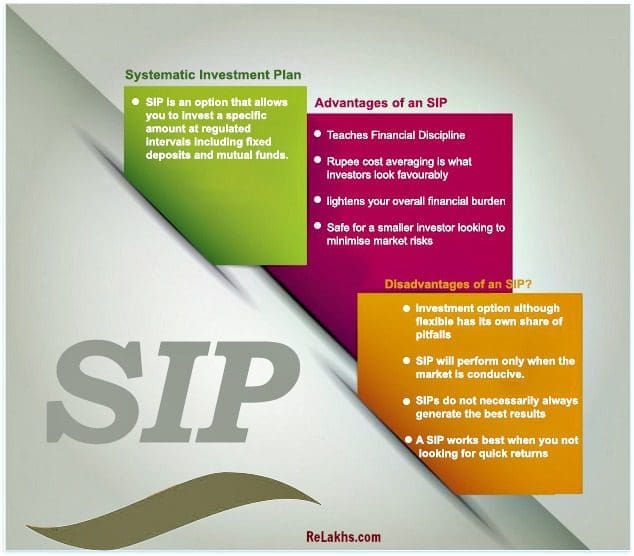 Rupee cost averaging is one of the key reasons why investors look at SIPs so favorably. With this method, market timing at investment is deemed to be irrelevant, as the investment amount is fixed.
Let us take an example. If the markets are high, then the net asset value (NAV) on a mutual fund is likely to rise, and hence the number of units the SIP will yield for that particular period would be lower. Conversely however with a turbulent market the NAV tends to slide and the number of units you get is higher. Over the period of your investment therefore, these market fluctuations even out and give you an average purchasing cost.
What are the disadvantages of an SIP?
Remember though that investing in a SIP is not a magic mantra. The investment option although flexible has its own share of pitfalls.
For one, while the market timing may not matter much as compared to say a direct investment in the stock market, a SIP will also ultimately perform only when the market is conducive. Mutual fund managers are therefore constantly on the job to track markets and review how their funds are doing, and only if these conditions are favorable, will your investment also see some positive returns.
Further, SIPs do not necessarily generate the best results. The ideal investment scenario would be one wherein you invest when the market is low, and exit when the market is high. This may not be possible over a long investment period and hence while they may minimize your cost of investment that does not mean that the returns you get would be optimal.
Another thing to watch out for is to make sure that you invest in the right SIP. A poorly performing fund is unlikely to generate favorable returns, irrespective of how you time your purchase, and that includes availing of a SIP option.
So before you invest, do your homework and make sure you select the right mutual fund before you sign up for an SIP. You also need to monitor and track its performance on a continuous basis.
In conclusion
There is no surefire method of investing. A SIP is a tool that comes with its upside, but as a savvy investor, you should always weigh both the pros and cons of any investment you wish to make. A SIP works best when you have a long time frame in which to stay invested and are not looking for immediate, get rich quick returns. If you are willing to park your funds until the market phases, whether bull or bear, stabilizes, a SIP is worth taking a shot at.
However, if nothing else, a SIP enforces financial discipline, which can never be a bad thing – and is possibly one good enough reason to avail of a SIP.
Long term wealth creation has one simple mantra – 'start investing early'. Even if your initial investment is small, give yourself time and steadily increase your saving month on month. A far-sighted approach is what works well when your goal is to create wealth for yourself and your dependents.
Of course, do keep in mind that investment alone cannot build you wealth. Staying debt free too is equally important. This can be easily achieved by keeping tabs on the number of loans and credit cards you have and how you service them, as well as tracking your credit report.
To conclude, creating wealth through SIPs while not a hoax, it is also not a surefire way of creating wealth. However, for an investor, it is an option that if chosen well, can yield positive returns over a long-term investment horizon.
This guest post is authored by Arun Ramamurthy.
About the Author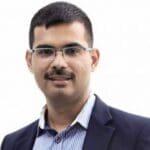 Arun is an IIM alumnus with work experience at leading global banks in India. He is the co-founder of Credit Sudhaar, a company which aims to spread awareness about importance of credit health and help people achieve their financial objectives.
Continue reading other interesting articles written by dear Arun;
Kindly note that Relakhs.com is not associated with Credit Sudhaar. This post is for information purposes only. This is a guest post and NOT a sponsored one. We have not received any monetary benefit for publishing this article.
(Post published on : 21-November-2016) (Image courtesy of jk1991 at FreeDigitalPhotos.net)