As per the latest RBI's report, the total outstanding amount of un-secured loans (personal loans) given by the formal banking sector is around Rs 16,200 billion. That's a huge amount!
But, we all know that a majority of us (Indians) also rely on our friends, family members, acquaintances, money lenders, Chit funds and business associates for borrowing money even today. So, the amount of total un-secured loans taken from the un-organized or informal lending sector can be even bigger!
If you have a good credit score and your financial credit history is good, its easy for you to get a loan from a financial institution.
What about an individual who has a bad credit history (low credit score) and if he/she requires a loan to meet a personal emergency? Will he/she get a personal loan? It can be a tough task!
In such a scenario, he/she will try to take a loan from a friend, well-wisher or from a money-lender (at high interest rates).
Besides the above options, can he/she get a loan from any other alternative? Yes, Peer to Peer Lending can be an alternative option. (Kindly note that the P2P loans can also be availed by the persons who have good credit score.)
What is Peer to Peer Lending?
Peer to peer lending is a concept that brings together borrowers looking for unsecured loans with the investors (Lenders) who want to get high returns on their investments. So, P2P Lending is a system where a borrower who is in need of money can get a loan from an investor who can provide loans at certain interest rate (or on agreed terms & conditions).
P2P lending is also known as Crowd Funding or social lending models.
What are Peer to Peer Lending Platforms?
The Peer to Peer lending platforms co-ordinate between the borrowers and lenders (investors) and facilitate them to meet their respective needs online. P2P lending platforms act as a market-place between the investors and borrowers, they act as matchmakers that allows individual lenders and borrowers to transact on short to medium termed loans.
So, if you are an individual with investible money you can then lend it directly to a borrower via an online platform and earn interest on it.
Most of the P2P players use Alternate Credit Decisioning methods to underwrite loans. This means that they do not solely rely on the credit score and traditional risk assessment methods to disburse loans. These new-age finance companies may consider multiple other data points such as social profile, e-commerce / utility bill expenditure behaviour, employment credentials etc. to assess the credit-worthiness of the borrower.
List of popular Peer to Peer Lending platforms in India
The emergence of technology (Fintech) aided innovations such as peer to peer Lending (P2P) models. Peer to peer lending being in a nascent stage in India, is very small compared to traditional lending & borrowing methods but it's gaining popularity.
Till April 2016, there were around 30 start-up P2P lending companies in India. There are quite a few notable P2P players in India including the likes of ;
Capital Float
CrediFiable
Faircent
i2i Funding
iLend
IndiaLends
Lendbox
Lendenclub
Lendingkart
Rupaiya Exchange etc.
RBI's latest Guidelines on NBFC – P2P Lending Platforms in India
In 2016, the RBI had finalized the regulations on P2P lending and it had earlier brought out a consultation paper on P2P lending.
In September 2017, the government had approved the RBI to regulate P2P lenders as non-banking finance companies (NBFCs). It has now (04-Oct-2017) come up with its final guidelines / master directions on Peer to Peer Lending Platforms.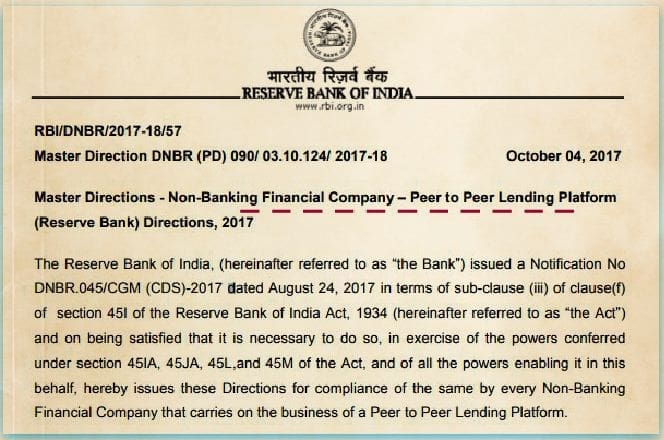 (Click on the image to download RBI's latest (2017) Guidelines on NBFC – Peer to Peer Lending Platforms)
Below are the latest rules for NBFCs that want to operate as P2P lending platforms.
The central bank has specified that the maturity of the loans must not exceed 36 months.
The aggregate exposure of a lender to all borrowers at any point of time, across all P2Ps, would be subject to a cap of Rs 10 lakh.
The same limit (Rs 10 lakh) applies to aggregate loans taken by a borrower at any point of time, across all P2Ps.
The exposure of a single lender to the same borrower, across all P2Ps, shall not exceed Rs 50,000.
The P2P lenders would be allowed to lend only unsecured loans i.e. will not be allowed to take collateral against the loans they lend.
P2P Lending platforms have to do quarterly reporting on their payment structures to the RBI.
P2Ps shall obtain a certificate from the borrower or lender, as applicable, that the limits prescribed above are being adhered to.
Peer to Peer lending platform, should not raise deposits and not lend on its own.
The NBFC-P2P lenders will also not be able to cross sell any product except for loan specific insurance products and can store and process all data relating to its activities and participants on hardware located within India.
The platforms should not provide or arrange any credit enhancement or credit guarantee.
International flow of funds has not been allowed.
An NBFC-P2P will be expected to:
Undertake due diligence on the participants & Undertake credit assessment and risk profiling of the borrowers and disclose the same to their prospective lenders
Undertake documentation of loan agreements and other related documents.
Povide assistance in disbursement and repayments of loan amount.
Render services for recovery of loans originated on the platform.
How to take loan / lend money on P2P Lending platforms? How does P2P Lending work?
You (borrower / lender) can pick a p2P lending platform, and have to register yourself as a borrower/lender by paying required up-front fee and submitting applicable KYC documents.
The online platform(s) will then verifies the credentials of the users and dertermine the risk profile of the borrowers. Once the borrowers and lenders register themselves on the website, due diligence is carried out by the platform and those found acceptable are allowed to participate in lending/borrowing activity.
Borrowers are generally asked to submit salary slips, company's HR letter, credit card statements, bank statements, social media profile etc.,
Borrowers are then assigned a rating based their credit profile and risk assessment. A low risk borrower will be able to avail a loan at a lower rate of interest, compared to a borrower with a higher risk.
The lender has to choose the amount he/she wants to commit and for how long (tenure). He can keep his investment in an Escrow account and send proposals to the borrowers. (The bank which is maintaining the Escrow account has to create a

TRUST

. The Trust will operate the escrow accounts for transfer the funds based on the instructions received from the lenders and borrowers via platform or otherwise. )
The lender can pick his borrower based on the risk profile of the borrower and expected rate of interest. If you choose to lend to a borrower who has a good credit rating (as per the P2P lending platform), you get a lower rate of interest from the borrower. You (lender) can diversify your lending portfolio, by lending to multiple borrowers with different risk profiles.
The online platforms generally follow a reverse auction model in which the lenders bid for a borrower's loan proposal and the borrower has the freedom to either accept or reject the offer.
Once the borrower picks a lender, an agreement is done between the borrower and the lender, a formal loan contract is signed by them (mostly done online). The lender transfers money from his/her bank account to escrow account and then it is transferred to borrower's bank account. The borrowers can seek to raise money from multiple lenders.
The borrower makes periodic repayments via EMI over the stipulated time period. The repayment process is mostly online and an automated one through an Escrow Account. The platform can facilitate collection of post-dated cheques from the borrower in the name of the lender as a proxy for repayment of the loan. The P2P forum, in general, also helps in the recovery process and as part of this, follows up for repayments and if need be, employs recovery agents too.

Kindly note that online platform is not a guarantor to the lending activities, so they just help to recover the loans, they do not assume any risk. It's the lenders who take the risk and not the platform. The idea of a P2P platform is not to intermediate in a loan but is to facilitate the loans.

The platform also take cares of the credit assessment and legal agreement to make sure both parties transact safe and legally where as choosing borrowers or investors is mostly the sole discretion of user.
Delay in repayment by borrowers draw a penalty, which is generally paid directly to the lenders. (Penalties will also be levied in case cheques get dishonored.)
Important points to ponder over
If you are a lender and invest money, do note that you can lose money if the borrower defaults. Always remember, higher the risk – higher can be the returns. If you are expecting say high double digit return on your investment, you may have to lend your money to a very high risk profile borrower.
I believe that Risk assessment is the key factor in this framework. It all boils down to how good is the underwriting guidelines followed by a P2P platform. Hence, may be it is prudent to stick to popular platforms only.
I have observed that some platforms offer protection fund to safeguard the principle invested by the Lenders, so you may check out this point while signing the loan contract.
The new guidelines make it mandatory to create a TRUST by the bank that is associated with the P2PL platform. This will incur certain costs and eventually will be passed on to the lenders/borrowers.
Also, there is no clarity on how the information exchange and control mechanism happens (among all the stakeholders) to limit / meet the lender and borrower caps.
As per the latest guidelines issued by the RBI, an NBFC-P2P shall become member of all CICs (Credit Information Companies) and submit data to them. So, if any borrower defaults the loan payment, it gets reported to CICs like CIBIL, Equifax etc.,
Kindly note that the Interest income earned by a lender is a taxable income under the head 'income from other sources'.
I have noticed that in some of the popular Peer to Peer lending platforms, the amount committed by the lenders 'to lend' is more than the amount required by the borrowers (who are seeking to borrow). So, the borrowers may have more options than the lenders.
Do note that decisions to lend on these portals are entirely at the discretion of potential lenders. The platforms do not guarantee fixed or minimum rate of returns to any lender.
I hope you find the above article useful and informative. Do you believe that Peer to Peer Lending business model can be successful in India? What could be the challenges? Have you borrowed or invested through a P2P Lending Platform? Kindly share your views, cheers!
(Image courtesy of Stuart Miles at FreeDigitalPhotos.net) (Post published on 5-October-2017)