NSC (National Savings Certificate) and KVP (Kisan Vikas Patra) have been very popular Small Savings Schemes in India. They are generally opted by the Investors who seek safety of capital. The investments made in NSC are eligible for tax deduction under Section 80c.
The rate of interest offered on KVP is 7.6% and on NSC (5 year certificate) the interest rate is 7.9% (Oct to Dec 2019).
These are issued in the form of pre-printed physical certificates. However, the sale of Pre-printed NSC & KVP certificates have been discontinued w.e.f 01-July-2016. No physically pre-printed KVP and NSC certificates will be issued by banks or Post Offices.
Henceforth, the certificates shall be recorded in two modes i.e., e-mode (electronic mode) or in Passbook mode.
How to buy NSC & KVP Certificates in Electronic Mode (e-Mode)?
Below are the guidelines for opting the certificates in electronic form;
If you have a Savings account with Bank/Post office, you can buy NSC or KVP certificates in e-mode.
You should have access to internet banking.
If you do not have Savings account, you have to open savings account and apply for Internet Banking before the purchase of NSC or KVP.
You can hold these certificates in e-mode form which is similar to e-FD/RDs.
Minimum amount that can be invested in NSC is Rs 100.
Minimum amount that can be invested in KVP is Rs 1,000.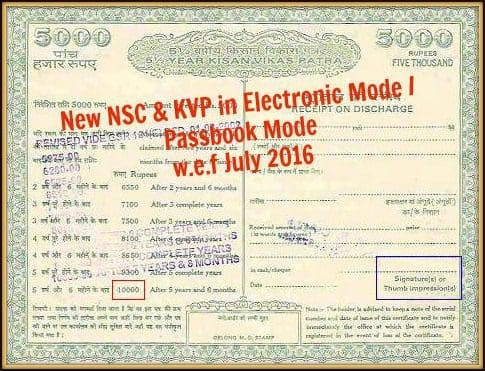 NSC & KVP Certificates in Passbook Mode
If you do not want to opt for electronic mode, you can buy NSC & KVP and the same will be recorded in Passbook. It is referred to as e-mode format printed or recorded on a passbook.
Your transactions will be printed or recorded manually in Passbook (just like the way your banking transactions are printed in bank passbook).
Manual entries will be made only if either printer is not supplied or it is not in a working condition.
Passbook will be issued with physical signature (in blue ink) of the authorized official.
If any customer wants to replace Passbook mode with exclusive e-mode, the passbook may be collected back and destroyed after cancelling all the pages by the authorized official.
In case of the passbook mode, the Post Office or Bank Branch, shall take receipt of the passbook by the customer or agent (when duly authorized by the customer) in the Account Opening form in lieu of having received the same.
In case if you have physical NSC & KVP certificates and if you lose them, passbook will be given in lieu of pre-printed NSC or KVP. The old certificate number may be noted in this case, on the passbook issued.
Transfer of KVP/NSC certificates from one post office to another and from one bank branch to another shall continue as per the existing rules and guidelines.
The passbook mode shall be eligible for pledging throughout the country from 1st July, 2016.
NSC or KVP once pledged should not be transferred.
Transfer of NSC & KVP certificates
In case of transfer of NSC or KVP from one person to another, both the persons have to apply for transfer of NSC or KVP in the prescribed format.
The Post Office or Bank concerned shall allow transfer after applying due diligence and enable online viewing to the new owner if exclusive e-mode is applied. The old owner will no longer be able to view the NSC or KVP details online.
If Passbook is already issued then it will be obtained in original and re-issued in the name of the new customer by cancelling the already printed or manual entries in the name of old owner.
The cancellation will be done by drawing cross lines with red ink followed by signatures and designation stamp of authorized officials.
Closure or Premature Closure procedure
At the time of closure or premature closure of NSC/KVP, Passbook issued will be collected back and receipt of the amount paid will be obtained in the Passbook. All the pages will be cancelled by drawing lines in red ink followed by dated signatures of authorized official with designation stamp. Passbook will be half torn and preserved as a closed voucher. I believe that the procedure would be much easier in case of e-mode.
Which Banks are issuing KVP in e-mode and Passbook mode?
Andhra Bank
Axis Bank
Bank of Baroda
Bank of India
Canara Bank
Central Bank of India
Corporation Bank
Dena Bank
HDFC Bank
ICICI Bank
IDBI Bank
Indian Bank
Indian Overseas Bank
Punjab national Bank
State Bank of India
State Bank of Bikaner and Jaipur
State Bank of Indore
State Bank of Mysore
State Bank of Patiala
State Bank of Saurashtra
State Bank of Travancore
Syndicate Bank
UCO Bank
Union Bank of India
Vijaya Bank
---
Latest Update

(21-Oct-2017)

:
Govt allows all Public Sector Banks and top three Private Banks (ICICI, HDFC & Axis) to accept deposits under Small Savings Schemes like National Savings Certificate (NSC), Recurring Deposits and Monthly Income Scheme (MIS). Until now, most of the small savings schemes were sold through post offices only. So, Banks can now accept the subscriptions for NSCs, MIS, RDs, PPF, Sukanya Samriddhi Account, KVP & Sr.Citizen Savings Scheme.
Latest update (07-Oct-2017) : Aadhaar now a must for Post office Deposits, PPF, National Savings Certificate (NSC) and Kisan Vikas Patra (KVP). The Existing investors of these deposits have to submit their Aadhaar numbers by 31 December, 2017.
---
Continue reading :
(Image courtesy of Stuart Miles at FreeDigitalPhotos.net) (Post Published on : 12-July-2016) (Source : Govt notifications)