As parents of children you are perhaps always worried about whether or not you are instilling adequate life skills in your child. You want them to grow up to be responsible individuals who are equipped to take care of themselves. One important aspect of teaching life lessons to your children involves teaching them money management from an early age.
After all, we live in times when the use of physical currency is at a minimum and children find it difficult to grasp their head around where and how the money really comes from and how important it is to be responsible with one's finances.
If these are things that you have been mulling over lately, here are some tips that will help you teach your kids a thing or two about money management.
Money management lessons for kids
Give your kids an early head start
With so many things on your mind, you often postpone teaching your kids about money and finances. "They will learn eventually." you tell yourself. Of course they will, but you don't want them to learn things the hard way, do you? Think about yourself, don't you wish you had been told about important things like how to improve your credit score, right from your childhood? It would have definitely helped right? What we are trying to get at is the importance of starting early.
As soon as your kids begin to learn counting, teach them to count money.
Simple things like putting coins of a similar value in a stack and teaching them how to ascertain value of the same is good enough.
Introduce the concept to saving early, by gifting your child a piggy bank.
Reward them with small monetary benefits when they complete chores like putting their toys and books away and encourage them to keep the money in a piggy bank.
When they are older about 5-8 years of age, you may even open a savings account in their name. Having their "own money" and savings account will also instill in them the virtue of responsibility.
Every time they receive monetary gifts from uncles, aunts and grandparents, tell them it is not necessary to spend the money right away for instant gratification. Instead putting away the money for a later date, will help them save for something they really want later.
Further, use every opportunity like going to the ATM to pick up cash or going for shopping trips to tell them about the value of money. The idea is not to get preachy, but making them aware of the fact that money needs to be earned and does not just come from a machine that coughs it up every time you press some buttons! By doing such simple things you will have taught them the importance of saving.
Give them enough financial information
Children today are exposed to the media boom and it is likely that they will have a lot of questions about your finances. For instance, if they watch a commercial about home loans on television, don't be taken aback if they ask you about how much did your home cost or even about home loan interest rates! Satisfy their curiosity by giving them the correct information instead of just brushing them aside.
In fact, if they are about 8-10 years of age, it may even be a good idea to show them your salary slip and tell them how much of it goes towards the payment of your home loan EMI, and other credit. Also tell them about the importance of the timely repayment of loans.
While they may be too young to learn about how to improve credit score, it's never too early to teach them good financial habits that will automatically help them increase credit score at a later date.
Responsible use of plastic money
These days, children are witnessing the rampant use of plastic money. Be it shopping at your local supermarket or buying stuff online, you are most likely using your credit card for everything. Children thus tend to feel that buying things is just as easy as swiping a piece of shiny plastic! Dispel this idea in your kids and explain them the concept of credit, as soon as they begin asking you questions about your credit card. For teenagers, you may even want them to teach with an example.
For instance, if they are pestering you for a gadget, and they do not have enough pocket money saved for the same, let them use your credit card to purchase it, on condition that they make the full payment to you within the billing cycle of your credit card. If that means doing some odd jobs to make up for the deficit so be it! You may not earn brownie points with them in your popularity as a parent, right then, but you will have taught them a very important lesson in the responsible use of credit.
After all, a credit card is serious ammunition to make or break one's credit score. Learning about the proper way to use a credit card will help them learn how to increase credit score, at a later date.
They may not thank you immediately for all the money management lessons you may be teaching them, perhaps the hard way by making the work for the money, instead of just gratifying their wants, but when it is their turn to handle their own money and use credit, they will not complain that nobody told them about the importance of a credit score or the need to make a continual attempt to improve credit score. When they are adults they will know that good money management and good financial habits are adequate to keep one's credit score intact.
Kids & Money Lessons
Most of the researchers believe that children as young as three years old can grasp financial concepts like 'savings' & 'spending' and kids' money habits are mostly formed by age 7.
You may try teaching your kids below money lessons (financial concepts) and help them in understanding these concepts through practical activities;
3 to 6 years age group : You can make them understand certain concepts like counting, waiting, saving, spending & sharing.
8 to 9 years age group : You may start giving some rewards & allowances. You may even open a savings account in your kid's name. You can involve them in some financial & buying decisions. For example – when you are shopping in a super-market, try to teach them concepts like discount, comparison of prices, needs Vs wants, how to use pocket money wisely etc.,
10 to 12 years age group : You can make them understand about important financial concepts like banking, compounding, rate of interest, loans, credit cards, financial goals, budgeting, career & work etc.,
13 to 17 year age group : You can start teaching them about basics of stock markets & other investment avenues, opportunity costs, long-term goal planning, credit management, basics of insurance, online frauds & identity theft, emergency fund and so on..
Money management is one of the most essential life skills and it is up to you (parents) to show your kids how to handle finances responsibly, as early as possible.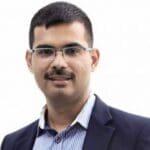 This guest post is authored by Arun Ramamurthy. Arun is an IIM alumnus with work experience at leading global banks in India.He is the co-founder of Credit Sudhaar, a company which aims to spread awareness about importance of credit health and help people achieve their financial objectives.
(Kindly note that Relakhs.com is not associated with Credit Sudhaar. This post is for information purposes only. This is a guest post and NOT a sponsored one.) (Image courtesy of David Castillo Dominici at FreeDigitalPhotos.net)
You may like reading : "Calculate how much you need to invest for your Kid's Education Goal".