LIC's Jeevan Rakshak (Plan No.827) is a new Endowment Assurance Plan. This is a non-linked and with profits policy. Life Insurance Corporation (LIC) will be launching this plan on 19th August,2014.
Key features of LIC Jeevan Rakshak Plan:

Sum Assured (SA) : The Minimum SA is Rs 75,000 and the Maximum allowed is Rs 2 Lakh
Policy Tenure : Minimum 10 years and maximum allowed is 20 years
Age entry (Life Assured's) : Minimum is 8 years and maximum is 55 years.
Maximum maturity age – 75 years
Death benefit before 5 years of policy existence –Basic Sum Assured (BSA)
Death Benefit anytime after the 5th year – Higher of BSA or 10 times of annualized premium or 105 % of all premium paid as on date of death plus Loyalty Addition (LA) (if any)
Maturity Benefit – Basic Sum Assured (BSA) plus Loyalty Addition
Loan – Loan can be taken on the policy after 3 premium payment years
In case of surrendering the policy then no Loyalty Addition is payable
LA is applicable only after 5 years
LIC Jeevan Rakshak Premium quotes:

LIC Jeevan Rakshak Premium quotation chart for SA of Rs 2 Lakh : (click on the below image to enlarge)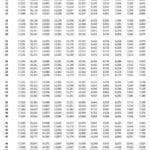 How does LIC Jeevan Rakshak Policy work?
Let us understand how a 20 year LIC Jeevan Rakshak policy works.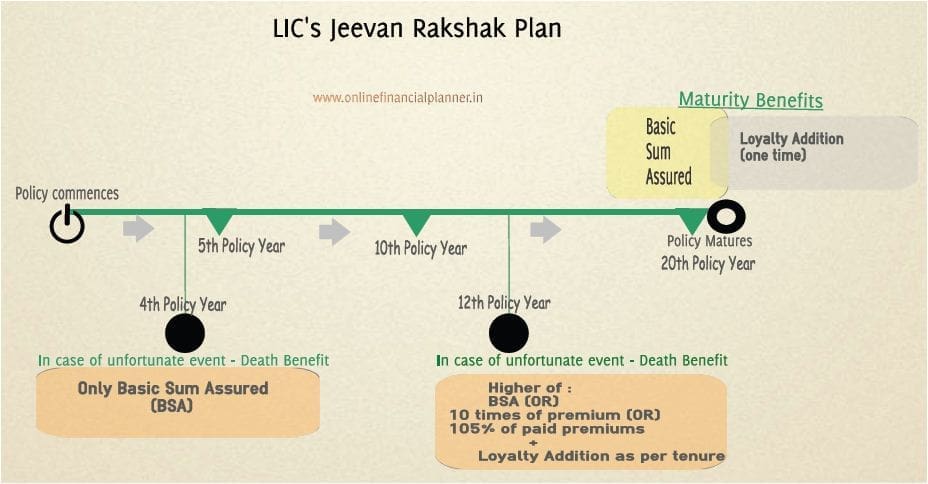 How to calculate returns of LIC Jeevan Rakshak Policy ? (Endowment Policy Calculator)
Let us now calculate the returns of the 20 year Jeevan Rakshak plan. I have used IRR (Internal Rate of Return) function of MS Excel. (Incase if you are unable to view the below calculator then kindly refresh your browser)

Life insurance premium quote – Jeevan Rakshak (Vs) LIC's Online Term Insurance :
In the above example, we have seen that the policy holder (30 years old) has to pay a premium of Rs 7,058 for a Sum Assured of Rs 2 Lakh. The expected return from this policy is around 6%. For a premium of Rs7,500 (Rs 625 pm) the policyholder can get Rs 75 Lakh coverage through LIC's e-Term plan (online Term insurance plan).
Kindly note these important points before opting for Jeevan Rakshak:
The average return on endowment policies will be around 4% to 6%. You may find better investment avenues in the financial markets. In the above calculation the returns are around 6%.
As you can analyze from the above example, the rate of return largely depends on the amount of Loyalty Addition paid.
Kindly remember that no Loyalty Addition is paid if the policy is surrendered. And it is applicable only after 5 years of policy existence.
Section 80 C limit has been increased to Rs1.5 Lakh. Now there is every chance that you may be convinced or lured to buy this policy to save taxes. Tax benefits on Life insurance may reduce the cost of insurance. But, it should not be THE deciding factor.
The maximum Sum Assured offered in this plan is just Rs2 Lakh. This amount is payable on death or maturity. So, the value of Rs 2 Lakh is very less (say after 20 years).
If you can afford to take risk (depending on your age & financial goals) then it may be a wise decision to avoid these kind of endowment policies. The returns on these policies are below the average rate of inflation.So, they do not create wealth for you.
Before buying life insurance policy try to evaluate if the sum assured is sufficient to cover your life? Is the premium affordable? Can the family members lead the same standard of living in case of any unfortunate event?
(You may like visiting my post on "How to get rid off bad insurance?")
"You don't buy life insurance because you are going to die, but because those you love are going to live." Life insurance is a must. Choose the right policy and cover. Share your thoughts and comments.