It's that time of the year when you have to submit the Investment Proofs (Tax saving investments) to your employers. It is also the right time for most of the Life Insurance / Financial advisors to push financial products in the name of tax benefit and insurance cover.
LIC has launched its first new plan of 2021 called – LIC Bima Jyoti on 22nd Feb, 2021. LIC Bima Jyoti (Plan No.860) is a Traditional, Non-linked, Non-participating, Limited Premium Payment and Life Insurance Savings Plan.
Without any doubt, this plan may create quite a buzz in the market. The reason being its unique possible selling point (feature) – "pay premiums for limited period and get guaranteed additions (returns) on your Sum Insured."
Given the low interest rate scenario, most of the retail investors would love to pick an investment option which gives them a better rate than Bank Fixed Deposits.
Under this plan, Guaranteed Additions shall accrue at the rate of Rs 50 per Rs 1,000 Basic Sum Assured at the end of each policy year throughout the policy term. That's a 5% return! Wow!
Currently, an FD with one year tenure may not fetch you 5% return. So, Can LIC Bima Jyothi plan offer you better investment Returns? Is it the best LIC Savings Plan? What are the pros and cons of LIC's new plan – Bima Jyoti Policy, let's understand..
What is a Limited Premium Payment Insurance Plan?
A limited premium payment plan is a plan where you pay the premium for a shorter span of time and enjoy the benefits of an insurance cover for a long time.
The PPT under Bima Jyoti plan is Policy tenure minus 5 years. For example – if your policy term is 20 years then PPF will be 15 years.
What are Guaranteed additions?
The Guaranteed Additions are payable along with the Basic Sum Assured at the time of claim.
Under LIC Bima Jyoti plan, Guaranteed Additions are payable at the rate of Rs 50 per Rs 1,000 Basic Sum Assured at the end of each policy year throughout the policy term. This is part of your maturity benefit.
Related Article : Different types of Traditional Life Insurance Plans | Which one should you buy?
Eligibility Conditions under LIC Bhima Jyoti Policy
Below are the basic eligibility conditions of Bima Jyoti Plan;
| | |
| --- | --- |
| Minimum Sum Assured | Rs 1,00,000 |
| Maximum Sum Assured | No Upper Limit |
| Policy Tenure | 15 (or) 20 years |
| Premium Paying Term (PPT) | 10 (or) 15 years |
| Minimum Entry Age | 90 days |
| Maximum Entry Age | 60 years |
| Minimum age at maturity | 18 years |
| Maximum age at maturity | 75 years |
Illustration of LIC Bima Jyoti Plan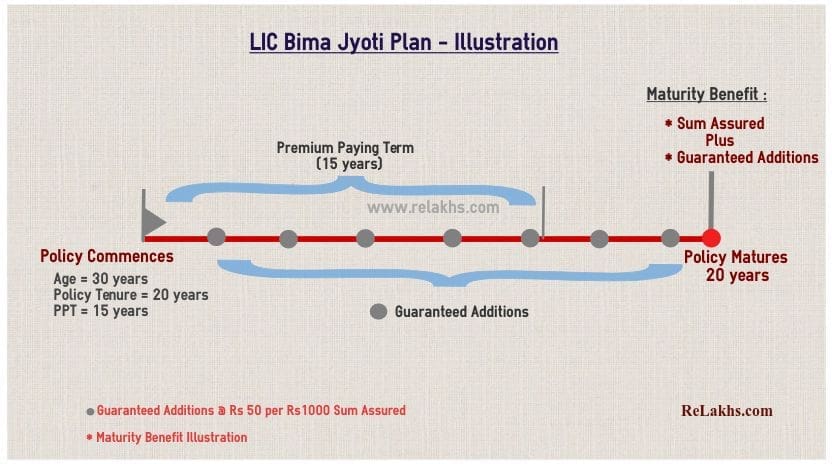 Assuming an individual takes Bima Jyoti policy with a tenure of 20 years for Rs 10 lakh sum assured. The premium paying term is 15 years.
A fixed GUARANTEED ADDITION at the rate of Rs 50 per thousand Basic Sum Assured gets accrued at the end of each policy year till 20th year.
At the end of policy tenure and on the life assured surviving to the end of the policy term, "Sum Assured on Maturity" along with accrued Guaranteed Additions, shall be payable as maturity benefit. (Where "Sum Assured on Maturity" is equal to the Basic Sum Assured.)
Maturity Benefit = Rs 10 lakh (Sum Assured) + Rs 10 lakh (Guaranteed Additions)
Guaranteed Additions Calculation = (Rs 50 x 20 x 1000000) / 1000
Kindly note that Bima Jyoti plan does not pay you any bonuses.
LIC Bima Jyoti Plan Returns Calculation
Let us consider an example – Mr Gupta (30 year) wants to invest in LIC's new plan Bima Jyoti policy, with a Policy Term of 20 Yrs, Premium Paying Term 15 Yrs and for Sum Assured Rs 10 Lakh. The expected yearly premium will be Rs 82,545 (inclusive of rider premiums & taxes).
Let us now calculate Internal Rate of Return by considering the guaranteed additions that are payable for 20 years.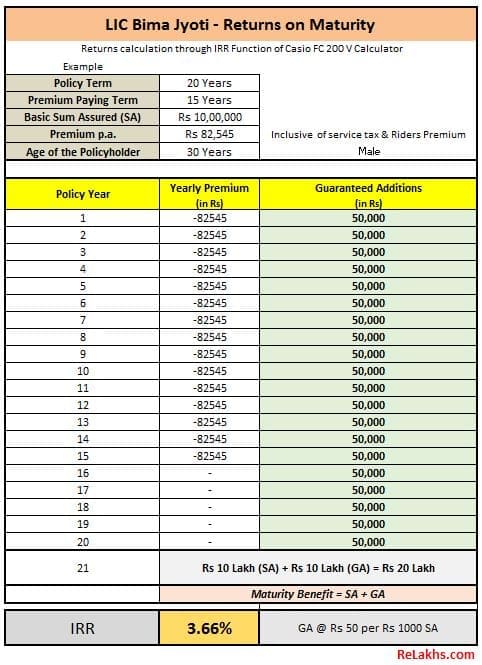 As per the above calculation, the expected returns from LIC Bima Jyoti plan would be around 4%.
Related Articles :
LIC Bima Jyoti Plan – Should you Invest? | My Opinion
Kindly consider the below points before investing in LIC's latest plan – Bima Jyoti plan;
Guaranteed Additions are accrued

: The Guaranteed additions offered under this policy do not have compounding effect. In the above illustration, LIC pays GAs of Rs 50 per 1000 of sum assured each year for 20 years. So, for a Rs 10 lakh SA policy, a total GA of Rs 10 lakh is payable at the maturity of policy. These guaranteed additions are just accrued till the maturity of the policy and compounding does not come into the picture. That is the reason why the returns are not 5% pa but they are around 4% only.

Doubles your Sum Assured?

: Your insurance advisor may highlight a point that your Sum Assured will double by the end of the policy tenure. In the above example, the SA is Rs 10 lakh and the GA is Rs 10 lakh. Please note that it's just a sales pitch!

Life Insurance Cover

: The premium rates on Traditional plans are much higher than the term insurance plans. If you are buying an Endowment plan or money-back policy for life cover then kindly note that you are paying a very high premium for a low life cover. You can consider taking an online Term plan to get an adequate life insurance cover.

Tax saving is an additional benefit

: Insurance is primarily for Protection and not for saving Taxes. Kindly note that Tax saving is an additional benefit and should not be THE deciding factor when buying an insurance policy. Also, if you are opting for the new tax regime, note that you can not claim tax deductions u/s 80c.
Erosion of wealth : Life insurance policies are long-term contracts. When you are investing for long-term, would you like to get decent inflation adjusted returns or not? Your endowment or money-back plans are low-yielding investments. These may give you negative inflation adjusted returns.

Returns

: If you are happy with 4 to 5% returns on your investment (with almost no risk factor & tax-free income), you can consider investing in these kind of plans. Else, you have plethora of investment avenues to consider.
I am sure you are now very clear on how much returns can we expect from these kind of traditional policies. The Investment Returns of around 4% that too over a period of 15 to 20 years sounds very low for me. Kindly be aware of the pros & cons financial products before you invest. Let me know your views. Do share your comments. Cheers!
Continue reading :
(Post first published on : 19-February-2021)