Taxes and Death are certain. As a responsible citizen, you need to file your Income Tax Returns in the most honest way and more importantly, you should do it before the applicable due date.
The recent initiatives taken up by the Govt and the Income Tax department have been yielding good results as far as tax compliance is concerned. But, there is a long-way to go, to increase the tax-base in India.
"The Finance Minister in his Budget 2018 speech has stated that in 2016-17, 85.51 lakh new taxpayers filed their returns of income as against 66.26 lakhs in the immediately preceding year. The Number of effective tax payer base increased from 6.47 crores at the beginning of FY 2014-15 to 8.27 crores at the end of FY 2016-17"
In case, you have missed filing your Income Tax Returns for previous years due to ignorance (or) if you have skipped it intentionally, it is advisable to file your ITR at the earliest. Kindly do not take any chances, as non-filing of ITR can lead to serious consequences.
If you are planning to file your ITR of past years now, is it possible to file ITRs of past many Assessment years? How many Previous Years' Income Tax Returns can be filed after the due date? – Let's discuss….
How many past years' Income Tax Returns can be filed?
Every individual whose gross total income exceeds the taxable limit is liable to file income tax return (ITR). Therefore, if your income is over Rs 2.5 lakh, then it is compulsory for you to file your income tax return in India.
As of now, in this financial year you can file your income tax returns for the previous two financial years.
For example : In the FY 2017-18, up till 31st March 2018, you can file return for the previous two financial years i.e., FY 2016-17 (or AY 2017-18) and FY 2015-16 (AY 2016-17).
Can I file my FY 2015-16 / AY 2016-17 ITR now? – Yes, you can file it on or before 31-March-2018.
Can I file my FY 2016-17 / AY 2017-18 ITR now? – Yes, till 31-March-2018.
Can I file my FY 2017-18 / AY 2018-19 ITR now? – Yes, till 31-March-2019.
Can I file my FY 2018-19 / AY 2019-20 ITR now?
With the amendment of Finance Act 2016, from AY 2017-18 (FY 2016-17) Income Tax belated returns should now be filed before the end of the relevant Assessment Year only.
For example, return for FY 2018-19 can be belatedly filed on or before 31-03-2020 only.
Therefore, ideally, 31st March, 2018 was the deadline for all the belated tax return filers for the Assessment Years 2016-17 & 2017-18.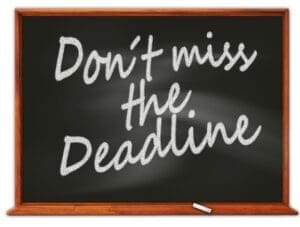 The ITR of FY 2018-19
(AY 2019-20)
can be filed before 31st Aug, 2019. In case, you miss this deadline, you can file a belated return
(or can revise, if filed)
before 31st March, 2020 only.
(Kindly note that belated returns of past many years can be filed in response to an Income Tax Notice.)
Another important point to note is that from the Assessment Year 2018-19, the time limit for filing a revised return rectifying any omission, error etc., made in the original tax return has also been reduced and such revision has to be done on or before the end of the relevant AY.
For example : Let's say you file your FY 2017-18 ITR before 31st July, 2018. Later, you may realize that there has been an error in the original ITR and would like to revise it. In such a case, you can revise it on or before 31st March, 2019 only. (For Financial Year 2017-18, the relevant Assessment Year is 2018-19.)
Belated Returns & Drawbacks
Though you are given some time to file a belated return, such returns come with some drawbacks and penalties as below ;
For returns of FY 2017-18 and onwards, penalty of Rs 5,000 will be charged for returns filed after due date but before 31st December. If returns are filed after 31st December, a penalty of Rs 10,000 shall apply. However, penalty will be Rs 1,000 for those with income upto Rs 5 Lakhs.
Losses incurred (other than house property loss) are not allowed to be carried forward to subsequent years to be set off against the future gains in case where return has not been filed within the due date. (Read : '

How to set-off Capital Losses on Mutual Funds, Stocks, Property, Gold, Bonds & Debentures?

')
If there are any taxes which are unpaid, penal interest @ 1% per month or part thereof will be charged till the date of payment of taxes (as per u/s 234A).
Penal interest may also be applicable under section 234 B and 234 C w.r.t default in payment of Advance Tax (if any).
In case, you pay taxes but could not file your ITR then penal interest will not be levied. However other drawbacks such as non-carry forward of losses will be applicable.
AY 2020-21 Income Tax Deadlines you must know about!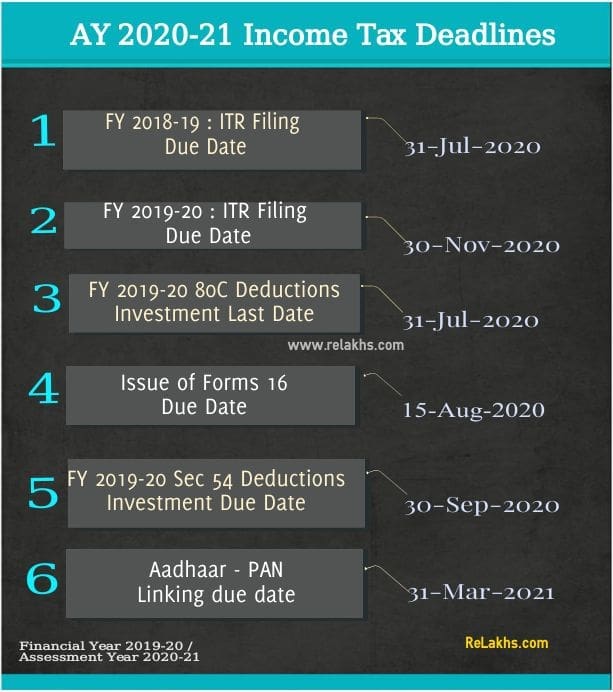 Continue reading :
(Post published on : 14-February-2018)