The various steps of Income Tax filing are – Filing Income Tax Returns, Mailing ITR V form to Centralized Processing Cell (CPC- Bangalore) and Receiving acknowledgment for ITR V.
After receiving the ITR V acknowledgment, sometimes you may receive an email from Income Tax Department within one year of Filing the Tax Returns. This email may contain 'Intimation Under Section 143(1).'
What is Intimation U/S 143(1)?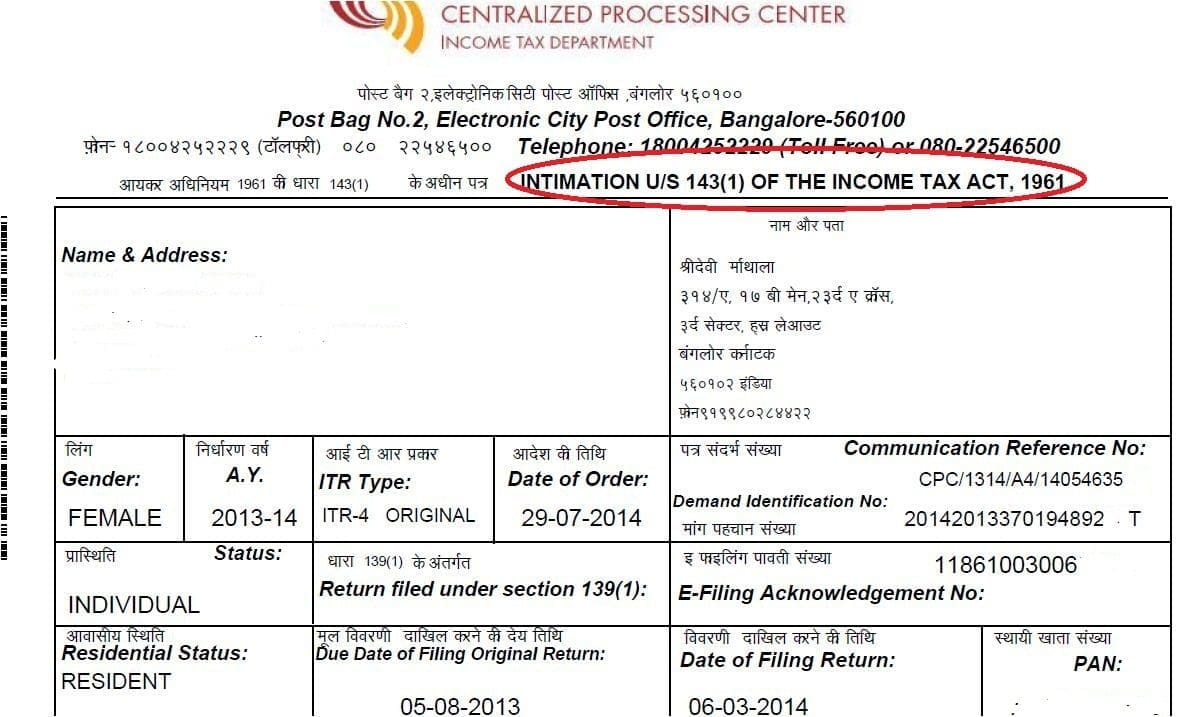 The intimation would show the income tax return as filed by you and the computation as done by the Income Tax Department (as below).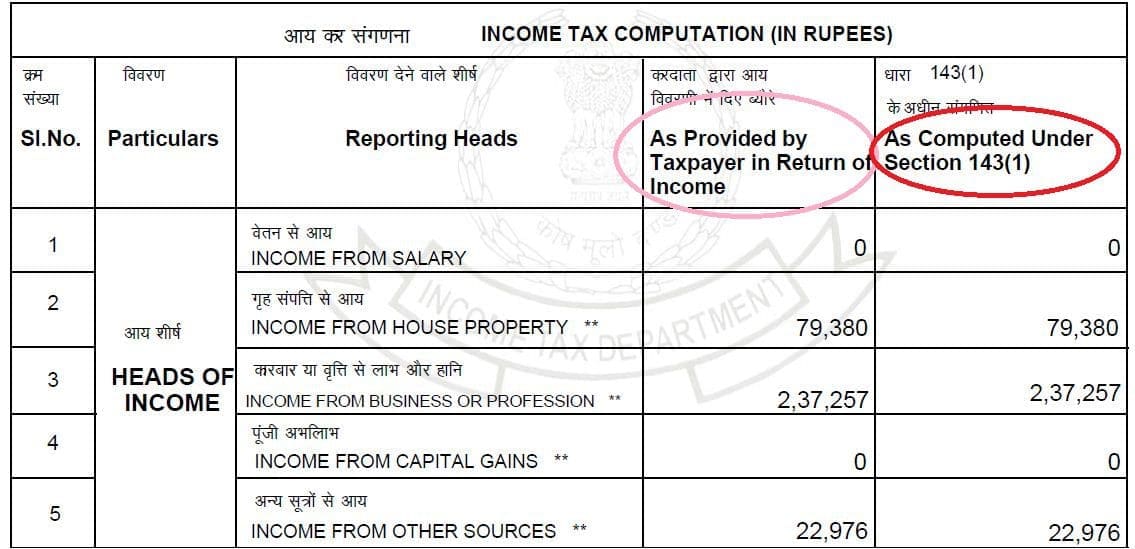 Income Tax Department generally sends Intimation Under Section 143(1) for two main reasons:
To inform you about any outstanding Income Tax demand or Interest payable by you (or)
To inform you about any tax or interest refundable to you.
If it is a tax refund intimation then you don't have to do anything. In case if it is "Tax Demand" (tax payable by you) and you are satisfied with the computation done by the Income Tax Department, then you should pay the amount of Tax payable as per Section 143(1).
In the above image, the refundable amount is zero and the interest payable amount is Rs 120. (The intimation u/s 143(1) is sent for tax/interest demand of Rs 100 and above only).
You can also login to your e-filing account and check if there is any 'estimated tax demand' which is due in the 'dashboard' itself. If there is no 'tax due' then it is shown as NIL and if there is a due amount then it is shown opposite to 'demand estimated'.
Generally you are requested to pay the entire Tax demand within 30 days of receipt of the Intimation.
How to pay Outstanding Income Tax demand u/s 143(1) online?
The outstanding tax demand can be paid online as below:
Log in to www.incometaxindiaefiling.gov.in and click on "Pending Actions" option.
Cross-check the outstanding tax demand amount by clicking "Response to Outstanding Tax Demand" link under 'e-File menu 'Pending Actions' option as shown below.

If you wish to agree with the demand and pay the due, you can click Pay Now to pay a demand.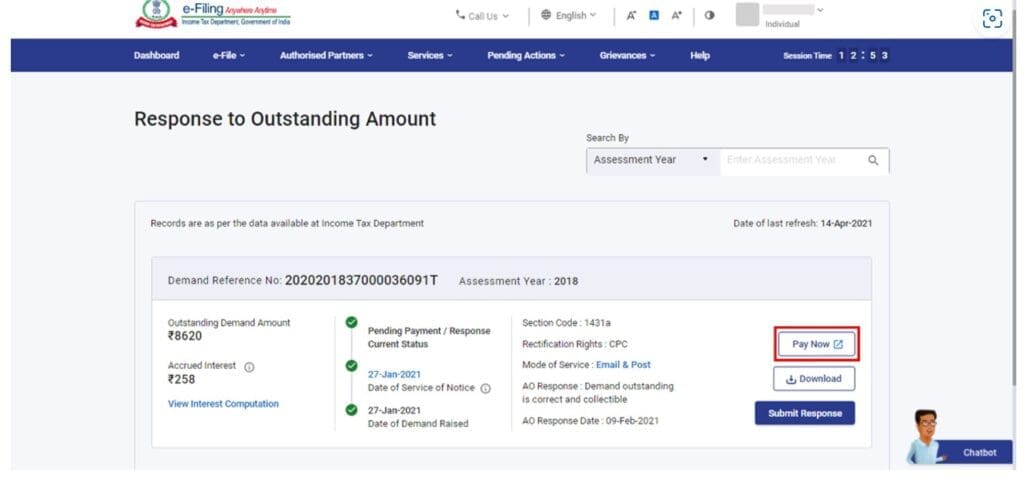 You will be taken to the e-Pay Tax page where you can make the tax payment.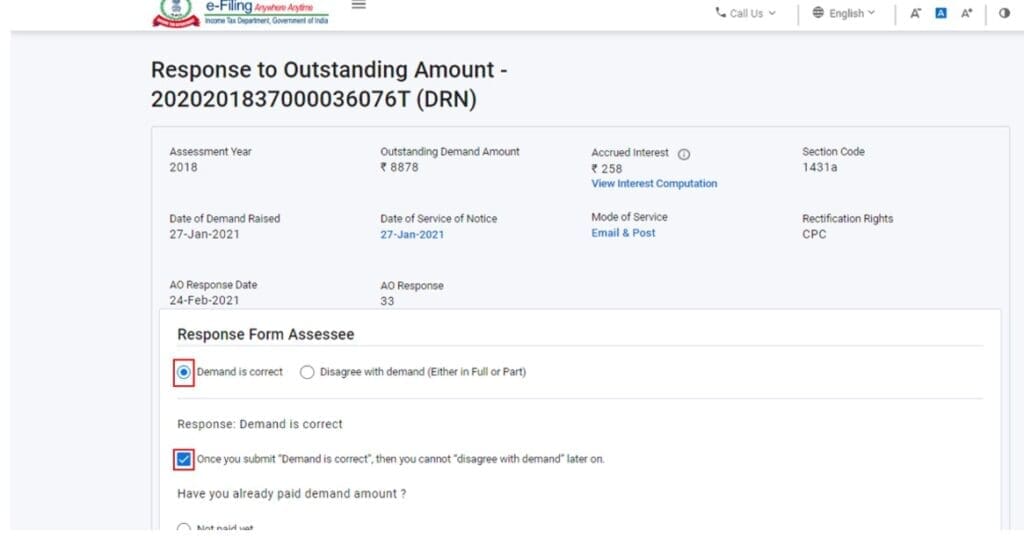 Select " Income Tax – Other than companies" option. All required information shall be auto populated from PAN Master.
Select " Tax on Regular Assessment (400) under "Type of payment" section.
Select your preferred bank through which you would like to make the tax payment.
Click on "Proceed" button and re-confirm your details. You need to click on "Submit to Bank" button to make the payment.
Next you will be taken to your Bank's Login page. Login to your bank account with your credentials.
In the next page you will be asked to enter the Demand amount. You may find different options like income tax, surcharge, Education cess, Interest, Penalty and Others. To find out the type of demand you can check the Intimation document. The below image is an example of demand notice for "Interest" payable.
After entering the required amount, you can make the payment using your net-banking facility. An online receipt will be generated like the one below. Save it for your reference.
Submit response if Demand is correct and you have paid already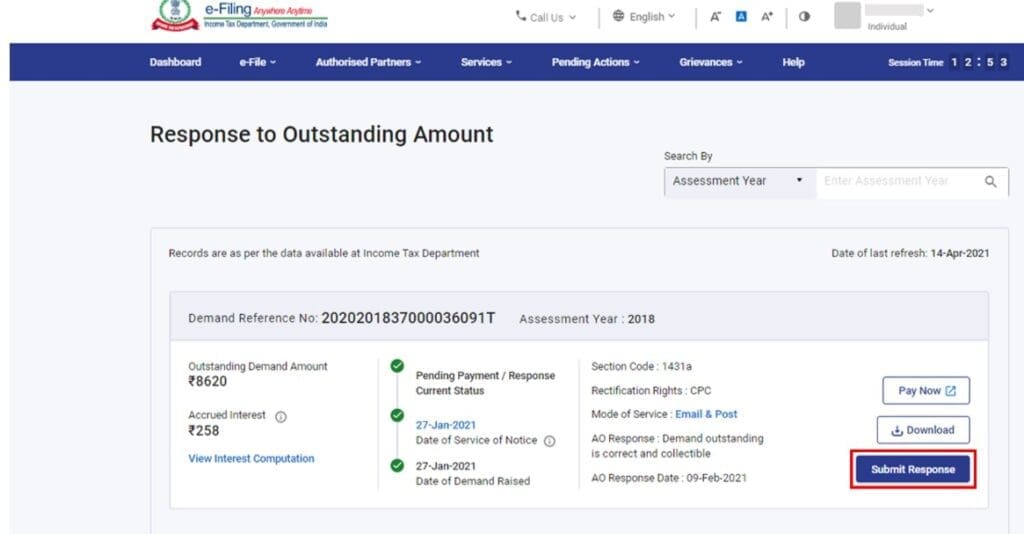 On Response to Outstanding Amount page, select the Demand is Correct option and the disclaimer Once you submit the response as Demand is correct then you cannot Disagree with Demand later on.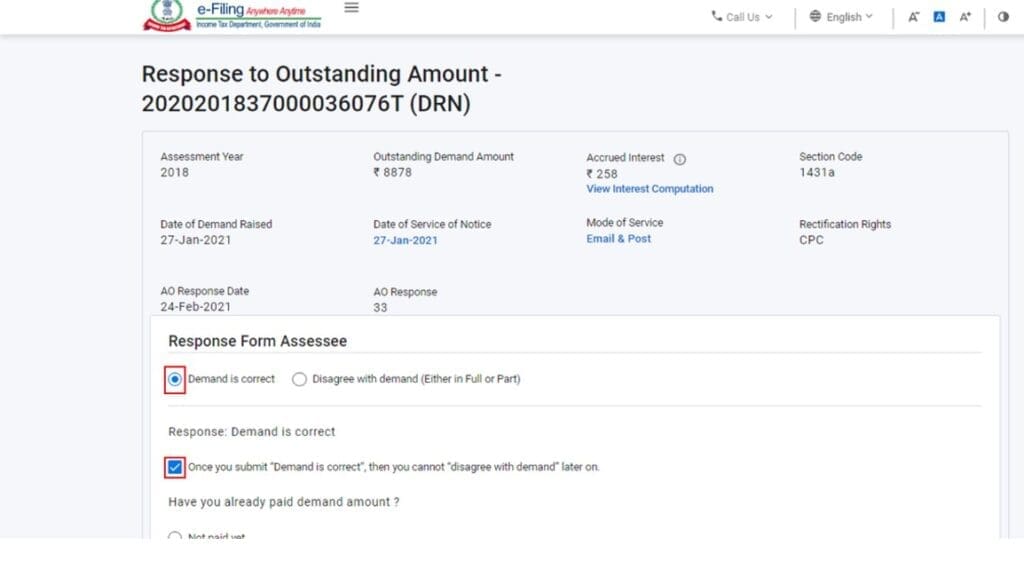 Select Yes, Already paid and Challan has CIN. Click Add Challan Details. To add the challan details, select Type of Payment (minor head), enter Challan Amount, BSR Code, Serial Number and select Date of Payment. Click Attachment to upload the copy of the challan (PDF) and click Save. After entering the Challan details, click Submit to submit the response and the details of challan entered. On successful validation, a success message is displayed along with a Transaction ID. Please keep a note of the Transaction ID for future reference.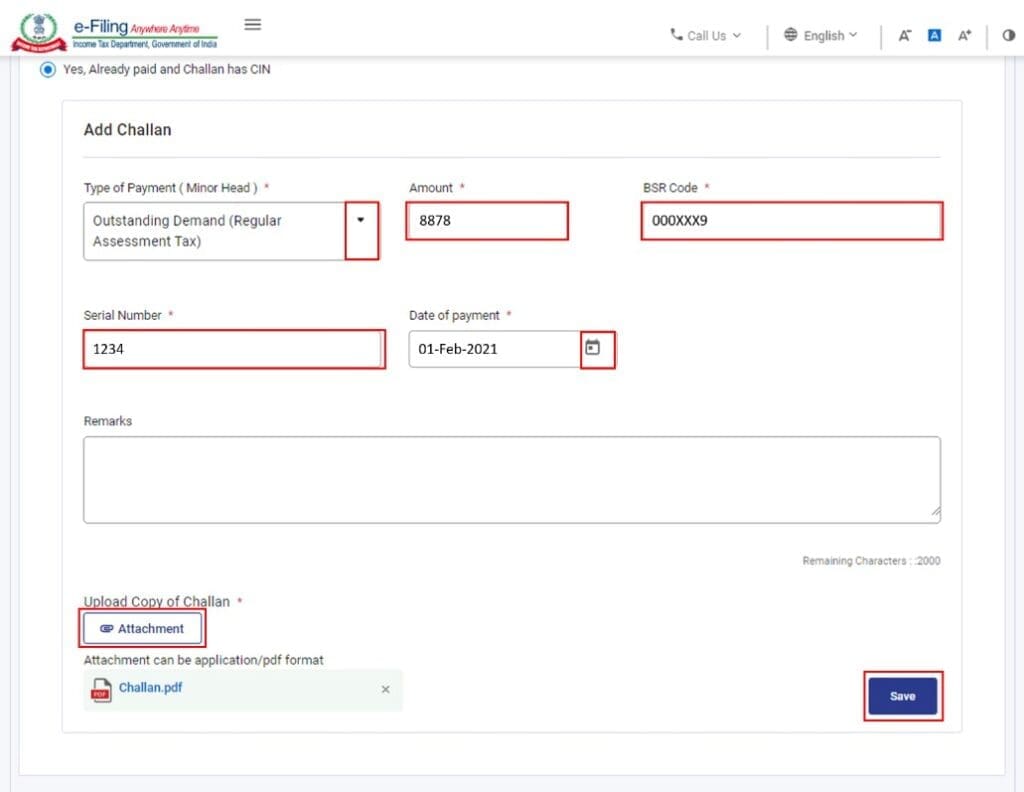 You can also submit response if you Disagree with the demand (Either in full or in Part).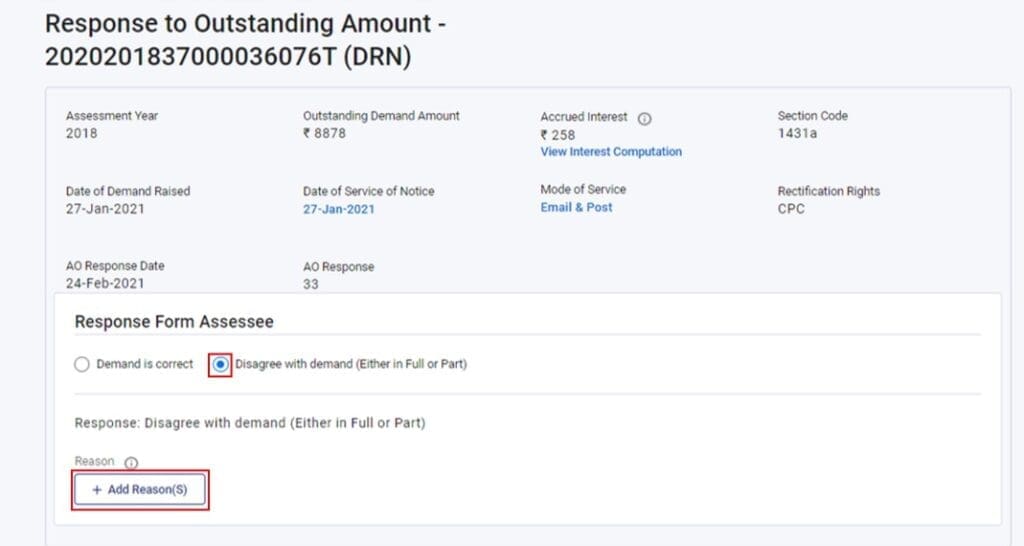 How to check the status of my tax demand payment online?
The best way to check the status of your payment i.e., whether the Income Tax department has received your payment or not is by accessing your Form 26AS. Try checking the status after 2 to 4 weeks from the date of your demand payment.
Visiti e-filing portal, click on e-file -> Income Tax Returns -> View Form 26AS
You can visit www.incometaxindiaefiling.gov.in. Go to "Pending actions", click on 'Response to Outstanding Demand' and check the status. If your payment is received by the IT department then you may find no records. You may also check the status of your tax demand by clicking on "View Form 26AS.You will be redirected to "TDS website." Click on "View Tax Credit –Form 26AS." Select the specific Assessment Year and "View as" PDF format. Click on "Download."To open the Form 26AS PDF document, you have to enter your Date of Birth (as printed on your PAN card). Go to "Part C – Details of Tax Paid." There should be an entry with the details of your Outstanding Income Tax Demand payment (as below image). I hope this post is useful and informative. Have you received Income Tax demand notice anytime? Did you pay the taxes online or offline? Kindly share your comments.
(Add IT department's email-id " intimations@cpc.gov.in " to your email a/c contacts list, if not added). For any clarification you can reach the IT dept helpdesk on Toll free # 1800 309 0130/1800 2033 5435.
Continue reading:
( Image courtesy of Stuart Miles at FreeDigitalPhotos.net)