On 2nd February 2015, Reserve Bank of India (RBI) issued a notification on Unclaimed Bank Deposits and Inoperative accounts in Banks. As per the notification, RBI said that banks should play a more pro-active role in finding the whereabouts of the account-holders of unclaimed bank deposits/ inoperative accounts.
Actually a few years back itself RBI had issued guidelines to banks about the procedure in dealing with unclaimed money. As per those guidelines, all banks have to display the list of unclaimed bank deposits and in-operative accounts on their respective websites. But, it has been observed that few banks are not following these guidelines. So, RBI issued a new notification again on this matter and had set a deadline too. (RBI's Notification, Click here)
In this article let us understand about – What are unclaimed bank deposits? What banks do with the unclaimed monies? What does RBI's notification say? How to search for unclaimed deposits or accounts on bank websites? What is the procedure to reclaim your money/bank deposits?
What are Unclaimed Bank Deposits and in-operative accounts?
Bank accounts or deposits which are inactive or inoperative for 10 years or more are treated as unclaimed monies. As per government estimates, banks had Rs 5,124 crore in unclaimed deposits lying with them as of December 31, 2013.
(Latest Update (15-Jan-2018): According to the latest figures released by the Reserve Bank of India (RBI), Rs 8,864.6 crore is lying unclaimed in 2.63 crore accounts with all bank groups as of December '16. )
The country's largest lender State Bank of India tops the list, with Rs 1,036 crore lying in 47 lakh inactive accounts that include both term deposits and CASA. Canara bank follows with Rs 995 crore in 47 lakh inactive accounts, and Punjab National Bank with Rs 829 crore in 23 lakh inactive accounts.
These unclaimed monies can be, fixed deposit maturity amounts which have not been claimed, money lying in inoperative savings or current accounts etc.
What happens to unclaimed deposits or monies lying with the banks?
The maturity proceeds of unclaimed Bank Fixed Deposits will earn the savings bank rate of interest only. If you withdraw the maturity amount of a forgotten FD then you may receive only savings bank interest rate from the date of maturity.
If you agree to reinvest the proceeds then you may get the applicable FD interest rates from the date of maturity. The interest on Savings bank accounts is credited irrespective of whether the bank account is operative or dormant.
As per the Reserve Bank of India (RBI), the bank deposits which have not been claimed for 10 years or more will be transferred to 'Depositor Education and Awareness Fund Scheme.'
RBI's new guidelines on Unclaimed Bank Deposits/ Inoperative Accounts in Banks:
Banks have been advised to display the list of unclaimed bank deposits/inoperative accounts which are

inactive / inoperative for ten years or more

on their respective websites.
The list so displayed on the websites must contain

only

the names of the account holder(s) and his/her address in respect of unclaimed deposits/inoperative accounts.
The bank account number and bank's branch details should not be displayed.
If the accounts are not in the name of individuals (corporate accounts), the authorized person's (who are authorized to operate such accounts) details should be displayed.
All banks should provide '

Search/Find

' option to enable the public to search the list of unclaimed deposits or inoperative accounts details. (Banks can provide search parameters like – name of the account holder, Date of birth, place etc)
Banks should complete action as above by March 31, 2015 and keep their websites updated at regular intervals by conducting periodic review of such accounts.
Banks should also provide on their websites, the information on the process of claiming the unclaimed deposit/activating the inoperative account and the necessary forms and documents for claiming the same.
Banks should also put in place, grievance redressal mechanism for quick resolution of complaints (if any) regarding the unclaimed deposits and inoperative accounts.
Latest Article : RBI's new UDGAM portal for Unclaimed Bank Deposit Search
How to search for inoperative accounts or unclaimed deposits on Bank Websites?
You might have deposited some money in a fixed deposit and forgotten about it for many years. Another situation can be, you are a legal heir (or nominee) of your Grandfather's inoperative bank account and you want to know the details about it to reclaim the monies.There could be many such examples or situations like these..so, how to get information about such deposits or accounts?
You may enter keyword 'inoperative bank account list of (your bank name)" on Google search. You may get search results with a link to go to the bank's website. Visit that link and provide required details to get information about the inoperative accounts.
Below are some of the Banks' website links and SEARCH option screen-prints. As of now, some banks are displaying the information about inoperative accounts and few banks are not providing any information on their websites. This is bound to change after Mar 2015.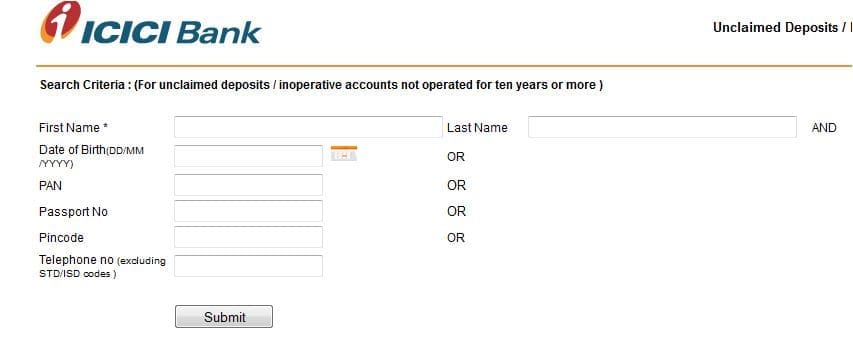 To know information on unclaimed money or inoperative accounts of ICICI Bank, click here.
To know information on unclaimed bank deposits or inoperative accounts of Sate Bank of India, click here
How to reclaim the forgotten bank deposits ?
Let us now know the procedure to get back the unclaimed monies lying in inoperative bank accounts?
Once you get the required information about the inoperative accounts (based on the search results), you can leave your name and contact details there itself. Some banks do call back and get in touch with you.
Another approach can be, you can personally visit the bank branch. If you want to reclaim your own money which is in the form of unclaimed deposits or in inoperative accounts then you can approach the bank with the FD receipt / bank account no / passbook. You may have to submit photo identification proofs (KYC docs) along with 'unclaimed deposit claim form.' (Unclaimed fixed deposits or savings and current accounts are transferred to a bank's head office from a branch after 10 years. So, suggest you to check with your bank customer care before visiting the branch in person. )
In-case you are representing your parents/family member as a nominee/legal heir then you may have to submit proof of being the legal heir. You may also have to submit your ID and address proofs to claim the monies.
Claim by non-individual – For claim of non-individual accounts, the customer needs to submit the Claim Form on the Company's/ firm's /institution's letterhead duly signed by the authorized signatories along with their valid identity and address proofs. The customer may also be required to submit such other documents as may be requested by the Bank.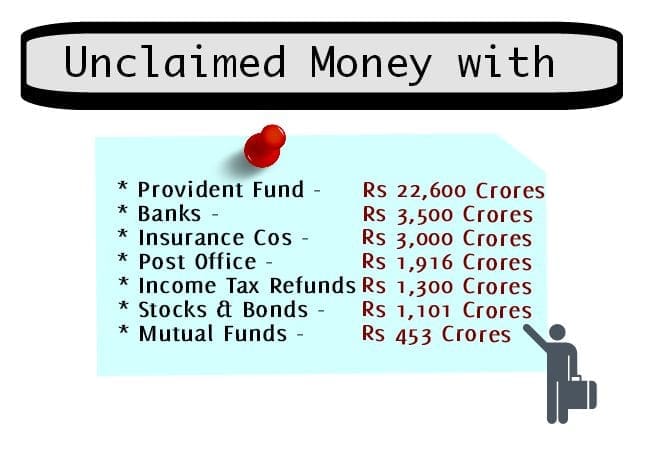 Unclaimed money with other financial institutions..Visit my post on "unclaimed investments & how to reclaim money lying with Mutual Funds, Post office, Life Insurance Companies, Companies (Stocks/Bonds) & Income Tax department (unclaimed tax refunds)."
Hope this post is useful to you. If you have forgotten about any of your old investments, RECLAIM now. Do not postpone!
(Image courtesy of jesadaphorn at FreeDigitalPhotos.net) (Figures as of 2012-2013)