Here is one of my favorite Chinese Proverbs that can be very inspiring for Investors –"The best time to plant a tree was 20 years ago. The second-best time is now."
Start investing as much early as you can and you will enjoy the real magic of –Power of compounding.
The greatest advantage that you have by investing early is "Time".
So, the sooner you start investing, the more time you will have for your initial investment to grow and compound.
But where invest depends on where you are in your life cycle currently, and your investment portfolio or strategy will depend on it.
As soon as we come closer to 60s, it becomes necessary for most of us, the investment corpus which we have accumulated so far is invested in a safe instrument. We cannot take high risk on that money!
So, How to start Saving..?
Look at your spending habits : Know what your priorities are. Do you spend on new clothes every month, eating out, and movies/concerts/other entertainment? If you do so, that's fine if it fits your prioritized list. If it doesn't and you are just spending money because someone in your known-circle or let's say your friend has the habit of doing so, then try to limit your expenses.

Decide on your goals:

As you start earning some money, decide on your goals.
You may have a goal for higher education or professional degree for your career, you may have a goal for your car in next 5 years or say for home in next 10 years. Unless you decide what you want to do next and what are your expectations with your life, you will not be able to plan & achieve them.
If you are in your 20's
If you are in your 20's, you are probably enjoying the greatest freedom you'll never know. May be, you have graduated from your college and moved on to the next stage of your life.
You may not have any responsibility as such right now. You are single, you do not have to think about the loan now, or children to care for.
In a lot of ways, this decade of your life represents an era of carefree wonder – the last decade you'll have before you take on the traditional roles and responsibilities of others, like your parents did for you.
It will offer you a chance to set yourself up for life, investing in your 20's may sound boring, but starting young is easily the best way to get ahead.
If you are in your 30's
Once you are in 30+ bracket of age, ideally you should be able to dedicate more savings from your income.
When you are 30 years old, you would have a responsibility of your child's and create a separate financial plan for your children.
But ideally you should increase your savings at this age.
Basically, it means that when you invest for long periods of time, you start earning interest on interest.
Here is an example of how compound interest can convert small savings in to large numbers.
Just imagine that you are a 30 years old and love having coffee at branded coffee shop which costs you Rs 3,500 pm.
But, one day you opted to drink at a neighborhood Tea stall shop instead, which you loved it and it cost you say only R 500 pm and remaining amount i.e. Rs 3,000 you set it aside and invest at 12% rate of interest for 20 years.
Can you estimate how much would you accumulate after 20 years?
Its around Rs 29.7 Lakh!
Still desire that fancy coffee?
There is a simple formula to get rich. Start saving and invest early for your high priority goals like Kid's Education, Retirement etc.,
If you are in your 50's
When you are in your 50's, you are nearing the end of your working life, and preparing for retirement. You should re-evaluate your portfolio and make up for the lost time.
At this point you might think that you have everything figured out. However, you might want to consider re-balancing your accumulated portfolio, considering inflation and your living expenses.
So, at this age;
Consolidate your savings
Put more in savings and rebalance your portfolio.
Downsize your life style
So, how to calculate that how much should I save every month from paycheck.
My personal take on this is that you should absolutely be saving a minimum of 10%, but you should be targeting for 25%+ as your income increases.
Try to save as much as you can while still living your life and enjoying the moment. This is a tough balance for sure. If you spend money now, you're always adding more risk to the future, but if you save money now, you're possibly eliminating an experience or something that will enhance your life in the future moment.
So, what can you do? Here's one of the best ways to handle it.
Let's say you start your career at age 22 and you're making Rs 40,000 in an entry level job. Save 10% of your income or Rs 4,000. As you advance, change companies, get a pay-hike, etc. save half of each raise. Got a raise for Rs 5,000 to Rs 45,000? Save Rs 2,500 of that and add Rs 2,500 into your annual budget. Now you're saving Rs 4,000 + Rs 2,500 or Rs 6,500 which is 14% of your income.
Another raise of say Rs 50,000? Save Rs 2,500 more. Now you're saving 18% of your income. This method allows you to increase your savings and your lifestyle using a healthy & balanced approach. It allows you to take advantage of pay-hikes on both sides of the coin: the saving side and the spending side.
Bottom line
Make saving a priority in your 20's, even if it is a meager 3-4 % of your monthly income. Creating the financial cushion will help you in the wake of an emergency and allow to take chances on riskier investment. After all, 20's is a time to take experiment.
This is a guest post by Paritosh Sharma of iSpeaksForum.com .
About the Author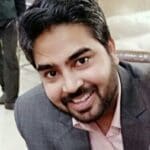 Paritosh is an aspiring 30-year-old guy with strong interests in value investing, blogging, trying to lead meaningful life writes on personal finance and frugal life style at ISpeaksForum.com.
Continue reading :
Kindly note that ReLakhs.com is not associated with ispeaksforum.com. This is a guest post and NOT a sponsored one. We have not received any monetary benefit for publishing this article. The content of this post is intended for general information / educational purposes only.
(Post first published on : 29-June-2018)