Buying a property (home/plot/land) is one of the most important decisions that you will ever make. Buying a property involves a lot of money and it is a serious money decision. It is an emotional one too!
Whether you are a first-time property buyer or an experienced owner, buying a real estate property in India is not an easy task. It requires lot of homework from your side and you need to verify lot of property documents.
One of the important documents that you need to apply and verify is an Encumbrance Certificate or popularly known as the EC. An encumbrance certificate is important not only while buying a property but also when you are applying for a home loan or going in for a loan against the property.
In this post, let us understand – What is EC (Encumbrance Certificate)? What are the important points that you need to verify in an EC? What are the charges or fees to apply for EC? ….
What is an Encumbrance Certificate?
Let us first understand, what is ENCUMBRANCE? – The dictionary meaning of the word encumbrance is, 'a claim on property or assets' or 'a mortgage'. An encumbrance is a legal claim on a property that affects the owner's ability to transfer the ownership of the property. Encumbrance means whether the properties have any lien on them, whether attached by the court, whether mortgaged or sold etc. by the owner of the said properties.
An encumbrance certificate is evidence that the property in question is free from any monetary and legal liabilities. An encumbrance certificate contains details of all transactions done on the specific property.
For example – If the property in question has a home loan on it then you can find this information when you take EC. If the current owner has acquired the property through a Gift Deed, you can verify these details in EC.
Encumbrance Certificate can be obtained from the sub-registrar's office where the deed has been registered. (In some of the States an EC can be obtained online too.)
How to apply for EC? What are the charges/fees to get EC? What are Form 22, Form 15 & Form 16?
How to get EC offline?
To obtain EC, you need to submit Form No. 22 (application for EC).
You have to affix Rs 2 non-judicial stamp on the application.
You need to provide complete residential address and the purpose for which the certificate is required.
You have to provide the survey number and place where the property is located. It is important to also mention the period (how many years you want EC for?), full description of the property, measurements and boundaries of the property. (If you are applying for a home loan then your lender may need EC statement for 10 to 15 years.)
Enclose copies of your ID proof and residential address proof.
Submit the forms to the concerned officer at the SRO (Sub-Registrar Office).
You have to pay the required fees. The fee for EC is based on the number of years for which you would like to get the EC for. Kindly note that a fraction of a year is also considered to be a complete year. (EC is issued from the beginning of a Financial Year i.e, 1st

of April

)
The fee can vary from State to State. Generally it is very nominal. The 'search fee' for 1st year can be in the range of Rs 15 to Rs 50 and for every additional year there can be fee in the range of Rs 5 to Rs 10 (approx).
In some states like Andhra Pradesh, you can download the Encumbrance certificate free of cost online. But it is issued as a report for information purposes and not as a signed certificate. However, you can find all the required details even in online copy too. (

Click here

to visit AP Registration Dept's website and search for e-Encumbrance Statement online).

Barring a few states, encumbrance certificates in India are mostly issued physically. States that issue encumbrance certificates online are Andhra Pradesh, Odisha, Kerala, Puducherry, Tamil Nadu and Telangana.

The time taken to get EC statement is around 10 to 30 days.
Personally, I have observed that in most of the property deals, it is either the financial institution or a real estate agent or an agent at SRO who applies for an EC. Most of the times, the agents charge EXTRA amount to get the EC for you in 24 hours 🙂 .
What are Form No. 15 & Form No.16?
When you apply for EC, it is issued either as Form 15 or Form 16.
Form No. 15 – EC on Form No 15 has details regarding sale, lease, mortgage (home loan), gift, partition, release etc that have been registered with the Registration department for any particular period for which the encumbrance certificate is sought. (You can find the form number on top of the EC certificate.)
Below is a sample Form 15 issued to me by the SRO of Bommanahalli, Bengaluru, Karnataka. Kindly click on the image to enlarge it.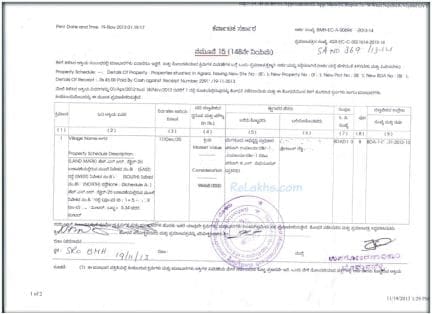 Form No.16 – EC on Form 16 signifies that no transactions have been recorded on the property for the period for which the EC is issued. Form 16 is also referred to as 'Nil Encumbrance Certificate' (or) certificate of Nil Encumbrance.
Important details in EC statement
I have downloaded an online EC statement for one of my properties located in Andhra Pradesh. This property has been gifted to me by my Grandmother. Here, you can notice that the 'Gift deed' transaction details have been captured and recorded in EC.
Once you get the EC for the property, it is advisable to cross-check or verify some of the important details as below. Kindly note that EC format can vary from State to State, but the basic details may remain the same. (You may click on the image to open it in a new browser window.)
You can get to know who has applied for the EC statement. If you have applied for it, you will find your name here.
The property details that you have provided in the Form 22 (EC application form) will be mentioned here.
You can notice the number of years for which the EC has been sought. I have searched for the encumbrances for the last 33 years.
EC will give you the complete property description as recorded in the Sale Deeds which are registered and recorded in the books of Sub-Registrar office.
You can get to know how many transactions have been done on the said property. The transactions are listed in a chronological order (date-wise). In this example, there were two transactions done. (R, E & P stand for Registration Date, Executed on, Presented on respectively)
In 1984, my grandmother bought this plot. In 2007, she has executed

Gift Deed

in my name. Like wise, if you are buying a property which has home loan on it (home loan taken by current owner), you can find 'mortgage' details instead of 'gift settlement' in this column. Another example can be – let's say if partners of a firm mutually purchased the property and one of the partner wants to release his share from the property then in that case, Release Deed can be executed and registered. In this case, you can find 'Release Deed' details in EC.
You can find the name(s) of the buyer and the seller (E – Executor/Seller & C – Claimant/Receiver/Buyer).

If the property is a jointly held one, you can find multiple owners.

If there are multiple transactions done, all of them will be inter-linked in the Registration Dept's database. For example- the first transaction has a Registered document number as 44/1984 and the same is linked to the second transaction (Gift settlement). So, if you see these kind of links in your EC, you can request for the copies of all Link Documents (including the Mother Deed) from your Seller/Builder. In this way, you can establish the continuity of parent documents with child documents.
Other important points to ponder over
There is no doubt that EC is an important document. However, we need to be aware of the fact that only the transactions which are recorded in the books of Sub-Registrar office

(SRO)

get reflected in Encumbrance Certificate. If you take a home loan and your lender does not report the mortgage details to SRO, it won't be captured in EC. Similarly, any family settlements which are not registered with SRO will not be reflected in EC.
Besides, EC you may also ask for

Possession certificate or Allotment letter

from your seller.
The EC is usually maintained in electronic form for the more recent period and it is usually quicker to obtain EC for the recent years. If the property has very few transactions, it is vital to get EC for much older period and this may involve periods which have manual EC (non-electronic EC).
Sometimes, the entries in EC might have typo errors / clerical errors. You can inform about these to your prospective Seller and get them corrected before buying the property.
Do note that EC is a mandatory document when applying for a home loan.
Advisable to take EC not only when buying a property but also after buying the property, to check if your name has been recorded or not.
Take EC even before booking your Flat or apartment and not after booking the Flat.
Personally, I have realized that EC is an important document to get mutation of property done. Mutation is also referred to as Khata Registration / Khata Transfer / Patta. After buying the property, it is very important to get mutation done. (Read : 'What is Mutation? How to apply for Mutation of Property')
Property purchase can be a very lengthy, risky and complex process. It is wise to consult a local civil lawyer and take legal opinion before registering a property.
Continue reading :
(Image courtesy of Stuart Miles at FreeDigitalPhotos.net) (Post published on : 14-October-2016)