Many of us end up paying penalties for late payment of utility bills, mainly due to the fact that we would not have automated the same which in turn can be attributed to the fact that there is no single bill payment platform which is comprehensive & seam-less.
There are few online platforms available for payment of utility bills but one has to go through a long process of registration. Also these platforms are not seamless and comprehensive as they do not fully address the need to pay various categories of bills such as utility bills, school/university fee, municipal taxes, etc. due to lack of inter-operability.
To resolve such problems and give access to multiple payment modes through a network of agents, NPCI (National Payments Corporation of India) under the guidelines issued by RBI has launched the pilot project for Bharat Bill Payment System (BBPS) with an objective of providing convenience of "Anytime Anywhere" bill payment service to the customers.
The system will allow you to make payment to your biller irrespective of your geographical location.
The pilot project has been launched on 31st August 2016, with 26 Bharat Bill Payment Operating Units (BBPOUs) and will cover repetitive payments for daily utility services like gas, water, telephone, electricity and Direct to Home (DTH).
What is Bharat Bill Payment System (BBPS)?
It is a RBI mandated bill payment system which will offer interoperable and integrated bill payment services to customers across geographies with reliability, certainty and safety of transactions through a network of agents enabling multiple payment modes and instant payment confirmation.
BBPS Participants:
Two primary participants who will be carrying out distinct functions under BBPS are:
Bharat Bill Payment Central Unit

(BBPCU)

: It will be a single authorized entity operating the BBPS and will be responsible for setting requisites operational, technical and business standards for the entire system and its participants, will also undertake clearing and settlement activities. National Payments Corporation of India (NPCI) has been authorised to act as BBCPU for the implementation of the BBPS.
Bharat Bill Payment Operating Units

(BBPOUs)

: These will be the operational units authorized by RBI to function in adherence with the standards set up by the BBPCU. There will be multiple BBPOUs operating in accordance with the BBPCU. BBPOUs will comprise of Banking as well as Non-banking entities. They will be operating under a tiered structure which will be further strengthened via an agent network through agent institutions.
In addition to the above participants there will be more participants connected to the BBPCU through BBPOUs. These participants may be from the agent side BBPOUs or the biller side BBPOUs and includes the following:
Agent
Customer
Agent Institutions
Billers
Sub-Biller
Sponsor Banks
Entities participating in the pilot project:
The pilot project launched by NPCI for Bharat Bill Payment System (BBPS) includes 62 entities which have received approval from RBI to act as Operating Units. Among these, 10 are Non-Banking entities and 52 are Banking entities. Below table illustrates the list of some of the popular entities: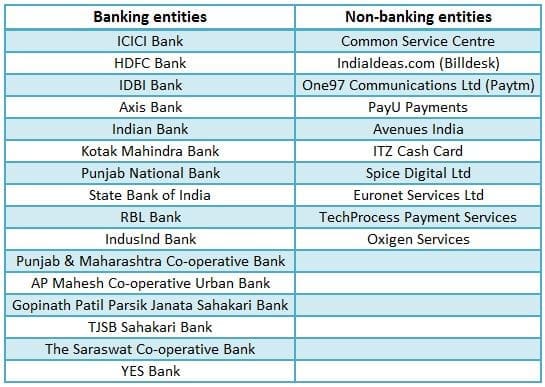 Axis bank is one of the first banks to launch Bharat Bill Payment System facility on 2nd September, 2016. The system has been made available initially for select billers from electricity, gas, telephone and DTH segments. Currently this service is available to Axis bank customers in select branches only and would be expanded in a phased manner in the near future.
BBPS Services:
In the first phase, BBPS will include activities to facilitate repetitive payments i.e. monthly, bi-monthly, quarterly, etc. for everyday services provided by the service providers which includes utility bill payments such as water, gas, electricity, telecom, DTH, etc.
In the later phase, BBPS will be extending services for the collection of payments such as school/university fees, municipal taxes/payments, insurance and mutual fund premiums, credit card bill payments, government payments, charity, etc. as decided by the RBI from time to time.
Service points for the payment will be available in the form of physical infrastructure i.e. collection centres, branch offices and agent outlets. There will also be online facility provided by BBPS.
Customers will be offered multiple payment mechanisms for bills/collections i.e. Cash, Credit Card, Debit Card, prepaid payment instruments including wallets, and other online payment options such as IMPS, Net banking, etc.

Features of Bharath Bill Payment System:
Accessibility : BBPS will provide seamless facility of bill payments through multiple channels which includes Agent assisted model at any Agent/Bank Branch/BC Outlet/Online Channels.

Brand Connect

: BBPS will have single and trusted brand connect and BBPS' assurance.

Clearing & Settlement

: Will facilitate multiple clearing and guaranteed settlements between multiple parties with standardized turnaround time.

Complaint Management

: BBPS will have standardized complaints management system for the resolution of customer grievances for both ON-US and OFF-US transactions. ('On Us' Transactions, means that the bank that issue your card is the same as the one which owns the ATM or POS terminals on which you made the transaction.)

Dispute Management

: It will allow BBPOUs to raise and resolve disputes related to the transactions that have passed through the BBPS.

Integration

: BBPOUs will be required to connect only to BBPCU to access all the billers. Billers will be required to connect to only one BBPOU for enabling the customers to pay bills.

Interoperability

: BBPS will have an integrated platform connecting Non-banking and Banking entities with billers, retail bill outlets and payment service providers for facilitating bill payment services to the customers.

Uniform Standard

: The participants in the BBPS will have to maintain a uniform set of standard and procedures to enable smooth operations for BBPS.
BBPS Transaction Modes:
BBPS transactions will take place in three possible modes as listed below:
Online Mode

: In this mode, the biller will be connected online to the respective BBPOU. All the communications will take place on real-time basis and the confirmation of bill payment from BBPOU will be received once the respective biller confirms the payment to BBPOU.

Offline Mode (A)

: In this mode, the biller will not be connected to the BBPOU on real time basis. But, will provide a file of expected bills on regular basis to the respective Operational Units. Based on the bill information dump received from the biller, BBPOU will confirm the bill payment.

Offline Mode (B)

:Here the biller does not require a bill fetch or will not be connected to any BBPOU on real time basis and the BBPOU will receive all the bill payment requests for that particular biller without any validation.
How to get registered for BBPS?
In order to make payments through BBPS, you will have to first get registered to BBPS online or through BBPOU. Once you have the BBPOU customer ID, you can access your bills via any of the operating units, view the bills and make payments via any of the payment modes as depicted in the above figure. Banks shall also provide an interface through an ATM.
BBPS Benefits:
It will offer the facility of "

Anytime Anywhere

" bill payment to the customers through a network of agents.
It will provide an accessible bill payment system to the large segments of un-banked and under-banked population.
With the feature of interoperability, customers will be able to pay bills of

multiple billers at a single point

and make payments through multiple modes i.e. Debit card, Cash, Credit card, via electronic payment options such as NEFT, Net Banking, IMPS etc, and prepaid payment instruments that includes wallets.
Service points are expected to become omnipresent providing easy access to the customers for bill payments irrespective of their geographical location.
It will enable the customers to pay bills of the billers who enrolled in the BBPS at any BBPS outlet. BBPS outlet will include Business correspondents, bank branches, customer service points, ATMs, retail agents of aggregators, Kiosks, etc.
It will facilitate instant confirmation of payment through a payment receipt or a confirmation message. The receipt will be in the form of email/SMS/print out as desired by the customer.
It will assure trust and confidence among the customers in terms of reliability, certainty and safety of the transaction.
According to information available on the RBI website, the top 20 cities in India are generating around Rs 6,223 billion in bill payments every year and over 70% of these transactions are still predominantly being carried out by cash or cheques. In addition, the present bill payment infrastructure in India is largely biller specific in terms of modes of payment accepted and channels supported, and is still to support an 'anytime, anywhere' payment option to customers.
Let's hope that Bharat bill payment system changes the dynamics of bill payment industry in India. But, like any other service provider, BBPS, too, will have to provide details of all charges and fees associated with the payment facility. Also, proper customer protection and grievance redressal should also be put in place.
This is a guest post by Kishorkumar of Mymoneysage.
About the Author / Company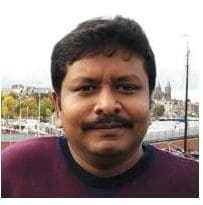 KishorKumar Balpalli – Kishor is the founder of mymoneysage.in. He believes that financial literacy and discipline is the key to one's financial freedom. Mymoneysage.in is an award winning personal finance platform, which helps you aggregate all your personal finance accounts like FD, Equity, Mutual Funds, PPF EPF, Credit Cards, Loans etc. Its one place where you can track, plan and invest seamlessly. Mymoneysage.in empowers you to invest in zero commission direct plans of mutual funds thereby helping you generate higher return on investments when compared to Regular Plans.
Continue reading other interesting articles written by dear Kishor :
Kindly note that Relakhs.com is not associated with Mymoneysage.in. This post is for information purposes only. This is a guest post and NOT a sponsored one. We have not received any monetary benefit for publishing this article.
(Image courtesy of Stuart Miles at FreeDigitalPhotos.net) (Post published one : 12-September-2016)